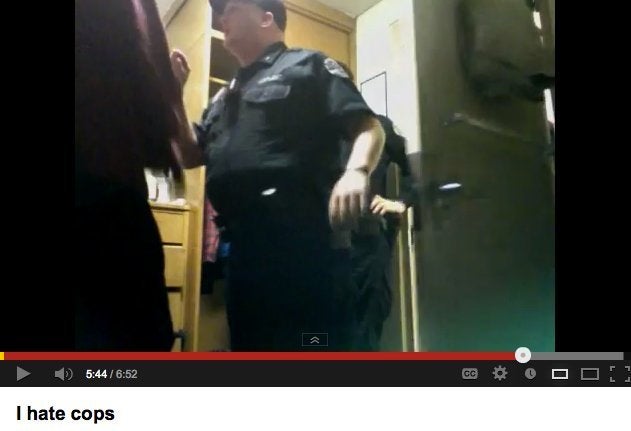 UPDATE, 4:30 p.m.: The University of Kentucky has fired the officer seen in the video, who threatened to have the student removed from campus.
"After a thorough internal investigation, the officer in question has been terminated from his employment at the University of Kentucky, effective immediately," said UK Police Chief Joe Monroe. "The officer in question had inappropriate physical contact with a student. The officer, as a result, was in violation of a number of university employment policies."
A video of a University of Kentucky student cursing at campus police for several minutes before they finally storm into his dorm room has gone viral and prompted an investigation by school officials.
In the video, police say they saw the student pour alcohol out of his window, prompting their arrival at the student's door. The student insists multiple times the officers cannot enter his room without a warrant, however, police barge in and apparently look through his fridge for alcohol. They also tell him they'll have him removed from the university for belligerence towards them, and dare him to place the video on YouTube.
From the very beginning of the video, the student can be heard repeatedly and profanely challenging police. He later mocked one of the officers for wearing braces.
"We are investigating and reviewing this matter fully," UK spokesperson Jay Blanton told The Huffington Post. "We take it very seriously and will take appropriate action when that investigation is complete."
According to the UK's housing policy, "authorized personnel" have the right to enter a student's room if they have "reason to believe that a violation of university policy is taking place in the room." But authorization to enter a student's room under the policy "does not constitute authorization to conduct a search of the room."
The video is embedded below, but it's definitely NSFW due to profanity. The student also removed the video which he titled "I hate cops," but we've found an alternate and it can be seen below.
Popular in the Community