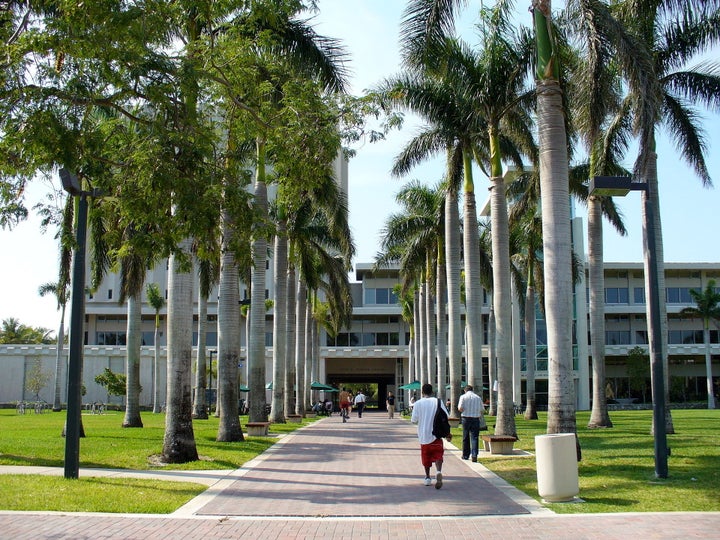 A former University of Miami graduate student filed a federal lawsuit Thursday alleging that Colin McGinn, a philosophy professor, sexually harassed her over several months in 2011 and 2012.
The graduate student, Monica Morrison, named as defendants the University of Miami, McGinn and his former colleague Edward Erwin, according to court filings.
She's claiming the school violated its Title IX responsibilities by failing to fully investigate her sexual harassment claims against McGinn in 2012 and failing to stop his retaliation against her. She is also accusing McGinn of sexual harassment and civil assault, and McGinn and Erwin, another UM philosophy professor, of defamation.
Morrison filed similar claims against UM in a U.S. Equal Employment Opportunity Commission complaint last year, which was not resolved. Her attorneys kept open the option of litigation if the EEOC complaint wasn't successful, they said.
McGinn has always maintained he was never formally accused of sexual harassment. He resigned in 2013 just before facing faculty senate charges of not reporting a consensual relationship. Morrison claims UM erred when it accused him of that lesser charge after she made what she believed to be a formal complaint of harassment against McGinn.
"The problem is it wasn't consensual, it wasn't romantic in any way," said Ann Olivarius, one of the student's attorneys. (Olivarius herself was a plaintiff in the first Title IX sexual harassment lawsuits against a university.) "If this isn't a case of textbook sexual harassment, then I don't know what is, and I brought the first case."
The Huffington Post recently reviewed several hundred pages of emails and text messages exchanged between McGinn and Morrison over nearly a year, most of which have not been publicly available. They show the professor talking about having an erection, referencing a "hand job," complimenting her legs and calling her foot his "beloved pet."
When Morrison worked as McGinn's research assistant, the famed professor pressed the student for a photo of her, repeatedly asked if he could come to her apartment and made multiple references to Lolita, the novel in which an older professor becomes obsessed and sexually involved with a 12-year-old girl, according to emails HuffPost reviewed. At the time, McGinn was 62 and Morrison was 26, something he noted in one email. In the emails, McGinn wrote about wanting to kiss her, floated the idea of their having sex over the summer and stated she was "much better off with my support than without it."
Morrison is now "destroyed" and spends a lot of time home in bed, Olivarius said. Her goal now is to "get her name cleared and have some sort of future in front of her" because she has struggled since the university decreed that what she claimed was harassment was actually a consensual relationship.
Andrew Berman, an attorney for McGinn, said in a statement the professor "denies the claims and we will vigorously defend against them in the appropriate forum." Erwin declined to comment, citing advice from his lawyer.
Eric Isicoff, an attorney for the university, declined to comment on the specifics of Morrison's charges.
"Obviously, the University of Miami is aware of the allegations of the former teaching assistant," Isicoff said. "When the allegations were brought to the university, they were investigated thoroughly and a very swift and decisive action was taken. The matter was successfully concluded very quickly."
The Start Of The Comments
McGinn offered Morrison a research assistant position on Dec. 12, 2011, the emails show. She had taken a seminar with McGinn, who was working at the time about a book on evolution and human hands. They developed a grip, similar to a handshake, that they would perform during in-person meetings.
McGinn is well-known in the philosophy world, having taught at the University of Oxford, UCLA, Rutgers and Princeton prior to landing at Miami in 2006. He regularly wrote for the London Review of Books and the New York Review of Books. Morrison, as her emails reflect, was often worried about her prospects in the job market and saw working with McGinn as a big leg up.
But just a few weeks after he hired her, McGinn started to harass the student in correspondence, her attorneys say.
He emailed her at least once a day between Dec. 19 and Dec. 27, with little response from her. In a Dec. 27 email, he wrote, "I think you owe me unlimited hand strokes and full body grips for abandoning me over Christmas." Over winter break, which lasted about a month, McGinn emailed her more than 30 times and spoke with her just once, according to his own count in an email he sent her Jan. 15, 2012.
After multiple emails from McGinn, including a request to come to her apartment, she replied, "I see no reason that we can't continue the beautiful and unique relationship that we have developed." She did not directly address the request to visit, but said she would see McGinn in class.
In a January 2012 meeting, the graduate student says he held and kissed her foot, according to the lawsuit. After that, court papers state, she frequently wore sneakers that she hoped would discourage that behavior.
McGinn wrote that he missed Morrison and wasn't able to see her as much as he wanted. He complained about their working relationship, stating in an email he is not "getting much in return" and said "I need you to make a big gesture in my direction--anything would do."
She wrote back that she had been feeling sick and dealing with stress at home, but reassured him "I am so excited to be [in] the Colin McGinn intellectual lineage." In other emails, Morrison wrote she was "flattered" by attention from him.
In a Feb. 24, email, McGinn wrote:
I have a rather modest unassuming leg--nothing flashy, but quite agreeable. Not like your spectacular look-at-me legs! We should have a foot race one day--I expect to be left in the dust. Also, what about wearing shorts or a skirt one day so I can actually see them--so far I've only strictly seen their shape. Not that I'm obsessed or anything. Your mind should model itself on your legs--powerful, muscular, beautiful, agile. Oh reader!
Morrison's attorneys say she often avoided his direct questions about his coming to her apartment or wanting to see her, saying she was sick or had spotty Internet or simply was too busy.
One March 2012 text message exchange provided to HuffPost is emblematic of her general response to his comments, the attorneys claim:
McGinn: I love your essence

McGinn: Plus it gives me a slight erection

Morrison: Can I borrow your philosophy of physics book…the one by lange [sic].
McGinn texted her later that day to say he had an "erotic" and "religious" dream about her; she responded, "Strange."
The texting language then escalated, according to copies of messages sent April 25 that were provided to HuffPost:
McGinn: So I expect a hand job when I next see you.

McGinn: Yes.

McGinn: I like to amuse you.

McGinn: Now I've got a slight erection.

McGinn: I'm imagining you.
Morrison did not reply to the texts.
Later that month, McGinn pressed her for a response, and she eventually texted, "Yeah, I was a bit surprised" and said "I won't really know how to respond [sic]...I suppose I should be flattered?"
In May, McGinn offered her a paid summer position working for him, and her attorneys said she accepted because she felt she needed the funds. Afterwards he sent her messages saying one of her comments about the weather "gave me a boner." He also said he wanted to visit her apartment. On May 18, he texted "I feel like kissing you." She responded, "You can't do that."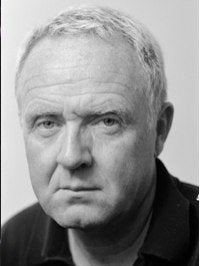 The "Sex 3 Times" Email
On May 23, 2012, McGinn allegedly made multiple verbal comments about having sex with her. She said no, her attorneys said, and stated, "I don't know why we have to have this discussion." He then sent an email saying he needed a compromise. "Here's one (I'm not necessarily advocating it): we have sex 3 times over the summer when no one is around, but stop before next semester begins," he wrote.
Need to avoid the scenario I sketched: you meet someone else, I broken hearted, our relationship over (except formally). This follows pretty obviously from current policy. To avoid my heart break I need to prepare myself mentally, which means withdrawing from you emotionally--not good for either of us. Also no good to just have full-blown relationship--too risky and difficult in the circumstances. So need compromise. Many are possible. Here's one (I'm not necessarily advocating it): we have sex 3 times over the summer when no one is around, but stop before next semester begins. This has many advantages, which I won't spell out, but also disadvantages, ditto. I am NOT asking you to do this--it is merely one possible compromise solution to a difficult problem, which might suggest others. It has the FORM of a possible solution. Try to take this in the spirit in which it is intended. yours, Colin
The next day, May 24, McGinn wrote the student in an email, "If I could I'd marry you." Later that day, she texted him, "I am in no mood to continue talking about our relationship. And I don't know what more you expect to come from an extended discussion...the past two days have made me feel increasingly uncomfortable with the situation."
The student went out of town over the summer, and the emails largely remained professional during that time, her attorneys concede, but they say his tone reverted in August.
She resigned her position as his research assistant on Sept. 11, 2012. Two days later, McGinn emailed her, stating "you are much better off with my support than without it. So please think carefully about your actions." On Sept. 14, Morrison made what she believed to be a formal sexual harassment complaint and provided some of McGinn's messages to university administrators, hoping to be protected from retaliation. However, UM routed her complaint through an "informal process" pressing the professor to resign, according to reports, because it was quicker. (McGinn denies on his blog that he was forced out.)
UM lawyers have said they chose to pursue this informal route to achieve an immediate resolution. Isicoff echoed the comments in conversations with HuffPost. Morrison said she had a right to choose between a formal or informal complaint process.
University officials told Morrison on Oct. 19, 2012, that McGinn insisted she had consented to his advances and there would be no sexual harassment charge, according to her lawyers. Administrators told her a month later that McGinn would be charged in the faculty senate with failing to report a consensual relationship with a student. His actual charging letter stated his "conduct is unprofessional due to the amorous relationship that developed between a senior faculty member and his student," according to the suit.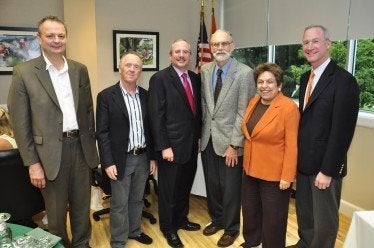 McGinn Exits
McGinn told the university in December 2012 he would resign. He insists he wasn't removed by any administrator. "I decided I didn't want the hassle and expense" of fighting the non-reporting charge, he later wrote in a blog post, adding that he had never heard any mention of sexual harassment charges.
Isicoff noted it's typically pretty hard to remove a tenured professor like McGinn and insisted, "This is the poster child for responsibly and quickly dealing with allegations" of sexual harassment.
As word got around campus about McGinn's decision, Morrison faced retaliation from McGinn and Erwin, the lawsuit contends.
In April 2013, Erwin allegedly called the student -- who was taking one of his classes -- into his office. During this meeting, according to the suit, Erwin said she had "ruined" McGinn's career and asked, "Do you even know what harassment is?"
The suit also states that Erwin circulated emails around campus warning the case would be "discussed in different departments around the country" and that "Colin and his friends intend to fight back."
On his blog, McGinn highlighted a long, anonymous comment that defends his behavior and states that McGinn did not identify his accuser. Morrison's attorneys say he did identify her in emails to philosophy professors at other schools. Close to 100 philosophy professors nationwide signed an open letter urging the university to do more to prevent retaliation against Morrison.
University officials responded to those complaints that they had "limited authority to shut someone up in higher education," according to the suit.
"Miami sits there and lets him out on a lie," Olivarius said.
"I did not make a public response to a confidential allegation; I made a public response to a public allegation that I deemed defamatory and without merit," he wrote. "I think anyone else would have done the same. What was I to do—say nothing?"
Morrison transferred to a program in the Midwest that year, but had to take a leave due to anxiety and depression. She filed her EEOC complaint in 2014, which did not reach resolution before the lawsuit was filed Thursday. The lawsuit now supersedes the EEOC complaint, Morrison's lawyers said.
Read the full suit below:
Support HuffPost
The Stakes Have Never Been Higher
Related
Popular in the Community