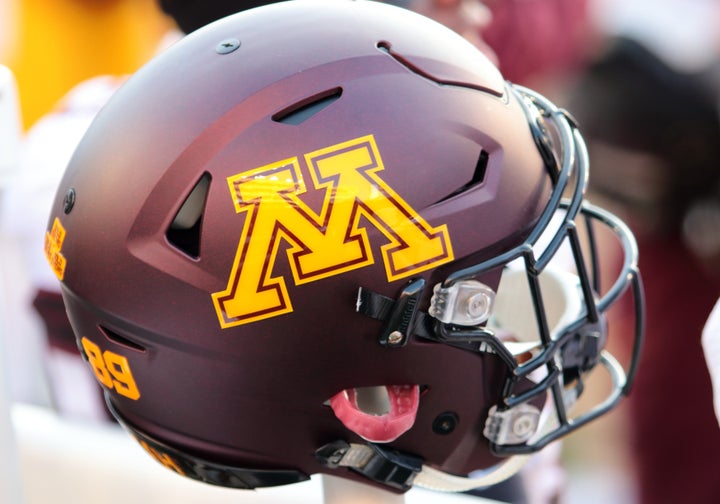 Minnesota President Eric W. Kaler and Athletic Director Mark Coyle told players in statements Friday evening their duty to uphold the school's values and protect students was more important than an end-of-season bowl game.
"One of my jobs as President is to put our institutional values at the forefront of all we do and ensure our actions are aligned with those values," Kaler said. "This principle is far more important than any football game and the University community as a whole, and it is more important than any single athletic team."
The statement was a response to football team members' appearance outside Minnesota athletic facilities Thursday night to pledge that they would not participate in football activities until the suspensions of 10 teammates were reversed. The boycott could include the team's scheduled appearance in the Dec. 27 Holiday Bowl in San Diego.
"The boycott will remain in effect until due process is followed and the suspensions for all 10 players involved are lifted," Drew Wolitarsky, a senior wide receiver, said as he stood with the entire team.
The Minnesota athletic department suspended the 10 Gopher players Tuesday, amid a school-led investigation into a woman student's claim she was sexually assaulted by several men in September, according to the Minneapolis Star-Tribune. The university's office of Equal Opportunity and Affirmative Action had recommended expulsion for several players and suspensions for others.
The players' encounter with the woman occurred after the team's season opener on Sept. 2. She said numerous players sexually assaulted her at an off-campus apartment, according to police reports. The players maintained the sexual encounter was consensual.
Four players were initially suspended for a violation of team rules. They were reinstated after local prosecutors declined to press charges. Restraining orders that kept five of the players from participating in a Minnesota home game were lifted after the players and the woman reached a settlement. The school, after its own, separate investigation, imposed the indefinite suspensions.
In his statement, Kaler said he and Coyle offered to sit down with the football team and discuss the controversy, but the players declined.
"This offer remains open, as we'd like to sit down with these student-athletes and answer any questions that we are legally permitted to address," Kaler said.
Kaler also said the school administration will not give in to the protest.
"A bowl game is a wonderful reward for an excellent football season. It is my hope that our eligible football players, marching band, spirit squad and loyal fans take advantage of this opportunity," Kaler said. "However, the University of Minnesota will not change our values or our code of conduct for the sake of a bowl game."
In a separate note addressed to student athletes, Kaler and Coyle reiterated that federal laws require them to investigate claims of sexual assault on campus, and that the university status of the players involved has not changed.
"Recent events related to the Gopher football program have made this an incredibly challenging week," Kaler and Coyle wrote. "Many of you and your colleagues are frustrated, disappointed and angry. Many are surprised at the recent suspensions of players and don't understand, and unfortunately can't know, all of the details that informed the decision. As a result, the circumstances feel very unfair.
"We support Gopher Athletics' decision because this is much bigger than football," they continued. "It is about the values every University of Minnesota student is called on to uphold."
Popular in the Community