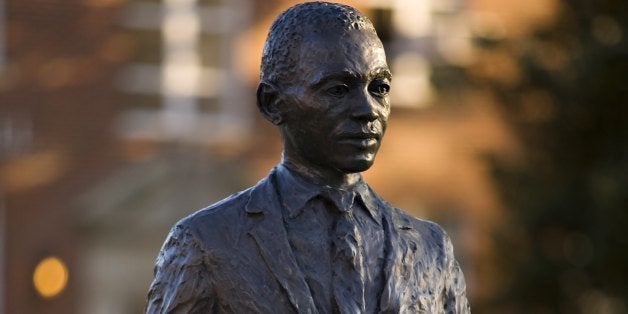 Racist vandalism on any campus not only affects how others view a university, but also affects how current students feel about their very own school. But one former student has spoken out and hoping to help her alma mater move past its history of intolerance.
Last week, the statue of the first black student at University of Mississippi, James Meredith, was found vandalized with a confederate flag and noose around the neck. However, the incident is not isolated from the university's historical civil rights struggle and racist sentiments within the student body, an experience all too familiar to the college's first black, female student body president, Kimberly Dandridge.
Dandridge, who graduated in 2013, held the position during her junior year in 2012. She recently spoke out against the vandalism in a written response entitled "Life and Irony at Ole Miss."
In the response, Dandridge chronicled harassment she endured for being voted into the homecoming court, admitted into the Phi Mu sorority chapter, and elected to her position as student body president. She goes on to describe how her classmates weren't the only perpetrators of hate on campus during her undergraduate years, sharing a story of when the Ku Klux Klan demonstrated on school grounds.
However, Dandridge said she relied on support from friends and looked to James Meredith as an example to salvaged her experience at the university.
When discouraged, I reflected on James Meredith, the first black student at Ole Miss. I reminded myself of his tumultuous experiences at Ole Miss. And when I thought about the riot and the lives lost the night before he was admitted, it made the struggles that I faced at Ole Miss seem trivial. James Meredith forever changed Ole Miss. Anything I accomplished was because of him.
She addressed the grim implications of the vandalism and how it reflects social climate on campus, but ended her response in a confidently optimistic tone.
"I came to Ole Miss because it is not perfect, but it deserves to be. It is a work in progress. I came to Ole Miss because I knew that there was more work to be done, more battles to fight, more obstacles to overcome, and that it is up to my generation to make a difference."
Since the incident, the university's Alpha chapter of the Sigma Phi Epsilon fraternity has been indefinitely suspended and three of its members were promptly expelled.
Read Dandridge's full response here.
REAL LIFE. REAL NEWS. REAL VOICES.
Help us tell more of the stories that matter from voices that too often remain unheard.
BEFORE YOU GO
PHOTO GALLERY
James Meredith Integrates Ole Miss, Oct. 1962