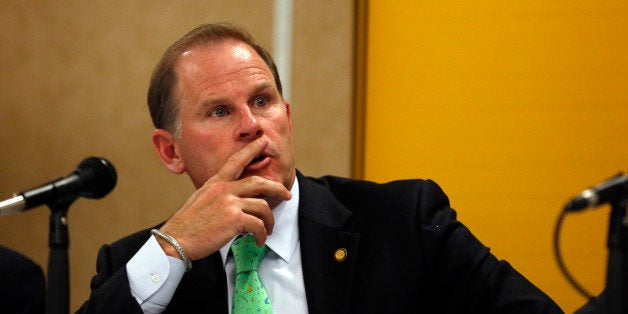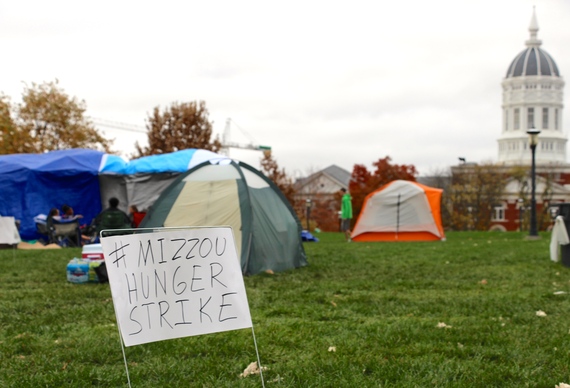 With the famous Jesse Hall in the background, students camp out in tents on Carnahan Quad in protest of University of Missouri System President Tim Wolfe. They say they will remain their until Wolfe resigns or is removed from his position; Nov. 6 in Columbia, Mo. Photo courtesy of Sarah Sabatke.
Tim Wolfe announced during a Board of Curators meeting on Nov. 9 that he will be resigning as the president of the University of Missouri system.
Students at the University of Missouri engaged in a hunger strike and boycott in protest of the UM system president, Tim Wolfe. They said that, since Wolfe took office as UM president in 2012, he had been negligent in addressing incidents of racism and concerns of students and faculty in regards to MU's campus climate.
Concerned Student 1950 is the primary group of students behind the protests. According to Reuben Faloughi, an MU student and member of Concerned Student 1950, "The group was formed because of the systemic issues that have been going on since 1950 but, in particular, since the Mike Brown incident and subsequent non-indictment of Darren Wilson. Our administration has been negligent in addressing and attending to these issues and right now we are at the apex, or the climax, of the issues."
Concerned Student 1950 presented a List of Demands to MU on Oct. 20, including (but not limited to):
The immediate removal of Tim Wolfe as UM system president
An increase in the percentage of black faculty and staff on campus to 10% by the 2017-2018 academic year
Increased funding and resources for the MU Counseling Center to hire more mental health professionals, in particular those of color, and to increase the Counseling Center's visibility on campus
Increased funding, resources and personnel for social justice centers on MU's campus
While members of the group had had a conversation with Wolfe, the students said that it was not sincere and lacked substance.
"It's definitely a PR move. The conversations aren't genuine," says Faloughi. "President Wolfe ... told us he's not aware of systemic oppression, racism and other forms of 'isms.' But he "cares about his black students." But how is that possible? How can you care about someone but not even work to understand their living experience?"
"He's a business man where an educator needs to be," says Imani Simmons-Elloie, a member of Concerned Student 1950.
Wolfe issued an apology on Nov. 7 for his reaction to the group's demonstration during the MU Homecoming Parade on Oct. 10. The apology came only a few hours before a group of MU students travelled to Kansas City to meet Wolfe. When the students asked him what he thought systematic oppression was, Wolfe stated,
"Systematic oppression is because you don't believe that you have the equal opportunity for success, and that's wrong."
MU graduate student Jonathan Butler has been on hunger strike since Nov. 2 in protest of what he described to the Washington Post as "the school's failure to address the rising tide of racism on campus."
Butler posted a statement to supporters of Wolfe on his Facebook page, writing:
"I would urge you to take an in-depth look at this man's record. He has been in office since 2012...Students, faculty, and staff have been bringing him concerns about racism/sexism/pay rates/lack of resources/etc. since... 2012 with no progress/positive change. So why with recent incidents do YOU STILL beg for the community to allow this man to have a "learning curve" and given time to educate himself...? He had his time. His time is up."
As shown on this timeline featured in The Maneater, the past few months at MU have been historic in terms of the amount of discrimination and controversial decisions on campus.
Healthcare for MU graduate students was cut on Aug. 14, with less than 24 hours notice to the students. This administrative decision resulted in a graduate student rally (with Butler among the leaders), a list of demands from the Forum on Graduate Rights and a graduate student walkout.
Missouri Students Association president Payton Head spoke out on Sept. 12 about his experience with racism on campus, bringing national attention to MU's deteriorating campus climate.
The first of three "Racism Lives Here" rallies was held on Sept. 24, criticizing the administration's delayed response to racist incidents on campus.
"Refer and Follow" privileges were also discontinued on Sept. 24, followed by a rally supporting Planned Parenthood on Sept. 29.
A swastika was drawn in feces in the bathroom of an MU residence hall on Oct. 24, the second anti-Semitic incident in an MU residence hall in the past year.
And, just hours after Tim Wolfe was met by students in Kansas City on Nov. 6, two black students were called the n-word outside of the Student Recreation Complex on MU's campus.
There have been several responses from both Chancellor Loftin and Tim Wolfe in regards to these occurrences: Chancellor Loftin released a statement on Nov. 4 supporting Butler's hunger strike, Wolfe issued a statement on Nov. 3 expressing concern for Butler's safety and, most recently, Wolfe released a statement regarding his meeting with Butler and wrote "I truly want all members of our university community to feel included, valued and safe."
However, students have not been satisfied with the delayed responses and lack of action by the administration, and this reaction extends far beyond the University of Missouri's campus. Syracuse University has also been fighting controversial decisions against graduate students, as well incidents of racism on campus, and released a statement through Twitter on Nov. 5 in support of #MizzouHungerStrike.
Samuel Leitermann, primary author of the SU Graduate Student Organization statement as well as social justice chair for the National Association of Graduate-Professional Students, believes that the biggest issue is that people aren't aware of the facts regarding these instances of racist, homophobic, etc. behaviors on college campuses. He supports MU's fight and wants them to know that they have allies throughout the nation.
"I think it is so easy ... to feel like you're sort of shouting into a void and there's this enormous administrative overhead that's not really listening to you," says Leitermann. "They're not alone in any way. These are things that we all recognize are problems on college campuses and they are things that we've seen in many other places. We believe them and we are listening to them as they tell us what's going on, and as they tell us their experiences ... we're going to support them in any way that we can to make systemic change."
Below is a summary via social media of the past week's events in regards to #ConcernedStudent1950 and #MizzouHungerStrike.
REAL LIFE. REAL NEWS. REAL VOICES.
Help us tell more of the stories that matter from voices that too often remain unheard.