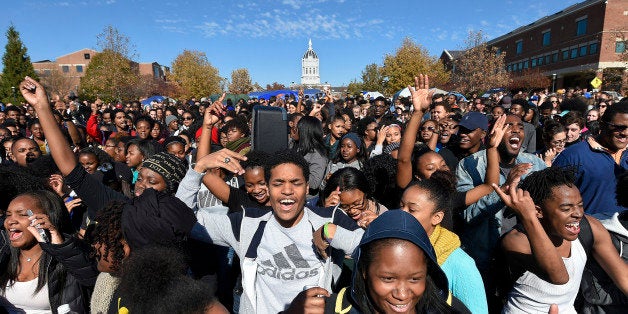 The news broke on Monday that University of Missouri president Tim Wolfe would step down after weeks-long student and faculty protests over the school's handling of racial tensions on campus. Wolfe resigned amid allegations he didn't handle incidents of racism and homophobia in a timely and effective manner.
Some of these incidents included Student Government President Payton Head, a black student, subjected to racial slurs hurled at him from people in back of a pickup truck. In early October, a white student disrupted the Legion Of Black Collegians, an African American student group, and yelled a racial epithet when asked to leave. A swastika smeared on a residence hall wall added to the discomfort many minority students felt on the Columbia, Missouri campus.
Concerned Student 1950, the protesters' campaign group, issued a list of demands in late October, calling for an apology from Wolfe, his removal from office, and more inclusive programs for racial minorities on campus. 25-year-old graduate student Jonathan Butler took his protest a step further, pledging to go on a hunger strike until Wolfe resigned.
Unfortunately, none of these measures forced Wolfe's hand. Then, on Saturday night, with Butler almost a week into his hunger strike, everything changed. The African American members of the Missouri Tigers football team threatened to sit out games as long as Wolfe was still president of the university.
By Sunday morning, other team members, students, and Tigers head coach Gary Pinkel publicly backed the players on Twitter.
With the chorus of protests growing, Wolfe was left with no choice but to step down.
"What was starting to become clear was the frustration and anger was evident," he said in a Monday news conference. "It was something that needed to be done that was immediate and substantial for us to heal."
It seems as though Wolfe resigned out of financial concern, instead of moral concern. According to protesters, racial tensions had been simmering for months, and despite the list of demands, and Butler's hunger strike, nothing seemed to motivate the school's governing body to take action. Low and behold, once the football team takes a stand, everything kicks into overdrive.
I get it. Football is popular. It's as American as apple pie (to use a clichéd phrase). More people watch football every week than vote in elections. That tells you all you need to know about the influence of football in America.
I've come to the troubling realization that the financial implications of the University canceling football games was really what influenced Wolfe's resignation. After all, the Tigers would've had to pay a $1 million cancellation fee if they failed to take the field against the Brigham Young University Cougars this Saturday at Arrowhead Stadium in Kansas City. Factor in loss of ticket sales, merchandise, etc. and you're looking at millions of dollars in revenue lost.
One admirable part of this story is that the football team took a stand for a fellow student. Usually student athletes threaten strikes over monetary matters, but this was an instance where they protested just for the sake of equality. They protested in the face of serious consequences, which could've including loss of athletic scholarships.
Granted, the Missouri's Board of Curators acted quickly from there, issuing a list of initiatives to help quell racial tensions and improve race relations on campus. These measures include:
-Hiring a diversity, inclusion, and equity officer for the entire University of Missouri system.
-Providing additional support to students, faculty, and staff members who experience discrimination.
-Creating a task force to promote diversity and inclusion.
-Requiring diversity and inclusion training for all faculty, staff members, and incoming students.
This is a good first step in healing the scars of discrimination on campus. I just can't help but wonder if it stemmed from genuine concern for marginalized students, or from the impending financial chaos that cancelling football games would guarantee. Butler was starving himself, willing to die for his cause, yet the straw that broke the camel's back was a football team's strike.
I also hope that the protesters realize that this first step is just that: a first step. Protests often achieve their goals in stages, occurring over an extended period of time.
Concerned Student 150 member Marshall Allen echoed this sentiment. "This is just a beginning in dismantling systems of oppression in higher education, specifically the UM system," he said after Wolfe's resignation.
Oftentimes, is does take sports to do that. One such example is that of NBA star Lebron James wearing the "I Can't Breathe" t-shirt during warmups last season to help draw attention to the Eric Garner case in New York. We're a sports culture in this country, and athletes have a tremendous influence on our social consciousness.
As frustrating as it may be to think that money played more of a factor in the events at the University of Missouri than morals, it's still an important victory for racial equality.
"As we move forward, it's paramount as a campus and a community that this not divide us," athletic director Mack Rhoades said in a statement. "But rather bring us together to listen, to grow, to understand and to create positive change."
REAL LIFE. REAL NEWS. REAL VOICES.
Help us tell more of the stories that matter from voices that too often remain unheard.