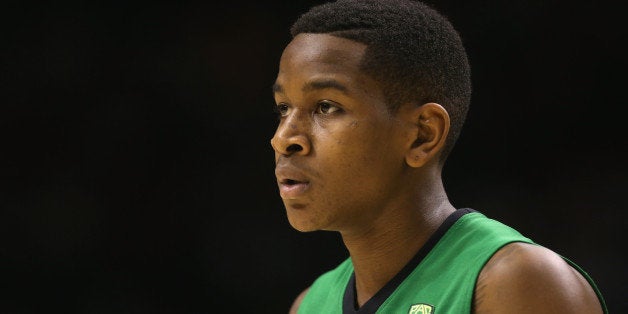 The University of Oregon allowed three players on its men's basketball team to play in the NCAA tournament in March despite allegations that they gang-raped a fellow student.
Oregon head coach Dana Altman knew of the investigation prior to the NCAA tournament, but allowed the players to play anyway, after getting approval by the university, according to the Oregonian.
The three men were dismissed from the university men's basketball team this week, the school announced Friday.
During a press conference on Friday, University of Oregon President Michael R. Gottfredson blamed the police for the university's failure to suspend the players or alert the community to the gang rape report.
"The Eugene Police Department requested we not do anything that might hinder their criminal investigation -- including suspending players or not playing them in a game," Gottfredson said. "We complied fully with that request, and appropriately so."
According to a redacted copy of the police report, published by the Oregonian, the rape victim didn't file a formal police report until March 13, a day after the Oregon Ducks defeated Oregon State University's team to advance in the Pac-12 tournament.
The women reported she was forcibly raped in the early hours of March 9 by Artis, Dotson and Austin. (Warning: police report is graphic.) The woman reported she was sexually assaulted in multiple locations by the men, and was placed in a chokehold and bitten.
Lane County District Attorney Alex Gardner decided against prosecuting, saying he determined there was insufficient evidence to "prove the allegations beyond a reasonable doubt."
In a lengthy statement this week, Gardner repeatedly blamed the victim for not taking action to stop the assault. The prosecutor raised the victim's sexual history as a reason for his decision not to prosecute. He noted that the "alleged victim had the opportunity to leave the party, or at least ask for help," that "there's no evidence she was ever unconscious during the sex acts," and that her friends "describe her as friendly and flirtations." Gardner said the woman and the three alleged assailants agreed she began to cry during intercourse, which he said was "the first point at which suspects claim they realized she wasn't 'in to it.'"
One of the players -- Austin, a sophomore from Philadelphia -- was accused in November of sexually assaulting a student at Providence College in Rhode Island. Austin, then a player for the Providence College basketball team, was alleged to have assaulted the student with a fellow team member. Both were suspended from the squad, and Austin transferred to Oregon. Rhode Island authorities continue investigating the assault, according to the Providence Journal.
Like Us On Facebook |

Follow Us On Twitter |

Contact The Author
Support HuffPost
The Stakes Have Never Been Higher
Related
Popular in the Community