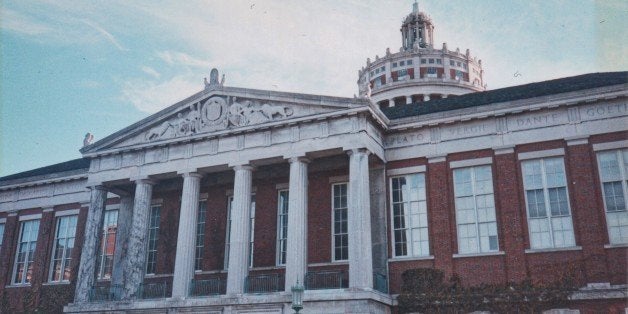 The Department of Education's Office for Civil Rights is investigating the University of Rochester over allegations that the university discriminated against a female student after she reported a sexual assault.
The female freshman who filed the complaint spoke to The Huffington Post about her experience, asking to be identified only by her first name, Abigail, for privacy reasons. Abigail filed a complaint in March claiming that campus security physically subdued her and sent her to the hospital over a panic attack she experienced several days after she reported being assaulted. She also claims that the university did not provide enough academic accommodations after she reported the assault and that the mishandling of the case permitted a "sexually hostile environment." For all these reasons, Abigail accuses the university of discriminating against her based on her sex, violating the gender equity law Title IX.
The Education Department opened the investigation of the university on May 21, according to a letter that Abigail received from the department and shared with HuffPost.
As of Wednesday, the University of Rochester, a private school in New York, is one of 118 colleges and universities being investigated by the Education Department for their handling of sexual violence-related matters. UR's case deals with the treatment Abigail received after reporting an assault, but also dives into the way campus security acted during what Abigail described as a "traumatic" encounter with security officers who she says falsely accused her of being drunk.
Abigail says she was sexually assaulted by a male student on Oct. 5, 2014, while she was heavily intoxicated.
Early in the morning on Oct. 18, Abigail says she came upon one of her friends telling a dorm room full of people about the sexual assault Abigail had officially reported several days earlier.
"I totally just freaked out, I had a total panic attack, a mental breakdown," Abigail recalls. She yelled and started crying, and someone called campus security. A handful of officers arrived, one of whom asked her to go to her room. Abigail says she replied that campus security took "inebriated" people more seriously than people who had been raped. They threatened to arrest her and then began to physically subdue her.
"I remember the male officer grabbed my arm super hard and put me into the handcuffs," Abigail said. "He pushed me up against the wall and forced me onto the ground with his knee on my back." After that, she said, he held her on the ground for the next half hour, at one point sitting on her.
More officers arrived in the hallway and demanded that she calm down, Abigail recalled, even as she demanded they get off of her. Abigail asked that someone call the public safety investigator on her sexual assault case and her resident adviser, who also knew the circumstances of her sexual assault report, hoping they could validate what Abigail had recently experienced. Witnesses said they were unable to get hold of either.
"The only words being exchanged [during the incident]," one witness, who asked not to be named, told HuffPost, "were Abbi saying 'I don't want him to touch me.'" Another witness wrote in a letter to the university's dean that she saw Abigail "face down on the floor with security handcuffing her. She was crying and screaming don't touch me. A female and a male officer were holding her down even after she said that she was raped. She didn't want them to … There was no mediation or communication between the authorities and Abigail."
That witness also noted that Abigail was not "drunk or under the influence of any other substances."
After roughly an hour, the officers "told me that I was 'mentally unstable' and needed to be transported to the hospital," Abigail said. Video captured by cell phones and provided to HuffPost shows Abigail being restrained by campus security on a gurney, loaded into an ambulance and then brought into a hospital. Abigail said the doctor told her "there's nothing wrong with you," and quickly let her go.
"It was literally worse than being assaulted in the first place," Abigail said. "So much worse -- I mean, absolutely horrific."
Reached for comment, a UR spokeswoman said, "In order to protect the privacy of students and out of respect for them we will not comment on the details of a student's case."

In a follow-up meeting later that week, a university dean suggested to Abigail that she had been drunk during the incident with campus security, according to an audio recording of the conversation provided by Abigail. "It is my business if an underage student is drinking, and there are consequences," the dean said. "So if you want to have that kind of conversation, be my guest."
Abigail, who maintains she was not drunk during the encounter with security, pointed out to the dean that even if she had been inebriated, he was unfairly singling her out since most students at the university do drink.
"Not all of them get sent to the hospital," the dean replied.
But there's no evidence Abigail was drunk that night. Abigail and witnesses to the incident say she was not intoxicated -- it was solely a panic attack. There was no blood alcohol test performed on her that night, and hospital paperwork neglects to mention alcohol at all. There was no arrest nor any reading of Miranda rights, and the university's daily crime log contains nothing on the incident.
Although Abigail was not drunk during the security incident, she said she was when she was assaulted -- something the dean was keenly aware of in the meeting, threatening possible punishments if Abigail was found to have been drinking underage.
She says that during a hearing on the incident in early November, "the guy admitted to having sexual intercourse with me -- the question was of whether I was incapacitated."
Abigail said she had felt like things would go her way based on the evidence presented, and the fact that a witness for the accused allegedly changed his version of events, "but I got the notification the next day I apparently wasn't drunk enough."
On Nov. 4, the day after the hearing, the university sent Abigail a letter detailing the results of her hearing, which Abigail shared with HuffPost. The letter said the university had determined she was not "incapacitated" at the time of the alleged assault. None of the reasons for filing an appeal applied in her case.
UR had recently updated its sexual misconduct policies, defining an incapacitated person as being "mentally and/or physically helpless due to drug or alcohol consumption." The criteria for incapacitation are whether an accused individual knew, or "a sober reasonable person in the same position should have known, that the other party was incapacitated." The change was supposedly an attempt to clarify that simply having a drink or two did not render someone incapacitated.
Lawmakers in New York and higher education groups have pushed for alcohol amnesty policies for students who report sexual violence, due to worries that the threat of getting in trouble could stop victims from coming forward.
New York Gov. Andrew Cuomo is close to signing legislation that would give sexual assault victims who come forward immunity from penalties related to campus alcohol policy. Several private colleges endorsed Cuomo's proposal. Rochester was not one of them.
The Association for Student Conduct Administration, a higher education professionals group, advises schools to make their alcohol amnesty policies clear to potential sexual assault victims. "We want to encourage reporting of incidents so that students can get help and assistance if they have been assaulted, rather than having students who may have consumed some alcohol or drugs feeling that they are at fault for an incident of violence occurring to them," ASCA President Laura Bennett said.
Abigail is no longer enrolled at UR. The university disclosed to the campus community that it was being investigated by the Education Department in late May, when it was notified of the inquiry.
Popular in the Community