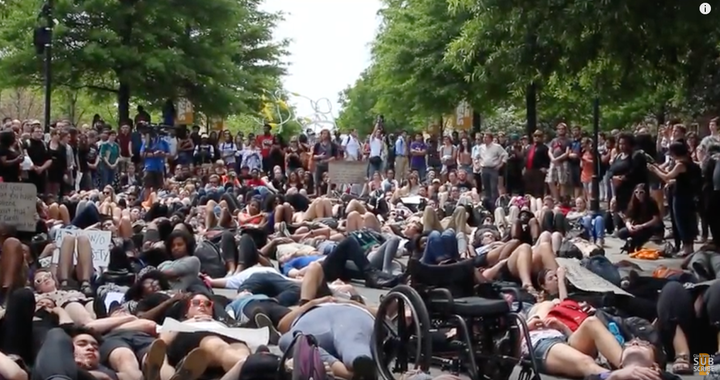 State legislators are close to defunding the University of Tennessee-Knoxville's diversity office and banning administrators from teaching students about gender neutral pronouns. Student activists, student government members and LGBT advocates are now pressing Tennessee's Republican governor to prevent that.
Tennessee lawmakers approved a bill last week that would strip $436,000 in state funding for the UT-Knoxville's diversity office. Legislators plan to distribute the money instead to minority student scholarships -- and force the university's School of Art's graphic design program and print shop to create and distribute decals that read, "In God we trust" for police vehicles.
The bill also bars the flagship university from promoting the use of gender-neutral pronouns for trans individuals or people who identify as queer. And it prevents UT from providing any financial support for "Sex Week" events, solely because lawmakers disagree with the content of speech during those programs.
Gov. Bill Haslam (R) has not yet decided whether he will sign or veto the measure, a spokeswoman told The Huffington Post on Monday evening, but he "will review it in its final form before taking any action."
Hundreds of students staged a walkout on the Knoxville campus last week in protest at the bill. A second demonstration was held in Chattanooga on Sunday. More than 1,500 people have signed an online petition in the past five days, which the Tennessee Equality Project started to urge the governor to veto it. No students at the University of Tennessee have protested in favor of closing the diversity office, against gender-neutral pronouns or against Sex Week.
"Now, more than ever, we need to come together as a UT community, and ensure our state representatives understand that their actions in taking away such an integral part of our university will only harm us," said student government president Carson Hollingsworth at the walkout, "not only as students, but also as graduates of this institution."
The National Association of Diversity Officers in Higher Education issued a statement last week, calling the Tennessee effort to defund the office "misguided" and sending a signal that the university should teach from a narrower perspective.
"Defunding such offices ignores the important role of diversity and inclusion operations across the country in leading change, and addressing the lingering effects of past discrimination in this country, and solving societal problems and evolving challenges in a culturally informed and ethical ways," the diversity officers group wrote in its statement. "To disable the work of diversity and inclusion within modern academia strikes at the very core of the abiding core values of many higher education institutions."
UT officials told HuffPost they are unsure what would happen if the bill is signed into law -- like whether other funds could be used to support the diversity office -- because it would be speculative at this point.
Popular in the Community