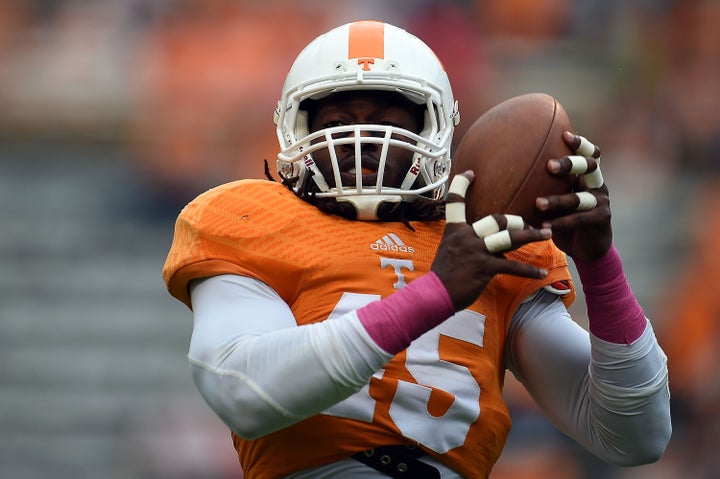 University of Tennessee officials looked the other way as the school's male athletes raped women and assaulted the people who helped them, and then arranged lawyers for the suspects when victims came forward, a new federal lawsuit alleges.
The civil suit, filed Tuesday on behalf of six female victims identified only as Jane Does, accuses the university of "deliberate indifference" to several rapes and doing everything in its power to aid six sexual assault suspects.
The lawsuit, filed by attorney David Randolph Smith, pulls no punches:
UT intentionally acted by an official policy of deliberate indifference to known sexual assaults so as to create a hostile sexual environment. UT had actual notice (and itself created) a long-standing, severely hostile sexual environment of rape by male athletes (particularly football players) that was condoned and completely unaddressed by UT officials, including Chancellor Jimmy Cheek, Athletic Department Director and Vice-Chancellor Dave Hart, and head football coach Butch Jones.
It accuses four former and two current athletes at the school of sexual assault. Three football players identified -- Riyahd Jones, A.J. Johnson and Michael Williams -- are already going through criminal court cases. The suit also accuses baseball player Yemi Makanjuola of assault, as well as another two current student suspects who weren't named.
It also accuses students of attacking player Drae Bowles, who was allegedly targeted by his peers for driving one of the alleged victims to the hospital after her assault and supporting her move to come forward. The lawsuit didn't specify who attacked Bowles.
Some of the most egregious allegations outlined in the suit paint a picture of a university administration that knew about sexual assault claims, but gave the advantage to the accused students.
That inequity was carried out in two ways, the lawsuit claims: First, school officials arranged for high-quality counsel for the accused, many of whom ended up using the same lawyer.
Then, the suspects were encouraged to invoke a state-exclusive administrative hearing process. It's a procedure used by universities across Tennessee that gives the accused the right to attorneys and the ability to confront their accusers through cross-examination. An administrative law judge, appointed by the school chancellor, then oversees what the plaintiffs are calling a "mini-trial."
Varsity athletes knew that they (not victims) would be fully supported by the UT athletic department and administration's process and that the perpetrators and athletic department could deter and discourage victims from pursuing complaints by: having their lawyers depose female victims; subjecting victims to extensive discovery; cross-examining sexual assault victims in a full blown hearing before an administrative law judge (appointed by Cheek); and delaying the investigation process until the athlete perpetrators transferred to another school or graduated without sanction or discipline.
Plaintiffs say that process flies in the face of the federal Title IX law -- a gender equity law that prohibits discrimination or a hostile environment based on an individual's sex.
"This is a big issue in our case -- if a student is facing discipline they can invoke that procedure law and have a mini-trial with a judge and cross examination that is contrary to Title IX and the Violence Against Women Act," Smith told The Huffington Post. "You're not supposed to further harass somebody by putting them through the meat grinder procedurally."
In a prepared statement, attorney Bill Ramsey wrote:
The University of Tennessee, Knoxville, has devoted significant time and energy to provide a safe environment for our students, to educate and raise awareness about sexual assault, and to encourage students to come forward and report sexual assault. When the University receives a report of sexual assault, we offer care and support to the person who came forward and work to investigate and resolve the matter in a timely, thorough, and equitable manner. When warranted, the University takes disciplinary action but will not do so in a manner that violates state law or the constitutional due process rights of our students.

In the situations identified in the lawsuit filed today; the University acted lawfully and in good faith, and we expect a court to agree. Any assertion that we do not take sexual assault seriously enough is simply not true. To claim that we have allowed a culture to exist contrary to our institutional commitment to providing a safe environment for our students or that we do not support those who report sexual assault is just false.
As of 2015, UT was already under a federal investigation into its handling of sexual assault cases, although no details are available about whether that investigation is related to the cases described in the lawsuit.
UT has long been under the public microscope after The Tennessean released several reports about sexual assault coverups at the administrative level. As Ramsey said, though, the university has indeed offered education and awareness about sexual assault. Late last year, it hired the founder of the National Coalition Against Violent Athletes, Kathy Redmond Brown, to speak to both men and women on campus about the effects of assault.
Brown told HuffPost on Wednesday that she was "not surprised" to see Tuesday's lawsuit. She noted, however, that she had not been briefed on problems at the administrative level when she was invited to speak.
"There are clear issues that need to be resolved here," she said. "In athletic departments across the country there's this idea of protectionism, that student athletes are just a part of a society and culture that is everywhere. It's just not true, and it can be stopped."
Brown questioned the administrative "mini-trial" as well, and said she was interested to see whether the state law allowing universities to handle the case will undermine Title IX.
Tuesday's suit calls for unspecified damages as well as sweeping changes to the way UT handles cases of sexual assault.
Of course, UT isn't alone. According to the most recent data, 200 federal investigations are now underway at 162 colleges and universities for how the schools handled of sexual assault cases.