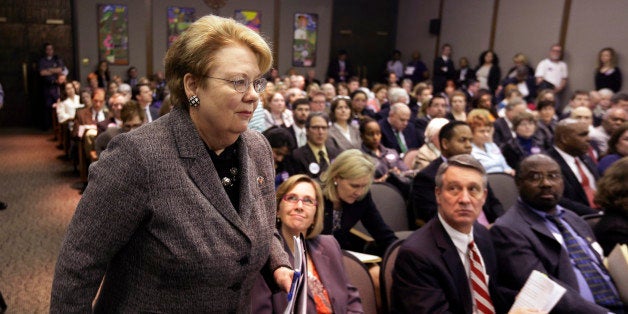 The University of Virginia wants local law enforcement to investigate an alleged gang rape at a campus fraternity said to have happened two years ago, now that a national magazine has written about the incident.
A Rolling Stone article by Sabrina Rubin Erdely, published Wednesday, describes a woman, known only as Jackie, who says she attended a Phi Kappa Psi fraternity party in the fall of 2012, when she was a freshman. Jackie was there as a date of one of the brothers, according to the article. The article alleges that Jackie was led to a bedroom at the party where she was sexually assaulted by seven men. According to the article, the assailants yelled at one man who penetrated Jackie with a beer bottle, "Don't you want to be a brother?"
Jackie did not disclose the alleged assault until the following spring, at the end of her freshman year, when she spoke to a university dean in charge of student misconduct, according to Rolling Stone. She declined at the time to press charges, but the dean offered to be available should she change her mind. UVA did not place the fraternity under investigation until September 2014.
UVA President Teresa Sullivan said in a campuswide email Wednesday that Erdely's article contained "many details that were previously not disclosed to University officials."
"I have asked the Charlottesville Police Department to formally investigate this incident, and the University will cooperate fully with the investigation," Sullivan wrote.
She added: "I want to underscore our commitment to marshaling all available resources to assist our students who confront issues related to sexual misconduct. Our dedicated Student Affairs staff devote countless hours to educating and counseling our students on issues regarding their health and safety, and they stand ready to assist whenever students need help."
The university refuses to disclose any statistics about how it punishes sexual assault, but it did not expel any students for that reason between 1999 and 2011, and it's unclear how many expulsions, if any, have taken place since then.
UVA is one of 88 higher education institutions currently under investigation by the U.S. Department of Education's Office for Civil Rights over concerns about how they handle sexual violence, federal officials confirmed to The Huffington Post on Thursday.
When members of the UVA Board of Visitors, the university's governing body, asked administrators during a September meeting if the school was under any federal investigation regarding sexual assault, Dean of Students Allen Groves said yes, but downplayed it as a "standard compliance review," Rolling Stone reported. That exchange be heard at 35:15 in the video below:
Groves also called the investigation a "normal review" and a "routine compliance review," and said the OCR had already completed the bulk of its on-campus work. Administrators, he said, were waiting on federal officials to "close the review."
UVA did not respond to a request for comment Thursday about Groves' remarks.
Federal officials, meanwhile, have taken pains to emphasize that a compliance review is more severe than an OCR probe based on a complaint. Compliance reviews are deeper, encompass more concerns and "are not random audits of schools," Education Department officials have said.
In a statement Wednesday, Phi Kappa Psi's national office said that while it was taking the allegations "very seriously," it was "important to note" that no criminal charges have been filed against any member of the UVA chapter. The organization also said it is conducting its own review of the alleged incident, and that it will cooperate with any investigations undertaken by other agencies.
Related
Popular in the Community