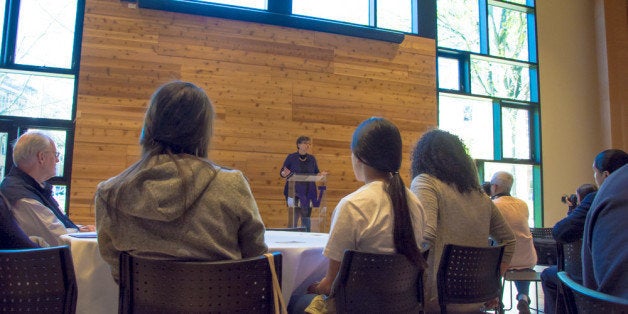 In late February, students at the University of Washington marched through campus to deliver a list of demands for a more equitable school, including bringing affirmative action back to admissions and actively recruiting diverse students and supporting them to stay on campus till graduation. Students in the march said others shouted racial slurs at them as they walked down Greek row.
Ana Mari Cauce, the university's interim president, decided to tackle the allegations and demands head on.
She launched a "Race and Equity Initiative" to actively encourage dialogue and improvements across campus. The program, which she hopes will last at least a year, is aimed at making the campus a more equitable place, and Cauce hopes the increased cohesion will benefit all its members.
"Innovation happens when you have people from different places and different experiences crossing with each other," Cauce told The Huffington Post.
It's unusual for school presidents, particularly at public universities that depend on state funding, to so actively tackle controversial social issues. And when they do speak out, they sometimes come under fire for their response. This year, two private university presidents -- Amy Gutmann at the University of Pennsylvania and Kathleen McCartney at Smith College -- faced criticism for their responses to Black Lives Matter demonstrations.
Cauce, however, is following in the footsteps of University of Oklahoma President David Boren, who forcefully condemned fraternity brothers caught on camera in March singing about lynching black men. In addition to calling the white students "bigots" for casually using the N-word, Boren hired a vice president of diversity who had experienced discrimination as a black undergrad.
Cauce is also using her first-hand experience of discrimination to help start a conversation with students. She is Latina and gay, and her brother, a civil rights organizer, was killed by members of the Ku Klux Klan and American Nazi Party in the 1979 Greensboro Massacre.
Cauce spoke about these personal experiences at an April 16 campus dialogue that marked the beginning of the initiative. She challenged attendees to call out offensive speech, learn about other cultures and backgrounds, and take time for self-reflection. After Cauce's speech, faculty members led discussion groups.
"We know that in order to change minds, you have to start by changing hearts," Cauce told The Huffington Post. "So I thought, let's try to come at it in a different way."
Some students said they were impressed with the language Cauce used, and how she so directly addressed social issues. Mariama Suwaneh, a sophomore involved in student leadership and the Black Student Union, said that "it's really exciting to see someone in her position coming out and speaking about this and using words like 'white privilege.'"
Students widely praised Cauce for starting the effort.
"She really acknowledged the challenges specifically faced by black students this year," said student Maria Abando, co-chair of the Office of Minority Affairs & Diversity Student Advisory Board. Abando said she was particularly glad Cauce used the word "microaggression" in her speech, and noted that at her discussion table, someone asked what the word meant. Abando said she was "excited" that someone wanted to understand the issues.
Cauce's personal story also increased the impact of the speech, some students said.
"There was something about our president taking a stand and getting vulnerable with us ... that gave everyone the opportunity and the encouragement to let down their own barriers," Chelsa Ayers, a 2015 UW graduate now working at the school's division of student life, told HuffPost.
Brian Tracey, a graduate student in the School of Marine Affairs and the Graduate and Professional Student Senate representative on the Diversity Council, said he was skeptical going in, thinking the speech would be an instance of "white savior syndrome." Though he had worked with Cauce before, he thought she was white.
"Knowing that she identified as a Latina gave her speech more legitimacy for me," he told HuffPost. "I know that we have some common ground as minorities."
This revelation also forced Tracey to examine his own preconceived notions -- which was a message of Cauce's speech. Tracey said Cauce made a point not to antagonize anyone, and to indicate that everybody was both part of the problem -- by having implicit biases -- and a potential part of the solution to discrimination. She told HuffPost she wanted to "not make it about blame or shame, and not make it about you, but about us."
Julia Severance, a junior and president of the Panhellenic Association, said she appreciated the no-shame message, as she hadn't had exposure to these discussions before. She added that the Interfraternity Council and Panhellenic Association are having meetings about how to continue the conversation on racial awareness.
Some students said the initial dialogue was a good step, but want to see where it leads. Simon Borumand, a junior and treasurer of the IFC, appreciated Cauce's speech as a first-generation American but "would like to see a plan" with "as much student participation and student input" as possible, he said.
Like Borumand, Tracey would like to see the next steps. He explained that Cauce's message wasn't anything new for students who have been having these discussions for years.
Cauce told HuffPost she and other administrators aim to have changes put in place when students return to school in the fall.
"The fact that I can't say 'Step one, step two, step three' leaves some people feeling skeptical," Cauce admitted. "And that's OK. Stay tuned."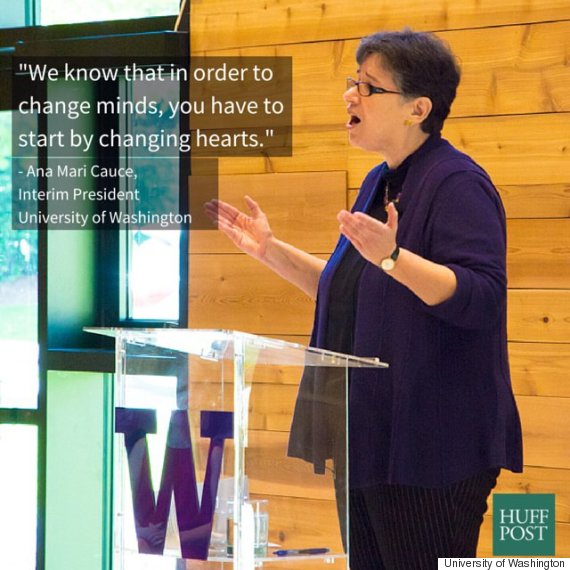 Related
Popular in the Community