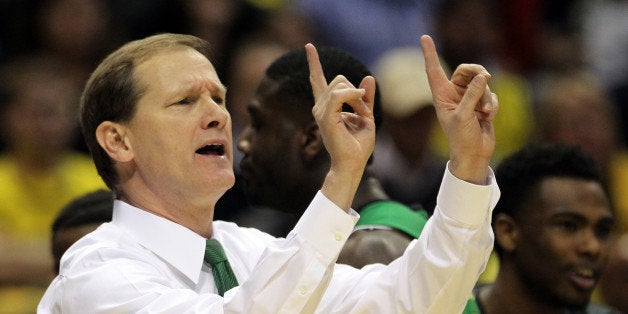 A University of Oregon student who says she was raped by three basketball players contends in a lawsuit filed Thursday that the school knew it admitted a transfer student with a previous record of sexual assault and that it prioritized basketball over her rape allegation.
The lawsuit, which names the university and basketball head coach Dana Altman, says the coach knew when he recruited player Brandon Austin that Austin had been suspended for sexual assault at Providence College in Rhode Island. The complaint was filed in U.S. District Court in Eugene by the female student under the pseudonym Jane Doe. She reported in March 2014 she was raped by Austin and fellow Oregon players Damyean Dotson and Dominic Artis.
"This is a very important case that needs to be litigated," said a statement from lawyer John Clune of Boulder, Colorado, who filed the lawsuit with Oregon attorney Jennifer Middleton. "It is time for athletic departments to stop trading the safety of women on campus for points on a scoreboard. UO is a good school with a great community and they deserve better."
Experts and advocates say this loophole potentially exposes colleges and their students to serial sex offenders who jump from school to school.
"The really bad people are going to duck out of being held responsible a lot of times," said Peter Lake, director of the Center for Higher Education Law and Policy at Stetson University College of Law. "The federal government has not seriously addressed this issue."
Oregon's interim president, Scott Coltrane, denied the school did anything illegal. "The university would prefer not to be in litigation with any student," he said in a statement. "We have been as respectful and supportive as possible of the student, including immediately implementing support services and appropriately honoring her choice of process, once hearing of her experience." Coltrane said the university makes decisions on transfer applications "based on the information made available to us by applicants and our colleagues nationally."
Altman said through the Oregon athletic department that he had no comment on the lawsuit. He has said he spoke to the Providence basketball coach prior to recruiting Austin, but didn't know the reason for Austin's suspension there.
Austin and a Providence teammate both were accused of sexually assaulting a female student at the school and were suspended in November 2013. While under suspension, Austin was recruited to Oregon. He was accused in March 2014 of gang-raping the Oregon student who filed the lawsuit, along with teammates Dotson and Artis. The players claimed it was consensual sex. Prosecutors declined to press charges, citing lack of evidence.
Austin was later recruited by Northwest Florida State College, which admitted knowing of his sexual assault history at two schools.
Related
Popular in the Community