Here are some Fall 2015 highlights from the University Press of Colorado (which also includes the Utah State University Press):
1. Ways to the West: How Getting Out of Our Cars is Reclaiming America's Frontier, by Tim Sullivan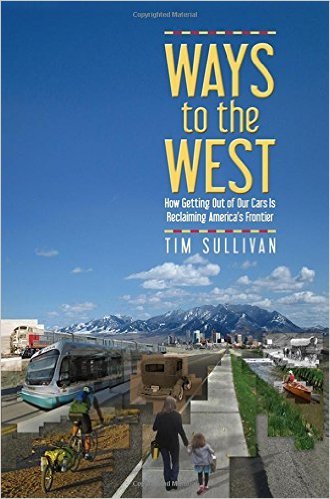 In Ways to the West, Tim Sullivan embarks on a car-less road trip through the Intermountain West, exploring how the region is taking on what may be its greatest challenge: sustainable transportation. Combining personal travel narrative, historical research, and his professional expertise in urban planning, Sullivan takes a critical yet optimistic and often humorous look at how contemporary Western cities are making themselves more hospitable to a life less centered on the personal vehicle.

The modern West was built by the automobile, but so much driving has jeopardized the West's mystic hold on the American future. At first, automobility heightened the things that made the West great, but love became dependence, and dependence became addiction. Via his travels by bicycle, bus, and trains through Las Vegas, Phoenix, Denver, Boise, Salt Lake City, and Portland, Sullivan captures the modern transportation evolution taking place across the region and the resulting ways in which contemporary Western communities are reinterpreting classic American values like mobility, opportunity, adventure, and freedom.
2. Transient Landscapes: Insights on a Changing Planet, by Ellen Wohl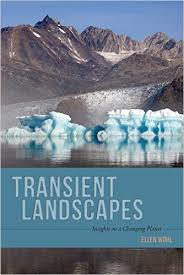 Landscape--the unique combination of landforms, plants, animals, and weather that compose any natural place--is inherently transient. Each essay n Transient Landscapes introduces this idea of a constantly metamorphosing global landscape, revealing how to see the ubiquity of landscape transcience, both that which results through Earth's natural environmental and climatological processes and that which comes from human intervention.

The essays are grouped by type of environmental change: long-term, large-scale transformation driven by geologic forces such as tectonic uplift and volcanism; natural variability at shorter time scales, such as seasonal flooding; and modificaitons resulting from human activities, such as timber harvest, land drainage, and pollution. Each essay is set in a unique geographic location--including such diverse places as New Zealand, Northern California, Costa Rica, and the Scottish Highlands--and is largely drawn from Wohl's personal experience in the field.
3. Thiefing a Chance: Factory Work, Illicit Labor, and Neoliberal Subjectivities in Trinidad, by Rebecca Prentice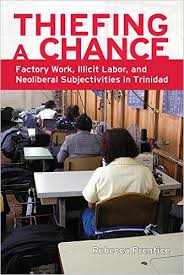 When an IMF-backed program of liberalization opened Trinidad's borders to foreign ready-made apparel, global competition damaged the local industry and unraveled worker entitlements and expectations but also presented new economic opportunities for engaging the "global" market. This fascinating ethnography explores contemporary life in the Signature Fashions garment factory, where the workers attempt to exploit gaps in these new labor configurations through illicit and informal uses of the factory, a practice they colloquially refer to as "thiefing a chance."

Drawing on fifteen months of fieldwork, author Rebecca Prentice combines a vivid picture of factory life, first-person accounts, and anthropological analysis to explore how economic restructuring has been negotiated, lived, and recounted by women working in the garment industry during Trinidad's transition to a neoliberal economy. Through careful social coordination, the workers "thief" by copying patterns, taking portions of fabric, teaching themselves how to operate machines, and wearing their work outside the factory. Even so, the workers describe their "thiefing" as a personal, individualistic enterprise rather than a form of collective resistance to workplace authority. By making and taking furtive opportunities, they embrace a vision of themselves as enterprising subjects while actively complying with the competitive demands of a neoliberal economic order.

4. The Ecology of Pastoralism, ed. by P. Nick Kardulias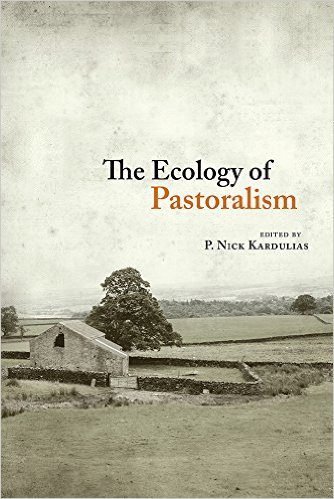 In The Ecology of Pastoralism, diverse contributions from archaeologists and ethnographers address pastoralism's significant impact on humanity's basic subsistence and survival, focusing on the network of social, political, and religious institutions existing within various societies dependent on animal husbandry.

Pastoral peoples, both past and present, have organized their relationships with certain animals to maximize their ability to survive and adapt to a wide range of conditions over time. Contributors show that despite differences in landscape, environment, and administrative and political structures, these societies share a major characteristic--high flexibility. Based partially on the adaptability of various domestic animals to difficult environments and partially on the ability of people to establish networks allowing them to accommodate political, social, and economic needs, this flexibility is key to the survival of complex pastoral systems and serve as the connection among the varied cultures n the volume.
5. Cosmology, Calendars, and Horizon-Based Astronomy in Ancient Mesoamerica, eds. Anne S. Dowd and Susan Milbrath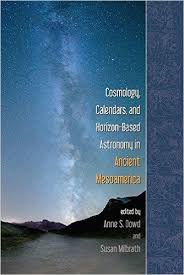 Cosmology, Calendars, and Horizon-Based Astronomy in Ancient Mesoamerica is an interdisciplinary tour de force that establishes the critical role astronomy played in the religious and civic lives of the ancient peoples of Mesoamerica. Providing extraordinary examples of how Precolumbian peoples merged ideas about the cosmos with those concerning calendar and astronomy, the volume showcases the value of detailed examinations of astronomical data for understanding ancient cultures.

The volume is divided into three sections: investigations into Mesoamerican horizon-based astronomy, the cosmological principles expressed in Mesoamerican religious imagery and rituals related to astronomy, and the aspects of Mesoamerican calendars related to archaeoastronomy. It also provides cutting-edge research on diverse topics such as records of calendar- and horizon-based astronomical observation (like the Dresden and Borgia codices), iconography of burial assemblages, architectural alignment studies, urban planning, and counting or measuring devices.
Calling all HuffPost superfans!
Sign up for membership to become a founding member and help shape HuffPost's next chapter