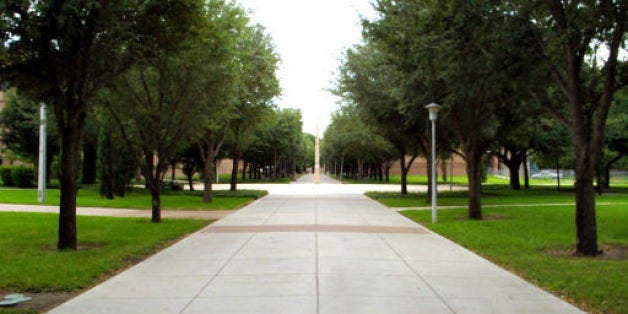 The University of Texas-Pan American is the latest institution of higher education to fall under a federal review for its handling of sexual violence on campus.
According to a copy of the letter shared with The Huffington Post, federal officials will review whether UTPA provides prompt and equitable resources for victims and whether the university complies with the gender equity law Title IX, which requires colleges to respond to sexual violence on campus and provide an environment free of discrimination.
The investigation is the latest in a ramp-up of Title IX reviews by the Education Department's OCR. As of April 3, roughly halfway through fiscal year 2014, the agency had already received 30 complaints, as many as it did in all of FY 2013, according to a tally provided by the Education Department to HuffPost. There were also 52 pending Title IX investigations as of April 3, not including the UTPA review or the investigation also launched last week at Harvard College, the undergraduate school at Harvard University.
The investigations can take years to complete, as was the case at Tufts University in Massachusetts. Tufts announced Monday it was backing out of a Voluntary Resolution Agreement with OCR because the agency specifically said the school was not in compliance with Title IX. OCR launched an investigation of Tufts in 2010 over concerns of its handling of a sexual misconduct case.
OCR warned that because Tufts would not enter into a resolution agreement, the agency "may move to initiate proceedings to terminate federal funding of Tufts or to enforce the agreement."
OCR reviews of universities typically lead to resolution agreements that stipulate changes the schools must make to abide by Title IX. Such was the case at Yale University in 2012 and the University of Montana in 2013. Cutting off federal funding is a nuclear option which the department has not used, according to members of Congress.
Tufts stated Monday it had already made progress improving its sexual misconduct policies. It did not state the specifics of the disagreement with the OCR.
At UTPA, the university had already commissioned an external review of Espinosa's case, which warned the university may possibly be in violation of Title IX.
"Investigators have an obligation to address complaints promptly, thoroughly and impartially," reads a confidential report from a risk management group hired by UTPA in fall 2013. "The initial investigation into this complaint dragged on for months and the investigators often did not respond to the complainant's legitimate inquiries and concerns."
Espinosa reported in early 2013 that an ex-boyfriend had sexually assaulted her, but the investigation dragged on into her summer session on campus. Espinosa said the stress of having the accused student still on campus during that time led to her take an incomplete in one class, drop another and later leave school altogether. Things moved faster after Espinosa wrote the university president in July, criticizing the investigation, but the school closed her case in the fall claiming there wasn't enough evidence.
Espinosa also said officials made inappropriate comments in meetings with her, such as asking if the relationship was "Facebook official," and repeatedly probing whether force was used or if she was ever hit.
"It seemed pretty obvious throughout this case that they didn't know what sexual assault was or they had a very narrow view of what it was," Espinosa told HuffPost. "I guess most people imagine a brutal attack, where you're injured and you're fighting for your life and it was a stranger that did this to you. They don't necessarily think of a significant other violating your body."
She appealed and got a second review, but the ex-boyfriend still wasn't found responsible for sexual assault. He was found guilty of "conduct that is inappropriate for members of an academic institution," and "Unauthorized entry to University facilities," according to a copy of the university's ultimate findings in Espinosa's case. He was punished with prohibition from any UTPA employment or graduate or teaching assistantships.
UTPA did not respond to request for comment.
Espinosa has left the school altogether and moved to a different town.
Popular in the Community