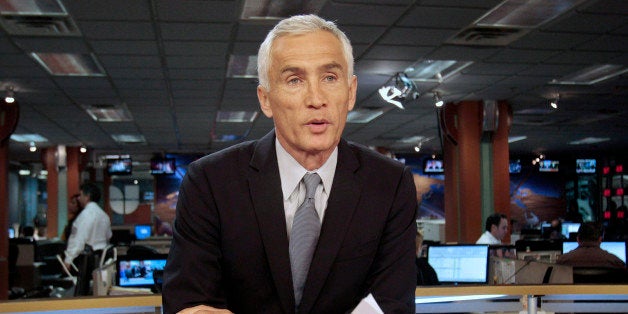 WASHINGTON -- Conservatives have charged that Univision, particularly its influential host Jorge Ramos, hasn't been fair to them. A new report on Ramos' show, however, found that the program doesn't refuse to give conservatives a chance to voice their views.
Media Matters For America, a progressive media watchdog group, analyzed the 120 guests who appeared on Noticiero Univision's "Al Punto" from Dec. 21, 2014 -- soon after potential Republican presidential candidate Jeb Bush announced an exploratory committee -- through May 17, 2015.
Its report, released on Wednesday, found that although more guests were progressive than conservative, two-thirds of the guests weren't affiliated with either party.
Most of the elected or administration officials who came on "Al Punto" were Democrats -- 16, compared to five Republicans. Among political pundits, though, Media Matters found that conservatives got more airtime than progressives, with 14 of 23 pundit appearances going to the GOP.
Univision is the largest Spanish-language media company in the U.S., and an influential channel for politicians hoping to reach Latino voters. But Republicans have felt overlooked by the station -- and Ramos in particular -- because it has criticized the GOP.
Ramos, a supporter of immigration reform, is tough on Republicans about the issue -- he's tough on Democrats, too -- and critics have said that he isn't giving conservatives a fair shake.
"It's highly questionable whether we're treated fairly on Univision," Republican National Committee Chairman Reince Priebus told BuzzFeed News in January, although he said members of the party would continue to appear on the network.
The criticisms go beyond Ramos, however. Univision has ties to former Secretary of State and current Democratic candidate Hillary Clinton, Politico has reported. Its owner, Haim Saban, is a Clinton supporter who has donated to the Bill, Hillary & Chelsea Clinton Foundation, and Univision worked with the foundation on a early childhood education initiative. A spokeswoman for Univision told Politico that the initiative's leadership council had Republicans and Democrats and that the editorial and corporate sides of the company were kept separate.
Media Matters said its study proved that conservative claims of bias from Univision aren't true.
"The right-wing media playbook hasn't changed over the years: claim the media has a 'liberal' bias and then say it again even louder. Rinse, repeat," Media Matters President Bradley Beychok said in a statement. "However, with Hispanic voters growing as a part of the electorate, it's never been more important to prevent this well-worn playbook from succeeding within the Hispanic media landscape."
Univision did not immediately respond to a request for comment on the report.
In 2013, The Huffington Post analyzed the political guests of "Al Punto" and Telemundo's "Enfoque con José Díaz-Balart" and found that Republicans appeared regularly on the programs -- although not as frequently as Democrats -- but that most of the GOP appearances were Congress members who support immigration reform. The networks said that was not because other members weren't asked, but because they often turned the requests down.
Ramos laid out his philosophy on journalism in a commencement speech earlier this month at the University of Southern California School for Communication and Journalism. He told graduates not to be partisan, but not to be neutral, either.
"Yes, I'm asking you to take a stand," he said. "Don't be neutral. Neutrality is for referees in a football game. The really, really good journalists always take a stand with those who have no voice and with those who have no rights. Maybe you don't know it yet, but actually you chose to be a fighter. Don't quit now."
Related
Popular in the Community