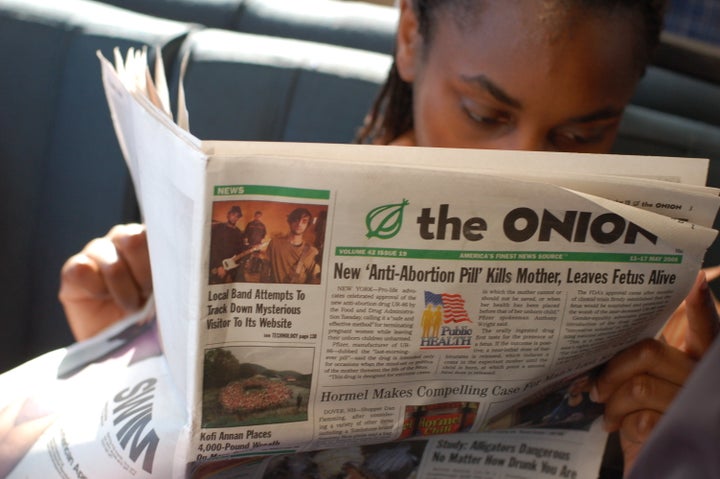 Univision has purchased a 40 percent stake in satirical site The Onion, the Spanish-language network confirmed Tuesday. Univision said the deal, whose terms were not disclosed, will help it expand its digital presence and reach millennials.
"The Onion has been, and continues to be, a leading force of … intellectual, social, cultural and satirical commentary online," said Isaac Lee, chief news and digital officer at Univision and CEO of Fusion, in a statement. "Including Onion Inc. as part of our portfolio is a great fit for and a significant step forward in our digital strategy as we continue to expand the ways we entertain and inform millennial and multicultural audiences."
Onion Inc., which owns satirical aggregation site Clickhole and The A.V. Club, will maintain editorial independence but will collaborate with Univision's brands -- including the English-language network Fusion -- to produce and distribute digital content. The Onion, which launched in 1988 and went online-only in 2013, boasts 25 million visitors per month.
"Onion Inc. has remained successful by putting editorial first," said Mike McAvoy, president and chief executive officer at Onion Inc., in a release. "We're excited to partner with Univision, a company that understands and appreciates that foundation, and that can provide additional resources, expertise, and opportunity for our talented staff."
The deal is the latest move in Univision's longterm strategy of courting a diverse, young audience. The company partnered with Disney in 2013 to launch cable network Fusion, which caters to English-speaking Hispanics; Disney is currently in the process of divesting from the venture. Along with coverage of the 2016 election and investigative journalism, Fusion has made topical comedy one of the centerpieces of its editorial strategy. The network airs "No, You Shut Up!," created by former "Daily Show" executive producer David Javerbaum, and "The Chris Gethard Show," a collaboration with Funny or Die.
Last year, Univision also acquired news and opinion site The Root, which is geared toward African Americans.
Popular in the Community