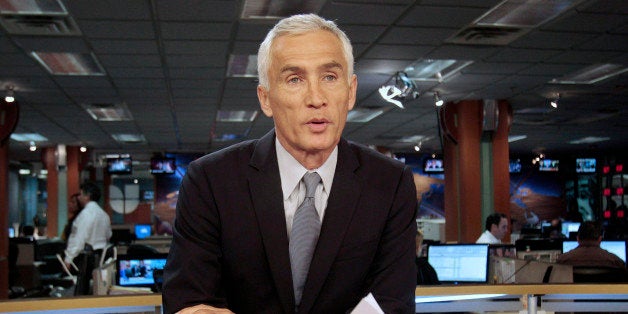 NEW YORK -- The Republican National Committee announced Friday which networks landed 2016 presidential debates -- and Univision, the most-watched Spanish-language network, didn't make the cut.
How Republicans engage with Univision this election cycle is being closely watched given that the network reaches 96 percent of Hispanic households, a key demographic for either party hoping to win the White House. On Wednesday, BuzzFeed's Adrian Carrasquillo described Univision, which has aggressively covered immigration reform, as "one of the Republican Party's biggest, most complex, most painful challenges."
In a statement to The Huffington Post, Univision spokesman Jose Zamora didn't specifically address the Republican Party's decision, but spoke broadly of the need for both parties to engage the network's large audience.
"There is a very simple political reality -- Hispanics will decide the 2016 presidential election," Zamora said. "No one can match Univision's reach and ability to inform, provide access and empower Hispanic America. Anyone who wants to reach and engage Hispanics will have to do it through Univision. The Hispanic community deserves to hear the policies and views of all political parties and Univision is committed to providing access to all points of view. We have an open invitation to all political parties to address our community on issues of importance and relevance. Candidates should not miss the opportunity to inform and engage with the fastest growing segment of the electorate."
Jorge Ramos, the top anchor on Univision and Fusion, an English-language network launched through a partnership with ABC, said in a statement that both Republicans and Democrats "have to make sure that their debates don't look like the 2015 Oscar nominations," a reference to the lack of diversity among Academy Award nominees.
"The new rule in American politics is that no one can make it to the White House without the Hispanic vote," Ramos continued. "So we still expect all candidates from both parties to talk to us on Univision and Fusion. I believe that Latinos and Millennials will decide the 2016 presidential election. The sooner Republicans and Democrats realize this, the better their chances to win the White House. It's always a strategic mistake not to include in your plans the fastest growing segments of the electorate."
NBC and Telemundo (the second-biggest Spanish-language network, owned by NBCUniversal) will partner on a Republican debate in Florida in February. The other networks selected were Fox News, Fox Business, CNBC, ABC and CBS.
An RNC spokesman declined to comment on the decision.
But clearly some in the party don't feel the network has treated them well. RNC chairman Reince Preibus told BuzzFeed earlier this week "it's highly questionable whether we're treated fairly on Univision."
Still, Preibus and others do engage with Ramos, an immigration reform advocate. The two sparred earlier this week over the Republican Party's position on the issue. And Priebus will also appear Sunday on Univison's "Al Punto," a public affairs show hosted by Ramos.
While immigration may be the biggest hurdle for Republicans in engaging with Univision this cycle, there also appear to be concerns about the network given that part-owner Haim Saban is a prominent Hillary Clinton supporter.
Univision wasn't the only network shut out of the Republicans debate schedule, with liberal cable network MSNBC and Bloomberg TV also not getting selected. The difference, however, is that Republicans aren't looking to reach MSNBC's viewership, and the two business networks selected, CNBC and Fox Business, reach larger audiences than Bloomberg.
Related
Popular in the Community