It's probably fitting that, 43 years after the death of M.C. Escher, the beloved Dutch artist is still surprising experts with his infinite patterns and obsession with the intersection of math and art.
Just last month, the Escher Museum in Holland announced the discovery of a previously unknown work by the "Relativity" artist, revealing a sketch that had been largely forgotten since its creation in 1924.
Escher's family had been holding onto the rare, untitled drawing, unaware of the location it depicted, until they decided to sell the piece to the museum. Thanks to curator Micky Piller, the public has not only been treated to a glimpse of the previously unseen sketch, but we now know just what Escher was sketching: Montecelio, Italy, a town 12 miles northeast of Rome.
In March of 1924, Escher visited Rome shortly before his wedding to Jetta Umiker. According to Piller, Escher would go for walks during this time, searching for settings to draw. One such setting was the Roman fort in Montecelio that dates back to 998, featured in the image above.
We might loosely refer to the work on paper as a "drawing" or a "sketch," but in reality, the image is actually an impression created with stencils, stamps, rollers and stippling brushes, a unique method for Escher. The unnamed work is reminiscent of the artist's 1920 drawing of a farmer on the island of Texel in North Holland and a 1928 drawing of the Corsican town of Corte.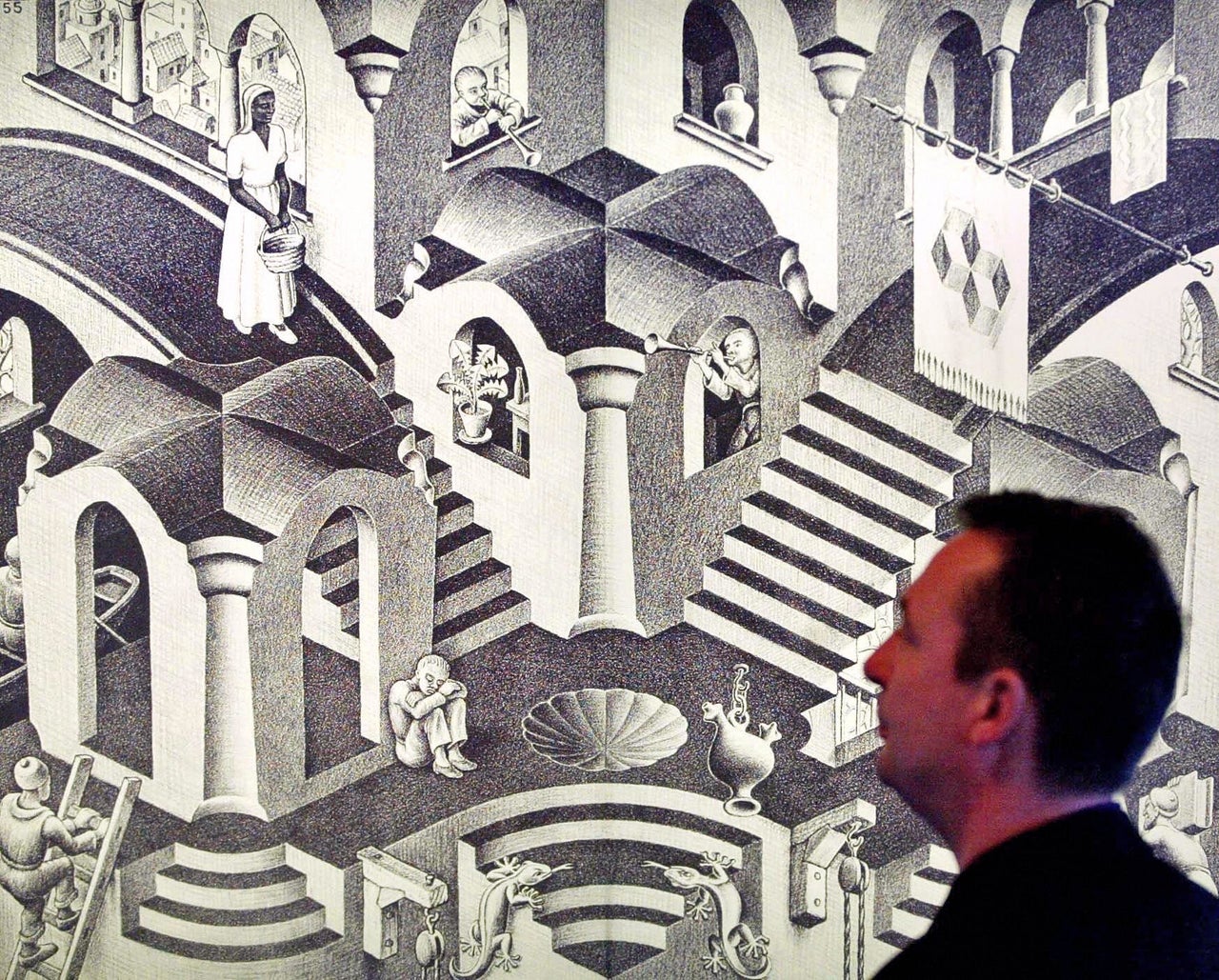 But beyond the particulars, most Escher fans will recognize the work's nearly tessellated pattern and optical illusion feel, as well as its nod to traditional Japanese illustration. "Taken together, these elements make Montecelio an important early work, linking Escher's study at the School of Architecture and Decorative Arts in Haarlem and his later Italian panoramas," the museum wrote in a press statement. "After the Second World War, Escher transformed his experience of Italian landscapes in the prints with differing perspectives so typical of his work."
"It's very rare for a work like this to emerge so long after the artist's death," Piller added in an interview with The Guardian. "It contains some technical similarities to Escher's other works, as well as elements that recur in his later work, so it's an important discovery."