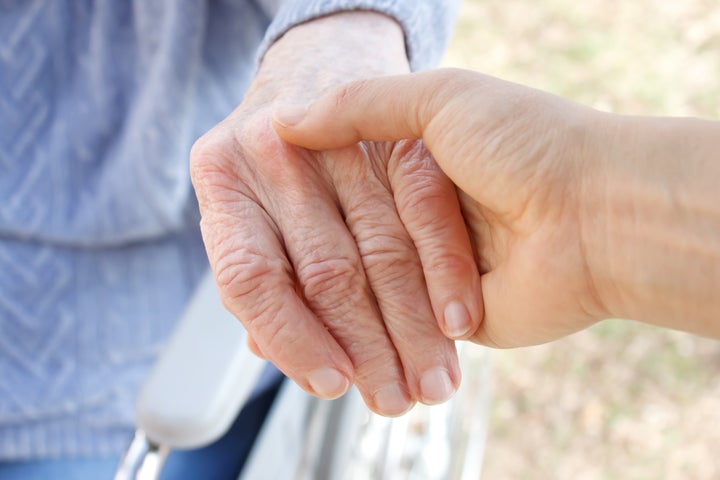 A few years ago, I met a woman named Irene. Irene was an 82-year-old retired teacher, a widow with mild hypertension, who was living comfortably off of her pension in Manhattan in a one bedroom apartment that she owned. She had a son, Jimmy, who was an alcoholic, who one day reappeared at her door with no money and no job. Within a week, he was sleeping in the bed and Irene was on the couch. He soon had her withdraw a large sum of cash from her bank account. The teller was concerned, but said nothing. Jimmy took Irene's mailbox key -- retrieved all her mail, including multiple credit card offers in her name that enabled him to get cash and make purchases at the liquor store, leaving her financially responsible for the debt. The mailman noticed but paid no mind.
Soon after, Jimmy demanded they see Irene's lawyer, as he wanted her to change her will and the deed to the apartment. The lawyer, busy with clients and deals, met them together in his office -- barely looking up from his desk as she feebly told him she wanted to change the will. When Jimmy realized he could take her dentures -- because she eats less and won't go out without them -- he taunts her with this power over her life and her liberty. Irene began to lose sleep and became anxious and afraid. She wondered how she got so old, so frail and stupid -- just like Jimmy told her. She felt scared and alone. She was ashamed and embarrassed for the actions of her son. Her health, which was stable weeks before, started to experience a systemic decline -- physically and mentally.
When the Yankees were losing one rainy Sunday afternoon, Jimmy grabbed the cane that she had begun using, and swung it her way, breaking the glass Tiffany lamp she got as a young bride. As she cleaned the floor, she fell, landing in hundreds of pieces of broken glass. Nervous, Jimmy called 911. When the EMTs arrived, they asked him, not her, what happened and the downward spiral continued, as he told them that she had fallen.
When she went to church the next Sunday, a cane in one hand and stitches all along her arm, the pastor, blind to her despair, told her she was a good mother to let her son back home. When finally she went to her doctor to get the stitches removed and she seemed depressed and anxious, he offered psychiatric medication instead of his ear.
Ninety days from independence and freedom and dignity to decline and frailty and shame.
The Harry & Jeanette Weinberg Center for Elder Abuse Prevention, located at the Hebrew Home at Riverdale, opened in 2005 to help elder abuse victims like Irene. It is a unique model based within an existing long-term care facility, offering victims a full range of health care and supportive services including an emergency residential shelter and a coordinated system of care that provides a safe harbor, emotional support, psychological counseling, healthcare, legal advocacy and representation for victims of elder abuse. Since our doors opened, we have provided over 30,000 days of shelter. Our model has been replicated in six long-term care facilities nationally, and our team has trained over 30,000 people -- doctors, police, firefighters, doormen, nursing students, lawyers, meals on wheels, probation officers, judges, military, teachers, clergy and older adults.
When I met Irene, it was almost a year after Jimmy moved in and took over her life, her home and her assets. Suffering from a broken hip, an astute hospital social worker working on a discharge plan used a screening tool designed to assess for older adult safety and elder abuse. It was there, in a private and calm moment of direct and thoughtful care, that the social worker finally chipped away to uncover some of the brutal truth that had been hiding there all along.
At the Weinberg Center, Irene received rehabilitation for her hip, a family court limited order of protection against her son, which she did by telephone through the Weinberg-sponsored order of protection project, a newly-drafted will and financial counseling to undo much of what Jimmy had done. She chose not to pursue any criminal charges.
We live with the harsh reality that there are many more Irenes living in our communities. Elder abuse remains unknown, unnoticed, and unreported. 16,000 older adults are victims of some form of abuse or mistreatment every day. Elder abuse can happen anywhere to anyone. Don't assume that your neighbor's bruises are from falls. Or that her black eye is from bumping into a wall in the middle of the night. Ask questions. Observe. And if you suspect abuse, contact an organization, such as the Weinberg Center, that can help.
Calling all HuffPost superfans!
Sign up for membership to become a founding member and help shape HuffPost's next chapter