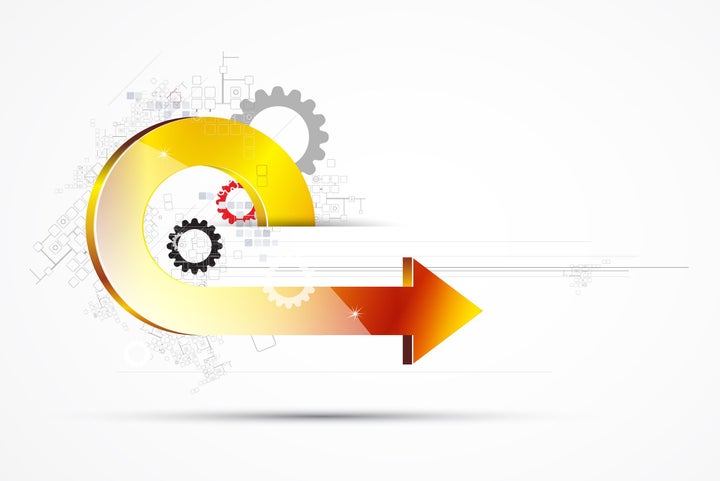 What roles and tasks do you need to hire for and for how long will those be relevant, as your business evolves at an accelerated pace? How can you identify the right people? How can they be prepared for the changing needs of the marketplace? "Unlearning" traditional ways of working might seem outlandish. However, it might well be the easiest way for new and existing employees to step away from traditional practices and adapt on a sustainable basis for a radically new and evolving business environment.
Habits are hard to change, especially when they are systematically taught from an early age. During the Industrial Revolution, the Prussian factory school system was implemented in the U.S. in the 1830s to raise generations of compliant factory workers. The subsequent K-12 system also allowed limited flexibility, assuming homogeneity of participants to be effective.
However, the majority of enterprise value creation has shifted from hard assets to intangible ones – encompassing IP, people and brand. Routine work has been far outpaced by non-routine work, with project work increasing 40-fold since 1990[i]. Technology-enabled interconnectedness—including social media channels—have brought a new transparency to business and given customers the ability to share their feedback on products and services easily and visibly almost in real-time. The consequence is frequent iterations and updates instead of major releases one or more years apart.
The approach and skills our workers need to utilize are very different now the market developments are happening at an accelerated pace. What was effective with fixed work streams and long-planned production quotas is no longer viable as goals and tasks may need to change monthly, weekly or even daily. Proactive and pre-emptive methodologies make sense, optimizing the curiosity and creativity that is innately human but often needs to be revived and stimulated after "unlearning" rigid legacy operating practices.
I spoke to Dom Price, Head of Research and Development and Work Futurist at Atlassian, a company that develops software products to enable teams to collaborate, share, organize, iterate and perform at the highest levels. At the core of the company's business model, its software is critical to support customers' workers in an evolving market and enable them to transition to unleash their teams potential. Price is a firm believer in unlearning having had to do it himself when he started at Atlassian.
Wade: Why is a new approach so important at Atlassian?
Price: Atlassian is a software company. Our world has changed as the consumption of technology has changed. We have fewer customers expecting distribution of large and infrequent product releases. Instead, most customers are "in the cloud". This enables us to experiment with features, and release value to them on a frequent basis, even multiple times a day. We adapt and refine based on marketplace needs and work closely with customers so the feedback loop is tight. This requires a very different mindset from employees than was typical in the past, with more focus on experiments, using data and embracing any failure as lessons learned.
Wade: After you joined Atlassian in 2013, what caused you to understand the need for unlearning?
Price: Many people had recommended that I go and work at Atlassian, which was already known for having a unique approach and culture of innovation. However, I was amazed to find when I got there that I really didn't like it. After talking to several friends, they counseled me that perhaps it wasn't the company, it was me! They were right. My expectations and ways of working coming from my previous jobs were misaligned with Atlassian's mindset and approach. For example, I was used to fire-fighting at work and at Atlassian that changed to fire-proofing. I had to notice new signals that were pre-emptive not reactive. I then realized that I had to 'unlearn' my working habits and adjust for very different methods. In fact, I am still 'unlearning'. Every few months I take time for retrospection, reflecting on my approach and my goals. I look back on the last quarter and assess what I "loved", "longed for" and "loathed" and adjust my leadership style accordingly to evolve with my environment.
Wade: How do you identify someone who is going to fit with Atlassian's culture and way of working?
Price: We specifically do not hire for knowledge or culture. That would be great, but it would also be out of date soon enough! Instead, we look for two things. Firstly, someone who is able to adapt, deal with challenges, and is resilient. We expect to expose them to different areas of the business and evaluate them for the impact we anticipate them being able to have. We look for people who observe, who understand the increased expectations of customers and are ready to fulfill them. We look for cognitive diversity so that we have people who think differently, and those who will embrace this approach, which we find leads to better performance. Secondly, we look for people that share and embrace our values, such as "Play as a Team" or "Be the Change You Seek". Values should live forever, but culture should evolve as you add new people.
Wade: What is the on-boarding process to help a new hire unlearn their previous working experiences so they can fit in well at Atlassian?
Price: It's all about the first 90 days. Every new starter gets a 90-day plan. To begin with, we want someone to understand by listening and watching first, so they can get familiar with our environment. We want them to bring their historical knowledge and experience, and understand how to apply that knowledge in our environment. For the first 30 days, we give them strong guidance on where to find information, insights and build relationships. The second 30 days, we give them more latitude to get familiar with their role, teams and expectations. In the final 30 days, we allow them to build their own adventure and navigate their way. It is important for them to take ownership for their development, whilst we provide them with the people, practices and products to thrive. The environment changes quite fast, so it's important that our people can handle the inherent lack of predictability and uncertainty.
Wade: As linear career tracks fade, how do careers develop in a less hierarchical organization? What motivates people to perform?
Price: We don't operate with a traditional organization chart. We're more of a networked organization with over 2000 people grouped in small autonomous teams. Vertical promotions aren't the key motivating factor. Many are motivated by the intrinsic value of their work, building and mastering their craft skills, and the impact that they can have not just in their work, but also personally. Every staff member gets five days a year to volunteer at a charity of their choosing.
We've found that learning and development, and satisfying the desire to grow, are good motivators. Our workers are smart and can access knowledge easily, so our role is to give them access to learning opportunities and let them personalize based on their needs. For example, our Team Playbook was developed by teams at Atlassian who wanted to share with other teams the great ways of working they had discovered. We added a Team Health Monitor as a technique to self-reflect on how practices work for a specific challenge so a team can continually improve. For new projects, we are experimenting with allowing teams to self-select, and it's worked quite well. Hiring smart people, trusting them, and giving the space and freedom to do the best work of their life, is quite a motivator.
There are different ways to deal with the greater pace of change of your company's specific marketplace. Price uses an approach that works particularly well for Atlassian. Your employees are likely to respond most effectively when they can bring a flexible mindset and approach to each new scenario, allowing for conditions and objectives that change much more often than before. Consider a relevant on-boarding process for new employees as well as the possible benefit of unlearning unsuitably rigid routine operating practices. Design careers that can evolve appropriately for the changing needs and pathways of development of your business.
[i] Brookings Papers on Economic Activity – D. Elmendorf, Gregory Mankiw, Lawrence Summers Spring 2008.
Related
Popular in the Community