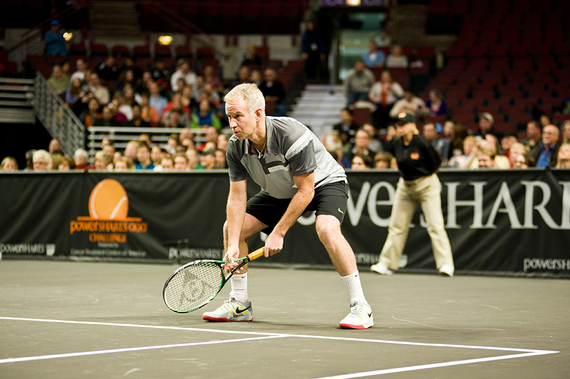 The paint has dried on 2016 and we've been bombarded, ad nauseam, with useful tips on making and keeping workplace resolutions. We all know the drill: innovation, leadership, drive, results. We feel accomplished just throwing around buzz words like "differentiation", "monetize" - and let's not forget "Q4". But after all that noise, what is it that we'd really like to bring to the table when we assess individual and collective results? What is the one thing that has its own sense of worth in the work place? The ability to be openly emotional...effectively.
You won't have to go far to find articles on emotional intelligence in business. Yet, these articles are often framed as learning to control your emotions in the office, giving frustration, worry, anger, dislike and disappointment a wide berth. We're conditioned from early on to keep our heads down, fight against human nature, and constantly remind ourselves that negative thoughts and feelings have no place in the business world.
Executives, and particularly leaders, should be either stoic or cheerful; they must project confidence and damp down any negativity bubbling up inside them. But that goes against basic biology (Harvard Business Review, 2013).
In reality, all emotions - even negative ones - contain information and energy that is meaningful and potentially productive. The crux of the matter becomes how to use those emotions to our advantage.
Which brings me to John McEnroe. The swashbuckling, tantrum-laden champion of '70s and '80s tennis was feared, resented and admired for his ability to keep it real in a sport remarkable for its rich tradition of etiquette. I think we can agree that passion was at the heart of McEnroe's game, and he didn't tiptoe around his love of the sport or the frustration it brought - he leveraged it:
We all shuddered when we saw McEnroe unleash on an umpire (or more often unleash on himself), and yet we all remained drawn to him. The thing about McEnroe is, while he appeared unraveled, his game somehow got better. His opponents (and in some cases umpires) could never fully recover. John McEnroe used emotion to get more out of himself: more drive, more focus, more energy, more edge. He used emotion to win, and he was very successful at it.
We are all jealous of the freedom McEnroe afforded himself - defy what we're taught, leave it all on the table, and let your heart drive your results. And that jealousy tells a deeper truth: We all need to let our inner McEnroe out. But how? After all, most well-intentioned folk aren't up for emulating his on-court verbal fireworks or racket throwing. So for the sake of this discussion, let's separate the expression of emotion from the emotion itself. It's time we avoid the barriers we set (or others set for us) to leave it all on the table in the workplace, and stop incarcerating our feelings. Being emotional in business can and will often yield results, whatever the turf; it's the driver we need to challenge our own behavior, our competitors and our business environment. I break it down into three easy lessons.
Lesson One. Unleash your passion to your advantage.
There's a sense of priority, of focus, that accompanies passion. McEnroe could turn it on like he was turning on a faucet, and all too often his infamous outbursts were inwardly directed. If McEnroe's level of play didn't meet his exacting standards, he gave his feelings free reign-and shifted gears. I'm not suggesting you start berating yourself midway through a presentation gone awry; McEnroe's emotional methodology is his own. The point is to allow emotion to up your game in a way that is true to you.
Being true to yourself will inevitably be communicated to those around you. I think people appreciate a show of emotion - I know that I do. There's an honesty that emerges that deserves respect, and that certainly applies to relationships in a working environment. No, you can't always say what you feel when you feel it. You can't tell your boss to stop being an ass, for example, if you plan on keeping your job. At the same time, keep in mind that McEnroe did his share of challenging his umpires. They may have resented his behavior in the moment, but every one of them respected his game and relished at the opportunity to officiate his matches.
We have to stop getting caught up in the constant struggle to moderate tone. After all, for 82 of 85 matches back in 1984, McEnroe got angry and won. Be bold enough to question the game as it's being played - and let the very act of challenging the status quo elevate both you and your business. Research shows that McEnroe was actually "right" at least 40% of the time on line calls. So you owe it to yourself to express your inner "You cannot be serious" when someone else's opinion runs counter to your gut. As we navigate work relationships, we have to find that magic formula in which we heed our emotions without alienating decision makers.
Lesson Two. To every McEnroe, there is a Borg; Embrace competition.
Competition can be what brings out the best in all of us, emboldening us to follow our instincts and push the envelope. It places us on an emotional racetrack and drives us forward. And whether it's Gates vs. Jobs or Coke vs. Pepsi, we can't deny that no-holds-barred competition, contempt, and all-out conflict have shaped the modern business world.
Rivalry doesn't have to be ugly if we allow ourselves to welcome the existence of opposites. A diversity of approaches is what allows us to find what works best. Ultimately, to understand your biggest competitors is to develop respect for them (even if it's grudging) -and it makes life more interesting. As tennis writer Steve Tignor describes it,
Borg and McEnroe--righty vs. lefty, defender vs. attacker, ice vs. fire, machine vs. mad genius, civilization vs. its discontents--was a rivalry made in tennis heaven.
McEnroe himself recently reflected on his most famous rivalry, remembering:
I was disappointed [when Borg retired] as I felt we were making each other better and tennis more exciting, and I wish our rivalry had lasted longer....We haven't played for a few years...but it feels like we could almost do it blindfolded because we know each other's games so well. I play one way, he plays another.
Competition is critical to growth. Playing the game alone doesn't exactly force you to improve, and only fosters complacency. We don't need to shirk away from the negative emotions often associated with competition. We need to reframe those emotions as part of the process that leads to innovation.

Lesson Three. Disruption is a competitive tool.
If nothing else, McEnroe was an innovator whose aim was the utter disruption of the tennis universe. His outbursts were at times, as discussed, about shaking up his own head - and at times, about shaking up his opponent and using the power of the crowd. The expression of emotion disrupted the game to his benefit, just as surely as Phil Jackson coached the Lakers to hold the ball and disrupt the rhythm of play.
Being a leader, in this sense, is about creating your own luck - or preparation meeting opportunity - as the Roman philosopher Seneca once described. This is not disruption for disruption's sake, but a purposeful effort to win better. Serial entrepreneur Elon Musk insists, "I'm not really a fan of disruption; I'm just a fan of things being better."
With all this talk about the power of emotion as a driver, we also need to remember that unchecked emotions can be a hindrance - particularly fear and anxiety. The most famous industry disruptors have succeeded because of the confidence to pursue their vision. You don't have to become an iconoclast, but you should give yourself a confidence boost and recognize your own unique position within your business. When the fire gets hot, it becomes counter-productive to second-guess every move. John McEnroe didn't become a champion because he was anxious about his right to take a risk. Anxiety only disrupts people's ability to notice the unexpected.
At the end of the day, business life isn't just about dollars and cents. It's about those moments of exhilaration, the heights and the depths, that make the journey truly worthwhile. As we move forward into another year, let's not leave our feelings hiding in the supply closet. It's time to reimagine emotion in the workplace as an essential ingredient to business acumen.
Thank you, John McEnroe, for teaching us that we're capable of greatness when we show others how much we care.
REAL LIFE. REAL NEWS. REAL VOICES.
Help us tell more of the stories that matter from voices that too often remain unheard.