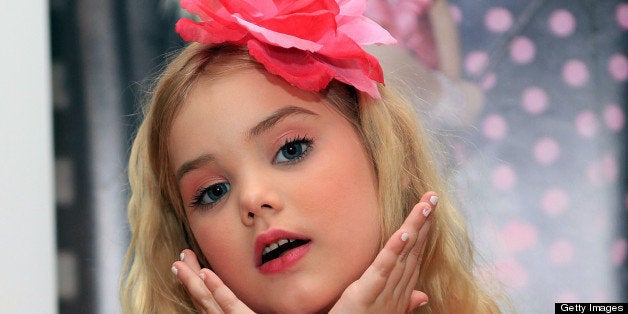 When Season 6 of TLC's controversial hit Toddlers & Tiaras premieres on June 5 many of its usual cast of crazy characters will be absent. Some of the tiny tots made famous by the reality show have since "retired," including Paisley Dickey, Isabella Barrett and Eden Wood.
Before Alana Thompson (aka "Honey Boo Boo") came along, Eden Wood was the breakout star of the reality show. Her former manager, Heather Ryan, claims that after becoming the "bump girl" (the girl used in series ads) for Season 2 in 2010, Eden was the "poster child for American Beauty Pageants."
Ryan says a whole lot more in her new tell-all book, Unleashing a Momster: A Peek Behind the Curtain at the Tragic Life of America's Most Successful Child Pageant Star. The book--filled with angry language, typos, and grammatical errors -- is accurately described by its author as a "Labor of Loath."

The focus of Unleashing a Momster is Ryan's relationship with the Woods, young Eden and the "momster" Mickie. Ryan draws on three years with the Woods, relying on over 2500 emails, two-and-a-half years of Facebook posts, Tweets and YouTube videos to make her case. The headline is that the book reveals Mickie's abuse of Eden (including too much caffeine, working while sick and illiteracy), a condition Ryan dubs "Mikie-Chousen by Proxy."
Ryan discusses the link between child beauty pageants and reality TV, writing, "Reality Television and crazy ass pageants were destined to go hand in hand -- and I was there from the very beginning, when the two began to intermingle." According to Ryan the first intermingling was in 2005 for a show on Bravo called Party/Party, though the television audience's first taste of American beauty pageants in a standard recurring reality series format was Bravo's 2004 Showbiz Moms & Dads.
Ryan's tendency to insert herself into a grander entertainment narrative occurs throughout the self-published book, which while poorly reading does make for strangely compelling reading. She claims to be the first to create a Facebook fan page for a child pageant star (imitators followed within weeks, of course), the first to make a pageant girl mainstream famous (though lots and lots of Hollywood starlets, including Britney Spears, got their start on the Southern child beauty pageant circuit), and the first to manage 34 beauty pageant clients (including Maddy Verst, of Dolly Parton fake boobs and custody battle fame).

It's true that Ryan has just the right amount of moxie to take advantage of all the fame new media allows -- Facebook, YouTube, Twitter, talk show circuit, online tabloids, and the seemingly endless cycle of reality shows. She's so ahead of the game with all this that she rightly refers to the moms who are so desperate to get their daughters on the TLC series as "Toddlers Chasers."
But Ryan was particularly impressed by one Toddlers Chaser family, the Barretts, who figure prominently both in the book and in more recent child beauty pageant news. Susanna Barrett, mom to Isabella, contacted Ryan and tried to link up to the "Eden Train," pushing for joint appearances and the creation of a toy line. Ryan wrote of Barrett, "Any stage mom who has so much dedication to the cause to lie on such a grand scale about her daughter's experience in pageants, just to get a little name recognition, is a mom that I will entertain!" While Barrett and Ryan eventually split (and Barrett when on to become infamous for calling Paisley Dickey, a toddler competitor, a prostitute), about a year later in spring 2013 Barrett went on Good Morning America to reveal that her daughter is now a millionaire. Isabella is now is a star in Germany because of her own reality show, but she nonetheless no longer does the pageants that made her famous because they are too toxic.
If it worries you that a six-year-old can become a millionaire based on her participation in child pageants, you're not alone. In the end Ryan not only stopped managing Wood, but stopped being a pageant manger all together because, "Eden was a child and it felt like we were betraying her by brazenly treating her as a commodity." Ryan does write that she deposited some of Eden's earnings into a Coogan account, a hopeful sign for a future, but it likely won't be enough to make up for Eden's lack of a formal education during childhood.
In the end the rise to fame of young girls like Eden Wood and Isabella Barrett, along with adults like Heather Ryan, illustrate the new nature of celebrity, not just in America but also in Germany and Australia. "Be yourself" in a contrived way on social media and reality shows and fame and fortune may come. The new self-styled celeb mantra could be: If you build the Facebook page (and pay for ads), the fans will come.
However, the failure of Eden's World to garner a large number of viewers, especially when compared to Here Comes Honey Boo Boo, indicates that it may indeed be much better to be your real self -- fat, flatulence, filth and all -- than to pretend to be something you aren't. Reality princess wanna-bes in Toddlers & Tiaras Season 6, take note, especially now that Heather Ryan is no longer around to guide you.
Popular in the Community