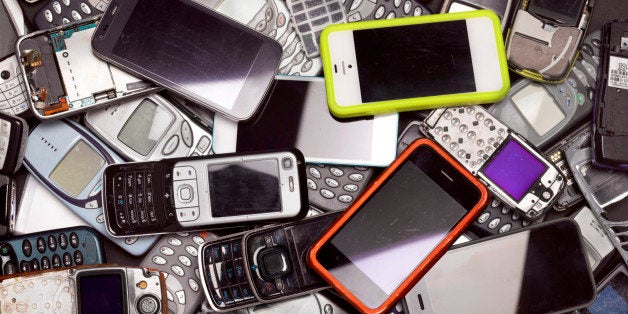 Old computers gathering dust in the basement. Cell phones accumulating in a junk drawer. Can you picture these in your home? If so, you're not alone. It's easy to view these aging electronics as clutter, rather than the next big thing. Truth is, there is more value in this equipment than most people know. The best way to help electronic waste realize its full potential is by getting it out of storage and into the hands of innovators.
Let's take smartphones, for instance. Like other technology, these devices are constantly improving. It drives the demand for upgrades and can leave consumers holding onto old devices they no longer need. Companies are trying to find new and sustainable ways to extend the life of these phones. This is essential since the U.S. EPA estimates that only 11 percent of mobile devices are collected for recycling each year in this country.
Old smartphones are affordable, adaptable and have a wide range of capabilities. While many may consider them passé, they could be the core component of a new product or solution. Think about their potential. These devices can capture, process, store and transfer data. They can communicate using voice, text, Wi-Fi, Bluetooth, 3G and 4G data technology. They also contain many built-in features like an accelerometer, gyroscope, GPS, video/photo camera, touch screens, displays, light and more.
The reuse capabilities of these devices make them ripe for innovation, and those business where smartphones and other devices are core to the business, can contribute even further to the "circular economy" -- keeping resources in use for as long as possible, recovering them when consumers are done with them, then regenerating products and materials from them.
We set out with Brightstar and HOBI International, to take e-waste sustainability to the next level. Inspired by solutions like Rainforest Connection and Presence, the participating companies started brainstorming how we could collectively provide resources and business support to innovators who can develop ways to upcycle mobile phones. We decided to initially to engage students to use their entrepreneurial and socially-minded business skills and creativity to spur innovative solutions.
The first Smartphone Encore Challenge was born as an extension of Sprint's phone buyback and trade-in program and collaboration with business partners to find new life for old phones. The contest calls upon students who are members of Net Impact, a nonprofit organization whose 155 U.S. college chapters help students apply their business skills for social and environmental good. Each individual or team is challenged to develop a concept and business pitch for an innovative product that uses a pre-owned smartphone or its components.
A panel of distinguished experts on technology, the circular economy and entrepreneurship will judge the submissions on a variety factors, including innovation, value proposition and financial feasibility. The winner will receive $5,000, which can be used toward attending a Startup Weekend to help take their business idea to the next level. They will also receive strategic guidance from Sprint, Brightstar or HOBI executives about how to strengthen their business model. In addition, the winner and two runners-up will be featured in a Net Impact "Issues in Depth" webinar on Earth Day.
I look forward to sharing with you the innovative solutions that come out of this Challenge. Through it, we hope to encourage more consumers to recycle their phones, to inspire students and entrepreneurs to consider this equipment as an integral part of new products and solutions, and to stimulate even more aftermarket demand for these amazing devices.
College students interested in applying for the Smartphone Encore Challenge can find more details about registration and submission criteria here. The contest closes March 27, 2015.
Calling all HuffPost superfans!
Sign up for membership to become a founding member and help shape HuffPost's next chapter