As the flight bringing me from Asia to Brazil to participate in the 2014 Women's Forum Brazil is making its final approach, I feel particularly invigorated to join the many prominent speakers from all over the world that are convening her to strengthen the influence of women and encourage their progress through innovative and concrete approaches. The Women's Forum for the Economy and Society is a powerful platform for building the future with women's vision.
My enthusiasm is fueled by the fact that a few months ago I was in the dynamic city of São Paulo for the launch of WEConnect International in Brazil, an event that confirmed the power and potential of Brazilian women business owners and the commitment of our corporate members to source more products and services from women suppliers.
The women business owners who attended the launch were excited to share their experiences and network with corporate leaders. The resilience, enthusiasm, and perseverance of these entrepreneurs was nothing short of astonishing. Regardless of the size of their businesses or the environment they were operating in, all of them showed a deep determination to learn, improve, and follow their dreams to offer valued solutions. WEConnect International currently operates in 16 countries, and Brazilian women business owners were noticeably remarkable in their eagerness to compete for economic opportunity.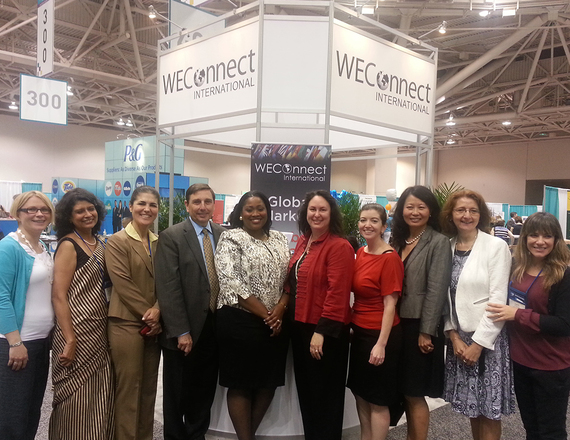 Back in 2009, we launched WEConnect International armed with the firm conviction that empowering women to create wealth through business ownership is a powerful tool. While it is certainly true that not everyone wants to be an entrepreneur, there are approximately 187 million women business owners across the world, and these entrepreneurs deserve the access to resources that will allow them to compete on an even playing field with men.
Our challenge to the business sector was: "Why not consider an innovative way to get more money into the hands of women and benefit your bottom line at the same time?"
Little by little, corporate leaders and policy makers are understanding the power of inclusive sourcing. Many of the women suppliers in the WEConnect International network are already doing business with large corporations, and also sharing their experiences, finding new opportunities through networking, acquiring new skills, and growing their enterprises.
The integration of more women suppliers into the global value chains of multinational corporations is a powerful mechanism to help women grow their business, generate wealth, create jobs, and contribute to the vibrant prosperity and wellbeing of their communities.
I am very excited to be a part of the Women's Forum Brazil to hear from women and men thought leaders from the business world, government, academia, and others. I'm confident that this will be a powerful opportunity to promote innovative and concrete action plans to encourage women's contribution to society and promote diversity in the business world.
REAL LIFE. REAL NEWS. REAL VOICES.
Help us tell more of the stories that matter from voices that too often remain unheard.