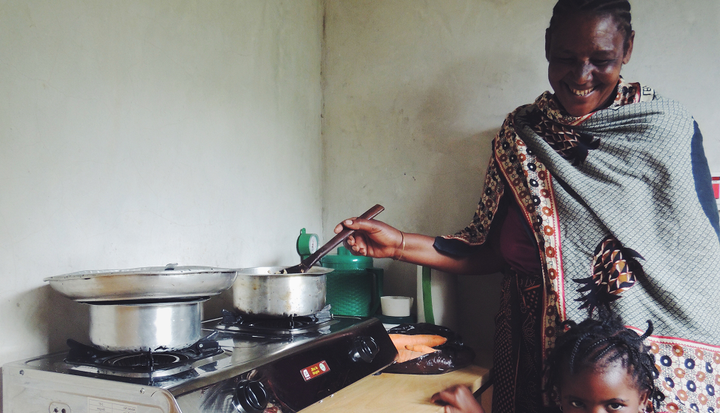 By Wanjira Mathai, Director of the Partnerships for Women's Entrepreneurship in Renewables (wPOWER) and Alliance Advisory Council Member, and Radha Muthiah, CEO of the Global Alliance for Clean Cookstoves
One year ago this month, leaders from around the world came together and took the bold step of adopting the Sustainable Development Goals. These goals aim to end poverty, fight inequality and injustice, and tackle climate change by 2030.
Together, action towards achieving these goals can fuel inclusive progress, creating ripple effects felt around the world. As global leaders met again this month in New York and plan to meet this autumn in Morocco to restate their commitment to the global development and climate goals, they must keep the focus on proven solutions that are already delivering tangible impacts, particularly for women and girls.
One of these solutions is changing how people in developing countries cook.
Globally, close to 3 billion people lack access to clean cookstoves and fuels. They are forced to cook using heavily-polluting solid fuels like coal, wood, and animal dung. The negative impact of these cooking methods on health, climate, and gender equality is broad and far reaching. Cooking over open fires and rudimentary cookstoves results in more than four million deaths each year, and a recent World Bank report shows that the economic impact of household air pollution—caused largely by inefficient cooking—is more than US$2 trillion.
Not surprisingly, women suffer the most. They are disproportionately likely to be injured or killed by these unsafe cooking methods. Additionally, the countless hours they spend gathering fuel and cooking could be better spent on education, earning an income, or family care.
The good news? Progress is being made. The Global Alliance for Clean Cookstoves, alongside its 1,500 diverse partners, is working to develop and increase adoption of clean cooking technologies and fuels. Grassroots efforts like The Green Belt Movement in Kenya and the wPower Hub in East Africa, Nigeria and India are encouraging women to take an active role in conserving the environment, improving livelihoods, and enhancing energy access. And when working together, efforts like these can have tremendous impact, providing millions of households access to cleaner, more efficient cookstoves and fuels. These clean cooking solutions can address basic needs, but also open up further opportunity by quelling energy and time poverty.
In the work of the Alliance, and that of partners like The Green Belt Movement and the wPower Hub, women are not just the recipients of support—they are the drivers of sustainable change. They play a crucial leadership role in the widespread adoption and use of clean cooking solutions. Women energy entrepreneurs have immense untapped capacity to address the needs of individuals, communities, and countries. Women's perspectives must also be integrated and fully included in the process of designing, marketing, and servicing products and solutions.
In many places, this is already happening. In off-grid communities, women are at the forefront of adopting and spreading the use of new technologies. Enterprises like Solar Sister are empowering women in the last-mile distribution of energy solutions in Africa. Entrepreneurs like Ajaita Shah of Frontier Markets are building a women's distribution network that will include training women sales agents in cookstove use, marketing, leadership, and after-sales service. This year's winners of the Alliance's Women's Empowerment Fund grants are leading the way to unleash the potential of women's energy entrepreneurship and address the lack of access to clean cooking solutions globally, contributing to cross-cutting development and climate objectives.
If we are to reach our shared Sustainable Development Goals, the way forward is clear: It is time to invest in solutions at the household level. It's time to invest in people and enterprises that can change their own communities and homes, in their own languages and cultures, and with their traditional recipes over safer methods. It is time to unleash the power of women. It is time to help change the way billions of people cook.
This post is part of a series produced by The Huffington Post to mark the occasion of the one-year anniversary of the adoption of the Sustainable Development Goals (SDGs, or, officially, "Transforming Our World: the 2030 Agenda for Sustainable Development"). The SDGs represent an historic agreement -- a wide-ranging roadmap to sustainability covering 17 goals and 169 targets -- but stakeholders must also be held accountable for their commitments. To see all the posts in the series, visit http://www.huffingtonpost.com/news/sustainable-development-goals/" >here.
Related
Popular in the Community