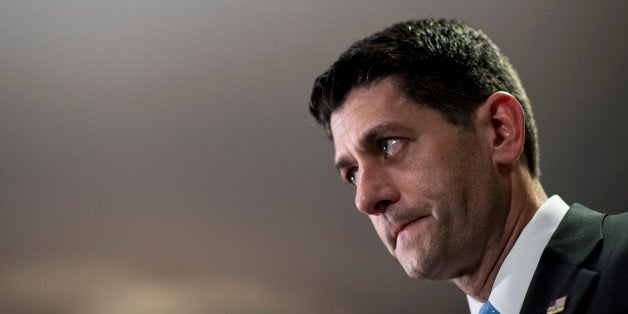 This post first appeared in the Wisconsin State Journal and is reprinted here with permission.
Thirty-six years ago this summer, Ronald Reagan asked me to assemble and chair a group of advisory task forces made up of Republican members of Congress from both the House and Senate. The members had expertise in each of the major policy areas the next president would have to address -- tax policy, spending programs, health care and defense issues, energy and transportation.
It was the sort of approach to governing one would imagine Speaker Paul Ryan of Wisconsin would have loved.
I don't know Ryan, R-Janesville, as well as I'd like. But I knew Reagan well. I campaigned for him in state after state, had long talks with him as we drove from place to place when he came to Oklahoma to campaign with me. I sat with him in his hotel room in Manchester watching the New Hampshire primary returns that rejuvenated his campaign after a surprise loss in the Iowa caucuses.
As the national chairman of the American Conservative Union and a founding trustee of the Heritage Foundation, I sat with him at his annual appearances at the Conservative Political Action Conference. I saw his instinctive compassion as, at my request, he diverted Air Force One to fly us over the city of Bartlesville, in my congressional district, after it had been heavily damaged by a tornado. As a member of the Republican congressional leadership, I met with him in the Oval Office every week of his presidency.
I know Ronald Reagan would never have endorsed Donald Trump for the presidency. Not ever. No matter what.
I had assumed and was enthusiastic about Ryan being the next link in the chain for conservatives from Reagan to Congressman Jack Kemp, the man Ryan has called his role model. Kemp was a champion of outreach to the poor and minorities. Kemp supported restructuring the tax code because he really believed a rising tide lifts all boats -- and that it was the lifting of all boats, not just the idea of lower tax rates, that drove his policy ideas.
I campaigned and traveled with Kemp, spending hours together in long policy discussions. Ryan may consider Kemp his hero, but Kemp would never have endorsed Trump for the presidency. Not ever. No matter what.
If Speaker Ryan had concluded Trump was the right man for the presidency -- smart, knowledgeable and mature enough, with the right kind of temperament, judgment and values to be president -- I would have had no problem with him endorsing Trump. I would have disagreed with him -- strongly -- but nobody made me king. People who support Trump have as much right to their opinion as I do.
But Ryan doesn't believe those things. He has made it clear he doesn't think Trump is fit to be president. And yet because Trump is of his political party -- his club -- Ryan is now urging the American people to give Trump access to the nuclear codes, the power to use the veto to override the decisions of Congress, and the sole ability to nominate Supreme Court justices and the heads of the departments of Justice, State and Defense.
Ryan hopes his endorsement of Trump will help his club win. It's my club, too. But it's also my country, which means more to me than my political party.
Ryan hopes his support of Trump will help Republicans keep control of Congress. But it will do the opposite. Those Republican members of Congress whose constituencies are not likely to support Trump might have previously been able to run independently of him. Ryan has tied Trump's hatreds to every Republican member of the House and Senate.
Trump is no longer the immature buffoon who captured the nomination with the support of roughly one in nine registered Republicans. Trump is now, because of Ryan, the anointed and endorsed national personification of the Republican Party. With his endorsement, Ryan has done to the party of Reagan and Kemp what the political left had never been able to do.
Yes, a divided Republican Party might have lost the next election and even lost control of Congress for a while. But this is a Republican-leaning country. Republicans control most of the governorships, most state legislative seats and both houses of Congress.
We would have come back as the party that turned its back on the worst major party nominee for president in the history of the country. We would have come back as the party that put the interests of America ahead of the interests of its club. We would have come back as a party whose leaders could look at themselves in the mirror and not be ashamed.
Ryan has taken that from us.
Edwards, of Washington, D.C., was a Republican member of Congress, representing Oklahoma for 16 years. He also chaired the House Republican Policy Committee.
Calling all HuffPost superfans!
Sign up for membership to become a founding member and help shape HuffPost's next chapter