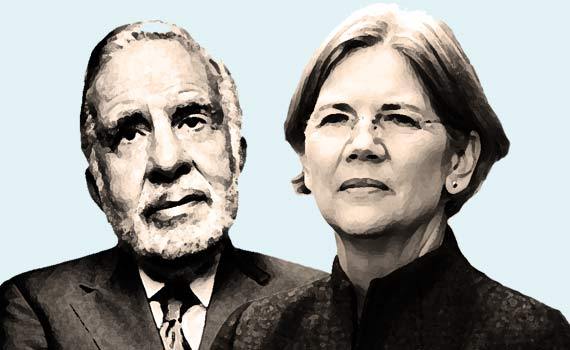 Bank and insurance company bosses enamored with bloated balance sheets are facing a tough time of it at the moment, hemmed in by aggressive politicians who are determined not to see another financial crisis threaten the U.S. economy. But the latest threat to these executives is even more vocal -- and much closer to home.
Carl Icahn and Elizabeth Warren do not, at first glance, appear a match made in heaven. Icahn, a cutthroat corporate raider, has made a fortune by bullying companies for the last thirty years. Warren, a reformist Democrat, has drawn plaudits as a stern critic of Wall Street excesses.
Not an ideal coupling, you might think. But first impressions can be deceiving.
Icahn and Warren are increasingly making the same noises about the best course for America's large financial institutions to take. That is good news for those who support Warren's calls for the break-up of large banks and insurance companies.
It is very bad news for those financial executives who see size-at-all costs as the best guarantee of long-term viability.
The predator pounces
Icahn, 79, looks almost like a man of the establishment nowadays. He has even been touted as a future Secretary of the U.S. Treasury, albeit by that bombastic anti-politician, Donald Trump. But for much of his working life, Icahn was the aggressive outsider.
He rose to prominence in the 1980s, a time when the nascent high yield bond market was run almost as a personal fiefdom by the legendary Michael Milken. Icahn, a favorite of Milken's and a regular of his "Predators' Ball" parties, was an ideal fit for the period. He perfected the art of greenmail, the highly lucrative tactic of buying shares in a company, loudly demanding big changes from management, and then accepting a substantial profit to walk away and leave the company alone.
Icahn's infamy was so great that he reportedly helped inspire Gordon Gekko, the villainous corporate raider in Oliver Stone's Wall Street. But although Milken, Ivan Boesky, and many other major players of that tumultous period are no longer around -- several, like Gekko, went to prison -- Icahn remains a fixture of the financial markets today.
He announced this week that he had bought a major stake in insurance giant AIG. True to form, this announcement was accompanied by an aggressive letter to Peter Hancock, AIG's chief executive.
Icahn pointed to the problems that came with being designated as a "systemically important financial institution" by the Financial Stability Oversight Council (FSOC). He demanded that Hancock take the bold step of splitting AIG's life insurance and property and casualty insurance divisions into separate companies. This would help AIG, left with the mortgage insurance business, significantly improve its return on equity, he argued.
Icahn has an obvious reason for wanting AIG to split: profit. He thinks buying the company's stock and doing his best to effect change will net him a sizeable return. But in his letter to Hancock, he reflected on the regulatory environment facing insurance companies today.
He also quoted Elizabeth Warren.
The enemy of my enemy
Warren is still in her first term as a Massachusetts Senator. She is, though, anything but the political neophyte. She has become arguably the most prominent critic of Wall Street in the U.S., using her seat on the Senate Banking Committee to push for oversized banks to be trimmed down to size.
Warren is skilled at using populist rhetoric to drive her points home. But the former law professor has also proved adept at understanding the dynamics of America's big financial institutions - including the fact that greed, of the type that Icahn personifies, might be the best driver of change.
"[The designation of institutions as 'systemically important'] can make the system safer ... by providing an incentive for designated companies to change their structure or operations so they can reduce the risk they pose and change their designation and the amount of oversight," Warren said at a Senate Banking Committee hearing in March.
Icahn used this quote in his public letter to AIG's chief executive. It was clear, he argued, that the wind had changed. The designation of some institutions, including AIG, as systemically important brings with it a greater regulatory burden, including higher capital requirements. Why, he asked, did the company want to give itself that burden without any obvious benefits?
A marriage made in regulation
It remains unclear whether Icahn's attempt to force AIG to split will be successful. CreditSights analysts Rob Haines and Josh Esterov told their clients that it seemed "highly unlikely" at this point. But the attempt shows that Wall Street reformers like Warren are now getting the help of financial market attack-dogs like Icahn to make their dream of less systemic risk a reality.
Icahn's stance on AIG is not an isolated case. John Paulson, another billionaire investor, is also pushing for the insurance company to split. Knight Vinke has been pressuring UBS to spin-off its investment banking unit. Nelson Peltz, another veteran activist investor, got a representative on the board of Bank of New York Mellon last year.
These moves come at a bad time for those financial executives who have once again started to embrace bloated balance sheets. John Thain, the boss of Merrill Lynch during the financial crisis, was ousted from CIT Group after claims he was making the bank too big. But so far, the CEOs of America's flagship banks have remained unscathed.
That may not last long. Icahn has previously pushed for the reinstatement of the Glass-Steagall Act, a post-Depression era law that forced banks to separate their commercial and investment bank units. Warren has expressed the same hope. The chance that Warren can convince her colleagues in Congress to pass that law is slim. But the odds of Icahn convincing his colleagues in the market to gang-up on banks that have grown too big are much, much better.
They may be unlikely allies. They may have vastly different motivations. But for now, Carl Icahn and Elizabeth Warren can justifiably claim to be on the same side when it comes to systemically important financial institutions.
It is a union that bank executives should be very afraid of.
Matthew Thomas is the editor of HoodWonk.com, a light-hearted financial news site, and co-founder of The Weekend Read, a Sunday morning email that gets you up to speed on financial news before Monday.
Calling all HuffPost superfans!
Sign up for membership to become a founding member and help shape HuffPost's next chapter