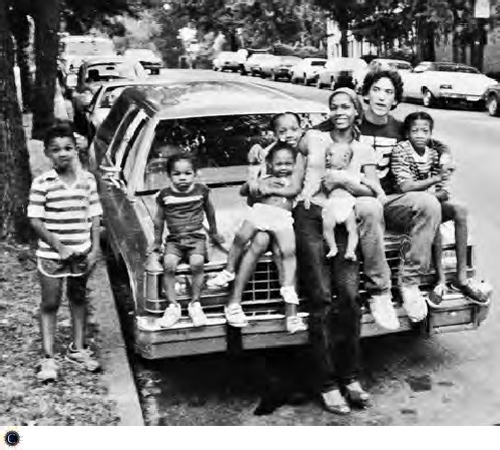 This is a picture of me -- when I was 20 years old -- with a family I met when I was visiting a homeless shelter. Michael, the boy on the far left, became my "little brother," and I've been his big brother for the last 27 years. Michael and I wrote a book in dual narrative about our lives together and apart, called Unlikely Brothers, and it comes out today via Random House.
In the book I write a lot about why I first took notice of what was happening in Africa. I describe my first few trips to the continent, and how I ended up in war zones as a human rights activist. I touch on the close calls I've had, as well as some of the amazing African success stories that I've been able to witness. And I cover the birth of the Enough Project and what we're trying to do here to build a permanent constituency to battle human rights crimes like genocide, rape as a war weapon, and child soldier recruitment.
Through my long relationship with Michael, which endured my living and working in African war zones while Michael was growing up in a different kind of war zone only minutes away from the White House, I learned anyone can make a difference in another's life if we take a risk and make a commitment. Through the book, we'll be helping Big Brothers Big Sisters recruit new "bigs" as well as mentors and tutors and others willing to take that step.
Through my years of working on war and peace in Africa, I have learned that there are solutions to some of the greatest human rights challenges, and we all can be a part of those solutions. Liberia, Sierra Leone and Angola wouldn't be peaceful today if we didn't raise our voices about blood diamonds. Apartheid would still be the law of the land if we didn't join forces with South Africans to support peaceful change there. Unlikely Brothers talks about the importance of citizen action, and shows why and how we can make a difference.
I wrote my share of this book to chronicle my life, warts and all, in the hopes that I might be able to inspire others to get involved and act both locally and globally. As you'll find out if you read the book, if I can make a contribution, trust me, ANYONE can.
I look back at my father's rage when I was too young to understand it, our constant relocation throughout my childhood, Michael's living out of Hefty bags in the shelters when he was a kid, the near misses we both endured, and the extraordinary paths to redemption we both traveled, and I realize the only way we had a chance to experience all the things we did and have any success is that we dove in head first and tried our best. Michael and I put our hearts and souls into Unlikely Brothers. We hope you'll read our book, and that it inspires you to make a commitment locally to being a mentor and/or globally to helping to end Africa's deadliest wars.
John Prendergast is a human rights activist and co-founder of the Enough Project.
Popular in the Community