Q: Japan has been at the forefront of the global efforts against organized crime, drug use, human trafficking and terrorism. As the Ambassador of Japan to India, please share your insights on the key global and Asian challenges that threaten nations today?
Ambassador Hiramatsu: The issues we are facing in the region today are becoming more multifaceted in nature. We need robust institutions, and that is where organisations likeUNODC are playing a very vital role. The issues are complex: living in this part of the world, we are seeing various challenges, such as terrorism, poverty eradication, diseases, and religious tensions, among other things. In particular, the issue of terrorism is getting more serious. The ISIS operation in Syria and Iraq has been diminishing, but foreign terrorist fighters are now splitting and relocating to other parts of the world, including in South Asia. As we witnessed last July, a terrorist attack took place in Dhaka where 7 Japanese nationals were killed. We are very concerned about the situation.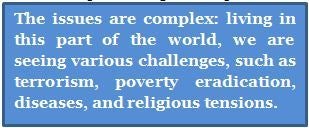 To tackle with the issue of violent extremism, we need a more comprehensive approach: not only dealing with terrorism per se, but also in addressing challenges such as the eradication of poverty, build harmonious communities and lessen religious tensions. As I said in the beginning, we need global solutions to resolve these problems.
Q: As you are aware, UNODC works on three core themes: health, justice and security. For Japan, which are the important areas related to these themes for cooperation with South Asian countries? Are there any best practices from Japan in the area of drugs, human trafficking, corruption or terrorism that South Asia can emulate?
Ambassador Hiramatsu: It is difficult to pick up just one agenda, because as I said, the issues are broad. We need comprehensive approaches, and in this, UNODC's approach is very valuable, not only in dealing with terrorism but also looking at the issue of health and others. Japan has been actively supporting efforts on border control and better law enforcement in South Asia, especially in terms of promoting human resource development and providing technical assistance to those who are dealing with border control and law enforcement issues.
We have special programs to support border control and community ruling, and also to establish a centre for intelligence and information sharing in this region. We are also backing initiative supporting UNODC in capacity building operations, which caters to different pillars of UNODC's agenda. The three pillars of UNODC's work--health, justice and security--are very important for us.
Q: From the Japanese standpoint, what are the key security challenges for Asia today? What are your views on nuclear terrorism and threats of war from certain countries, and the prevailing tensions between superpowers? How serious is the situation?
Ambassador Hiramatsu : There are many different issues we have to deal with, as the situation is ever changing. The global strategic landscape is steadily shifting, so we have to deal with these issues in a very intelligent manner.
Of course, the issue of nuclear terrorism has been there for many years. We have been having a series of nuclear terrorism summit meetings, and we have been actively participating in this matter.The situation with regard to North Korea is extremely critical and serious. The level of conflict has entered a new stage. We need a uniform and united solution to this crisis. All countries have to be united to pressurize North Korea to align with global nuclear rules and regulations. This is a serious threat for Japan.
Q: Cybersecurity is a growing global threat. Increasingly, cyberattacks are targeting and damaging businesses and governments across the world. How important is the issue of cybersecurity for Japan?
Ambassador Hiramatsu : Cybersecurity is a major challenge, not only for Japan for the entire world. Japan has established an organization to deal with cyber security issues in a very comprehensive manner, with the participation of many experts. We are not only dealing with internal cybersecurity issues but are also participating in discussions on tackling cyber threats, especially in promoting legal framework in the cyber space.

At the United Nations too, we have been discussing issues related to cyber space. We are also supporting other developing countries in terms of capacity building to prepare them for future cybercrimes coming from other countries. We are engaged in bilateral discussions with many countries to share knowledge and information to tackle cyber-attacks collectively. With India too, we have had regular discussions with cyber security experts.
Q: Coming to the Sustainable Development Goals, how is Japan strengthening the global development agenda? How do you see South Asia's progress in addressing SDGs? Are we on the right path?
Ambassador Hiramatsu: Japan has been contributing to the SDGs for the last many years. We are among the first countries that launched initiatives for MDGs that evolved into the SDGs. We are very serious not only in dealing with the SDG agenda in Japan but also towards supporting other countries in achieving their goals. We have a special interest in global diseases and global health issues, women's empowerment, preparedness for natural disasters and terrorism. So, we are extending a lot of support through ODA (Overseas Development Assistance) and international organisations like UNODC. The issue of health is one of the main pillars for our assistance program in other countries: I hope the concept of universal healthcare will be shared by many governments.

The progress for achieving SDGs is a work in progress. Still, many things need to be done. Especially in this area of the world (South Asia), we are facing issues that require the collective efforts by many countries. I am sure countries of this region, including India, have incorporated SDG ideas in their own development policies. This is a very welcome step. So based on this very well structured strategy and policy on part of the developing countries, Japan is very keen to support these countries in helping achieve the SDGs. SDG is a very holistic approach and we like it very much. These goals are not tackled in silos, but the important thing is how to deal with them in a comprehensive manner. We are having strategic discussions with many countries: it is important to identify their needs and issues, and terrorism and drugs are always issues of great interest for Japan.
Q: India and Japan are embarking on a new and stronger partnership. How do you see the relationship of Japan with India in the future?
Ambassador of Japan : I am very happy to say that our relationship with India is at the best ever in history. We are working on various issues of mutual cooperation. Japan is very happy to support India's endeavor to enhance level of living standards, supporting higher education, eradication of poverty, women's empowerment, tackling infectious diseases and providing better sanitation standards.
The agenda we are working on together is very comprehensive and wide ranging. We are very committed to support India's endeavor to achieve various ambitious goals based on the SDGs under the leadership of Prime Minister Modi.
Q: Japan is a very valued partner for UNODC. How do you see the relationship between UNODC and the Government of Japan growing in the years to come? Please share any specific areas where you feel joint projects can be encouraged and supported, especially in South Asia?
Ambassador of Japan : I have a personal affection for UNODC. In my previous posting, I initiated a strategic dialogue with the Executive Director, Mr. Yury Fedotov, and we came up with an Action Plan for the future. So, we have already identified priority areas for cooperation. We think, the way forward is that we should enforce our commitment and support to UNODC.
UNODC is dealing with very different and important comprehensive agenda, so we hope that we will be able to support this organization, especially on issues related to trafficking, cross-border terrorism and border control. I hope my Japanese colleagues will continue to have this sort of a strategic dialogue with Mr. Fedotov in order to be better prepared in supporting the important agenda of the UNODC, especially in this region.
(As told to Samarth Pathak , Communications Officer, UNODC Regional Office for South Asia. Samarth Pathak is a New Delhi-based public advocacy specialist with a keen interest in human rights, international relations, politics and SDGs. His writings have appeared in The Guardian, Reuters Alertnet, Dawn, The Kashmir Times, Hardnews and The Asian Age. Views expressed are personal. Connect on Facebook and Twitter.)
Follow UNODC South Asia on:
Related
Popular in the Community