The mystery of the "Mexican Suitcase" has long had the makings of a fine tall tale. It is a Hemingway-esque story of vigorous expat men and women leading spare and often luckless lives in the midst of the Spanish Civil War, engaging in earth-shaking romances, throwing themselves into the fray with Republican armed forces, and bonding with native villagers. The difference between Hemingway's yarns and this story, however, is that this one is true. Its protagonists are a small group of scrappy photographers whose work disappeared in 1939 as Nazi forces prepared to invade Paris and remained missing for almost 70 years, until it showed up at New York's International Center of Photography.
The 126 long-lost rolls of film feature some 4,500 snapshots of wartime scenes taken by the swashbuckling Robert Capa, the pioneering Gerda Taro, and the compassionate Chim (David Seymour) and are now finally going on display in the form of contact sheets and a digital slide show at "The Mexican Suitcase," an exhibition curated by Cynthia Young at the ICP that will run through January 9, 2011. The works -- which were stored in three cardboard boxes, not in a suitcase, it turns out -- had a long and meandering journey to the midtown Manhattan museum, and represent a history that is only now being explained and understood.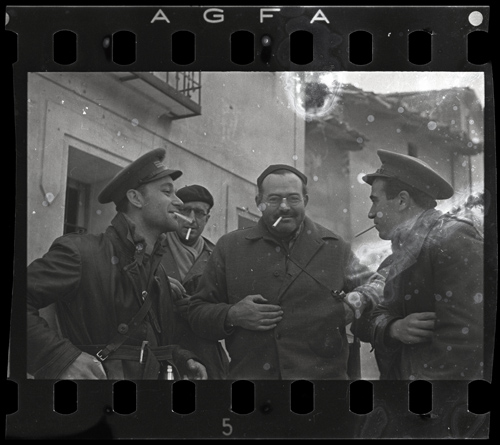 A photograph taken by Robert Capa of Ernest Hemingway (third from left), New York Times journalist Herbert Matthews (second from left), and two Republican soldiers in Teruel, Spain, in December 1937 / © International Center of Photography/Magnum, Collection International Center of Photography
Capa had left the film in his Paris studio in the care of his darkroom manager, Imre "Csiki" Weiss. According to a letter dated July 5, 1975, penned by Weiss, the negatives began their inscrutable travels "in 1939, when the Germans approached Paris." Weiss continues in the letter, "I put all Bob's negatives in a rucksack and bicycled it to Bordeaux to try to get it on a ship to Mexico. I met a Chilean in the street and asked him to take my film packages to his consulate for safekeeping. He agreed." Sometime thereafter, they were turned over to General Francisco Aguilar González, the Mexican ambassador to the Vichy government from 1940 to 1942.
A few years ago, Mexican filmmaker Benjamin Tarver discovered them among the general's belongings, which he had inherited. Tarver recognized the importance of the images captured on the translucent rolls and took them to a Queens College professor, who contacted Cornell Capa. But once approached by the ICP, Tarver grew taciturn and remote, worried that donating the works to a non-Mexican institution might be viewed as insensitive and inappropriate.
Filmmaker and curator Trisha Ziff was sent to persuade him, which she did over the course of several months. Then, on the December 19, 2007, he allowed her to bring the negatives back to New York. After so much wrangling and diplomacy, she was too afraid to ship or check the treasured boxes. Instead, she held them in her lap on the plane ride back to New York, according to the New York Times.
Thankfully, the nitrate-based rolls of film -- which might have deteriorated or even spontaneously combusted over the more than half-a-century it sat unrecognized -- was well-preserved in the hot, dry climate of Mexico City, with sufficient air circulating through the boxes in which they were contained. And the ICP took painstaking measures to ensure that their safety was not compromised in the rush to make the images available to the public. Conservation specialist Grant Romer spent months designing a unique holder through which to thread the negatives for scanning without risking damage.
Unveiled for the first time in this show, then, are astounding works by Capa, Taro, and Chim -- Jewish immigrants from Hungary, Germany, and Poland respectively -- who lived in Paris, worked in Spain, and published their photojournalistic masterpieces in publications worldwide. Capa was known for his gung-ho, first-man-parachuting-onto-the-frontlines approach to war photography, a bravado that has influenced many subsequent photojournalists working in war zones.
This chain-smoking, heavy-drinking buddy of Hemingway and Steinbeck fell in with Taro, one of the earliest female war photographers, who became Capa's lover until she died at the Battle of Brunnette, run down by a tank at the age of 27. She was in part responsible for the character "Frank Capa" the quintessential American photographer -- a pseudonym and persona for Endre Friedmann that was designed to help him round up more assignments.
Add to the mix the warmhearted David Seymour (also known as Chim, an abbreviation of Szymin, the photographer's given surname), known for his images of the children whose were devastated by the war, and it is easy to understand the excitement about the discovery of the works.
Sadly, the other hotly debated Capa mystery -- whether he staged his famed image "The Falling Soldier," which depicts a Spanish Republican man staggering backward on a battlefield near Córdoba in 1936, supposedly at the very moment he has been hit by enemy fire -- was not solved by this find. As yet, no negative has been located for this work that has been reproduced from an extant print, and no sequence of negatives was included in the boxes that might show what happened before and after the iconic moment.
As soon as the work contained within the "Mexican Suitcase" has been completely scanned, it will be added to the online archive of Magnum Photos, the agency founded in 1947 by Capa and Chim, along with Henri Cartier-Bresson, William Vandivert, and George Rodger. The notoriously tight-fisted photographic cooperative will be solely responsible for distributing the new Capa images, as well as the photographs by Taro, whose entire body of work they will soon incorporate into their collection.
The "Mexican suitcase" also included film from the camera of Fred Stein that document Capa and Taro in Paris in late 1935 and two rolls from Capa's trip to Belgium in 1939. Moreover, the boxes held negatives for never-before-seen photographic portraits of Ernest Hemingway, whose Spanish Civil War epic "For Whom the Bell Tolls," evokes those rugged, tragic scenes that Capa, Chim, and Taro recorded. "Living was a horse between your legs and a carbine under one leg and a hill and a valley and a stream with trees along it and the far side of the valley and the hills beyond," Hemingway wrote in his novel, and this image, like the grizzled author himself, seems to run through the work.
One almost wants to believe that this discovery somehow marks the beginning of a luggage-packed-with-art-finding trend. Perhaps the next discovery will be Hemingway's own trunk filled with early manuscripts, lost by his wife Hadley in a Paris train station in 1922.
Related
Popular in the Community