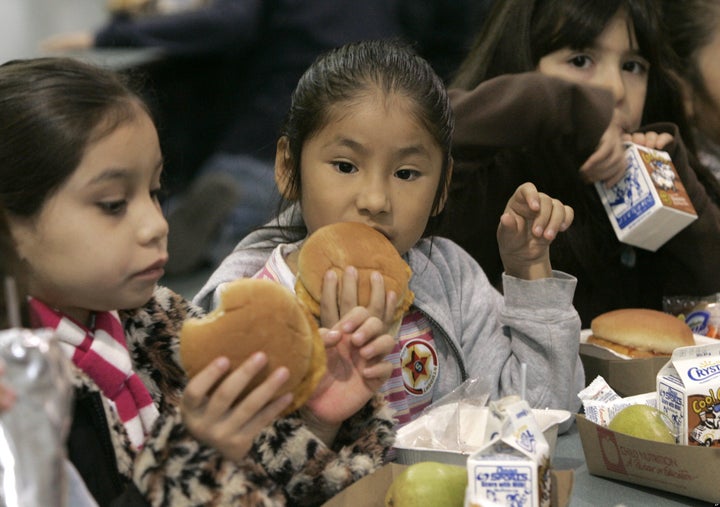 With the recession bearing down on American families, the rates of unpaid school lunch bills have skyrocketed across the country.
In public school cafeterias, each student is charged for their daily lunch based on their family's income.
This ranking means some students get free lunches, others pay a reduced price and another group pays full price. In theory, the plan should mean that each family can afford what they are billed for the school meals their children are given.
In recent years, with times getting tougher, fewer families are willing or able to pay up.
Instead of letting children go hungry when their parents haven't sent the money, schools look for ways to keep students fed while adding as little as possible to school debt.
Faced with mounting unpaid lunch charges in the economic downturn, Albuquerque Public Schools[...]instituted a "cheese sandwich policy," serving the alternative meals to children whose parents fail to pick up their lunch tab.

Such policies have become a necessity for schools seeking to keep budgets in the black while ensuring children don't go hungry. School districts including those in Chula Vista, Calif., Hillsborough County, Fla., and Lynnwood, Wash., have also taken to serving cheese sandwiches to lunch debtors.
Now, picking up the tab for unpaid bills is becoming an even greater financial burden on schools, meaning that they face funds being docked from general budgets.
In New York City, the nation's largest school system, outstanding school lunch bills have cost millions.
The city used to pick up the unpaid tabs. Since 2004, it has absorbed at least $42 million in unpaid lunch fees.

But that is a luxury it can no longer afford, according to the Department of Education, which has weathered several rounds of budget cuts, with more still to come. So it has been telling principals to collect overdue lunch money or risk having it docked from their school budgets.
Across the nation, school officials are scrambling to get families to pay up.
In Georgia, the Columbia County school district is facing similar straights. Although a much smaller system than New York City, delinquent meal bills are still setting local schools back at least $25,000 for this school year alone, according to WRDW News. These numbers mean less funds are available for academic items.
Every unpaid lunch is less money for new computers, smart boards, and TV's for learning.
REAL LIFE. REAL NEWS. REAL VOICES.
Help us tell more of the stories that matter from voices that too often remain unheard.