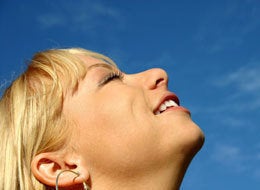 "Unplug and Recharge" is a new Living series which aims to give you, our dear readers, a quick break from your day -- whether you have as much time as ten minutes or as little as two. Following the success of our Oasis at the DNC, we're hoping to give you a little cyber-oasis -- a place to escape -- where you can take a moment to unplug, relax, and recharge.
Much of the world, for the first time in a long while, has been celebrating together this week. Whenever life offers us a gift or answers a longing in our hearts, not only is it appropriate for us to celebrate, but it is also important for us to express gratitude. This expressing of thanks is one of the best medicines for our hearts-- and for healing the rifts between individuals, communities, and nations.
Join me in a short yoga and meditation practice to palpate gratitude in our bodies and express it through simple movements that open the upper chest and shoulders. All you need is your body, breath, a place to sit, and desire to step back from life to look inside for several minutes. Let's go!