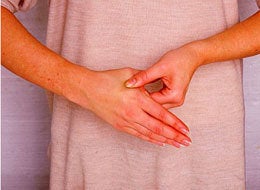 "Unplug and Recharge" is a new Living series which aims to give you, our dear readers, a quick break from your day -- whether you have as much time as ten minutes or as little as two. Following the success of our Oasis at the DNC, we're hoping to give you a little cyber-oasis -- a place to escape -- where you can take a moment to unplug, relax, and recharge.
There is a spot on each of your hands which for thousands of years has been rubbed by and for human beings, bringing notable relief to headaches. In ancient Chinese medicine, it is said to correspond to the adrenal glands, clearing blockages from this glands' energy circuit, bringing life force to these often overworked treasures.
To give yourself a break from a headache or even just a bit more zip in your doo-da, find the most tender spot between your thumb and forefinger. Use your other thumb and forefinger to pinch this spot from the top and palm of your hand, the way you might pinch a penny should there be a world-wide financial crisis. Take a few deep breaths, and release this spot when you have an indication that you have unblocked this energy point: usually your pain subsides.