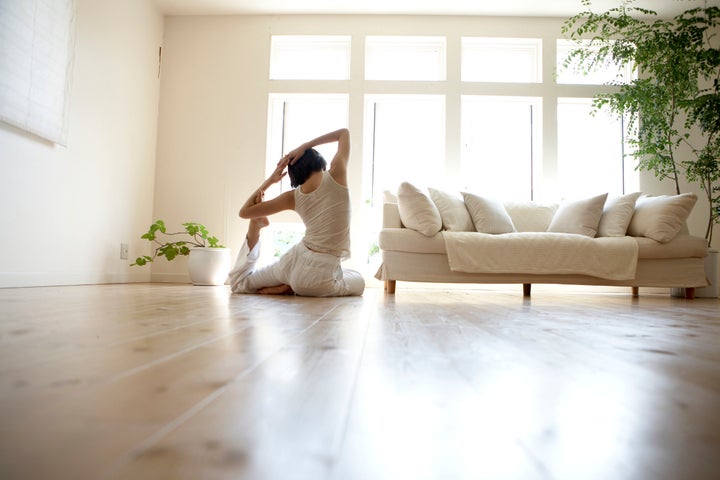 Four times a year, I'm on the receiving end of a wonderful gift: three or four days of heaven at the New Age Health Spa in the Catskill Mountains of Upstate New York. I'm there right now, in fact, sitting before a crackling fire with a friendly beagle lounging beside me. Snow is falling outside. There was private meditation in the beautiful Cayuga Yoga Center early this morning, followed by an energizing yoga-flow class. I opted for fresh juice -- spinach, kale, apple, lemon -- instead of breakfast, and the table of "juice fasters" was such a glorious collection of women, I may forgo solid food altogether and do an unplanned juice cleanse with my new friends.
There'll be a dance class at noon, a lecture on natural skin care and more yoga later on. I'll give an evening presentation each night that I'm here, and do some private consultations with guests, but in another way I am a guest, taking yoga and fitness classes throughout the day, sweating in the steam room and sauna, dining (or juicing) deliciously and getting one or two luxurious services -- massage, facial, scrub or the unctuous delight of Shirodhara, an Ayurvedic oil treatment that beautifies the body as it calms the mind.
I count coming to the New Age on a regular basis among the major blessings of my life, but every bit as beneficial as experiencing this lovely spa is that I've learned to live in a rather spa-like fashion in between visits. It's not so much about getting to go to a spa every now and then, but rather making "spa" into a verb, and spa-ing as a way of life. The result: feeling vital and energized and, in my experience, a whole lot younger than when I was chronologically young.
To spa at home without spending much money isn't difficult if you set your mind to it. It starts with a little acronym I coined: ME -- meditation and exercise. Taking care of ME with meditation and exercise first thing in the morning means you've acknowledged the needs of your body and soul before you take on the responsibilities of the day ahead. As a result, the day goes more smoothly. You're calmer and more centered. You feel good about yourself. You have more energy. You make better choices about food and rest and whether or not to speak your mind or click the "send" button if you have any doubt about the wisdom of doing so.
These two activities alone -- 10 to 20 minutes of quiet time, focusing on your breath or a mantra or a positive affirmation; and some sweating, lifting and stretching -- can be absolutely free and worth more than winning the lottery. Why? Because there are some things that money can't buy: peace of mind, for starters, and lean muscle mass. Neither the Queen of England nor the founder of Microsoft can put in an order for either one. You have to get these for yourself, through the spa activities of meditation and exercise.
Then you have to eat. What'll it be? Well, when you're spa-ing, the choices will be top-notch: plant-based, fresh and adhering what I call the "Christmas tree approach to human nutrition." This means your plate looks like a Christmas tree: mostly green, with splashes of other bright colors. For example, you start with a large salad of romaine or arugula or mixed baby greens, and you top it with cherry tomatoes, grated purple cabbage, a sprinkling of sunflower or hemp seeds and a steamed sweet potato. It's what you'd do at a spa. If you're spa-ing, it's what you do at home, as well.
Of course, part of the allure of going to a spa is the going -- getting away to a different place, time away from the pressures of work and other responsibilities. But I'm a big believer in living life as an extended working vacation. Of course you have a job, and you're raising a family, doing volunteer work and making the beds (yes, at a spa, somebody else takes care of that task), but in between all the effort, all the dashing here and there, you can, if you turn "spa" into a verb, treat yourself deliciously during and in between all these other activities.
And you know what happens after you've done this for a while? You feel incredible -- alive and energized. You look rested, with brighter eyes and clearer skin. You get leaner and you move with ease that makes age less relevant than you ever thought it could be. Your attitude gets a boost, too. Problems seem more solvable and the future looks brighter.
So, to spa or not to spa? That, I believe, is no longer a question.
Popular in the Community