I'm not sure there's anything good to be said about grief. When my previous partner died a few years ago I spent a long time grasping in the gloom for anything I could find that might help make sense of it. One thing I noticed in deepest grief (and this was absolutely not all the time) was a feeling of being more fully and intensely present in the flow of life, moment by moment. Grief kicked along my mindfulness of the ever shifting, quickly morphing nature of my thoughts and feelings, and the power of my senses to affect my inner state.
Grief sharpened my sensitivity to everything I heard, touched, tasted, smelled or saw. I noticed lightning fast connections run from sensory input to emotion-charged memories at the slightest hint of something that reminded me of my loss. In grief, time takes on a Dali-esque quality, sometimes dragging, sometimes racing, and on occasion warping. A scent had the power to transport me back two years in a nanosecond, a piece of music or an object I glanced plummeted me into the full emotional experience of a specific moment in the past. Then, I'd find myself back in the super-reality of now, shaken and stirred, having to say "That was then, this is now" and take a breath.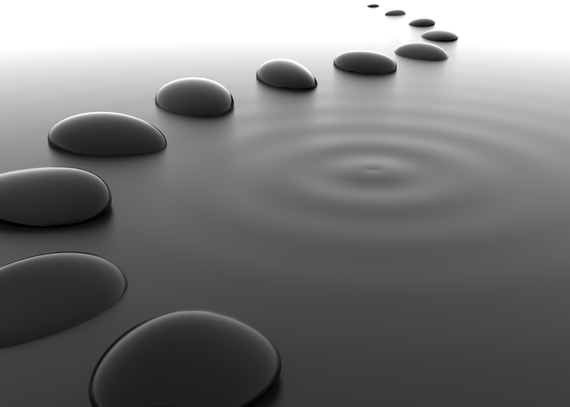 In A Grief Observed author CS Lewis (famous for The Chronicles of Narnia among other works) records his struggle after the death of his wife. He writes about how grief compels us to question our core beliefs about a Higher Power, God, or an afterlife because there is no certainty about anything in this world, and it seems, little justice or mercy for inevitable losses and suffering. In grief we are confronting the utterly incomprehensible, asking the gaping agony of silence "Where are you my love?" "Can you hear me?" "This can't be the end forever, can it?"
What can we do to help with the bearing of grief?
• I've found that relationships where we can regularly, consistently share our roller-coaster feelings can re-ground and connect us to a common sense of being. Connecting with others reminds us that someone else, at some time, has felt a similar way and borne it. Although you have never felt more alone, countless other people are feeling grief too, right now.
• Objects and symbols can be places to focus emotions so you don't have to hold everything internally, which can relieve some pain pressure inside.
• Writing things out in a journal, or other creative expression can also help, a little.
• Rituals, private or formalised, may hold a place in honouring and remembering all that is grieved for. Grief is never so simple as to be for a person alone, it is also for an entire unique shared world.
• Coping with grief seems to be less about doing, knowing or understanding anything than it is about space to just be with what is, to sit with Mystery. It is the part of life and evolution where we are forced to tolerate loss and uncertainty, to accept the incomprehensible nature of things and to let go of our desire to want to make sense of everything when sometimes, we just can't.
Grief is not something we want to be friends with, but we can't avoid meeting it and getting to know it at some stage. It's important to hold the perspective that we are never the only one experiencing it, but it is a normal part of the process to feel that way, a lot.
Coping with grief is an exercise in surviving each moment, honoring the gravity of what we're going through, rolling with myriad feelings, being with what is, and getting plenty of support.