The title of Lifetime's hit drama is UnREAL, not Impossible.
As UnREAL moves into its second season, Mondays at 10 p.m. ET, co-creator Marti Noxon says the secret is that it is not trying to satirize Bachelor-style TV dating shows.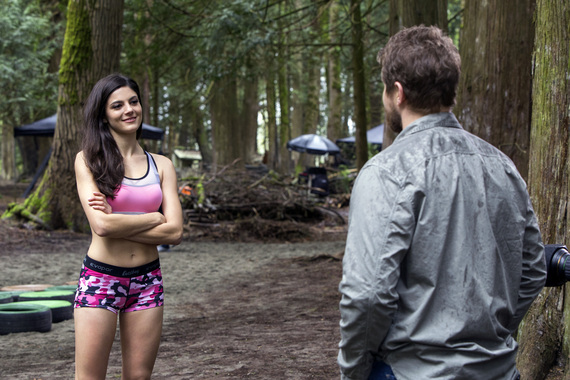 That would be an exercise in madness, because it would be pretty much impossible to find lengths more absurd than the ones to which those shows already routinely go.
The goal of UnREAL, Noxon explains, is to create a recognizable fake dating show, called Everlasting, and focus on the people who create and produce it.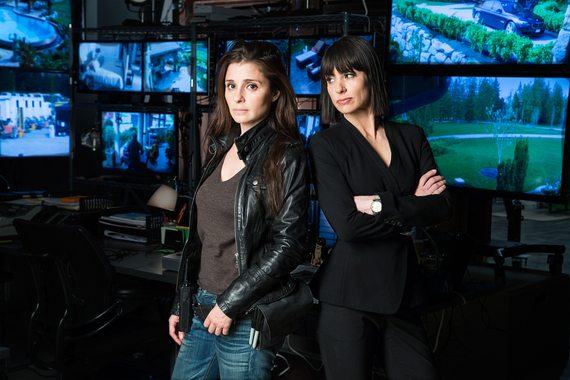 That mainly means producer Rachel Goldberg (Shiri Appleby), who will do anything to manipulate the contestants and edit their lives into "good television," and Quinn King (Constance Zimmer) (both pictured above), the executive producer and Rachel's never-satisfied boss.
"Reality TV is a product," explains the 51-year-old Noxon, a veteran writer and producer who created Buffy the Vampire Slayer and has worked on an impressive roster of shows that includes Grey's Anatomy and Mad Men.
"Our show," she says, "is about how that product works. How do you get the end result? How do you make real people act out the parts and roles you want? How do you manipulate them?
"There's something deeply cynical about the whole game. You can do it, but what's the human cost?"
In the case of Rachel and Quinn, that's not particularly hard to see. They're both very good at their jobs and both extremely screwed up.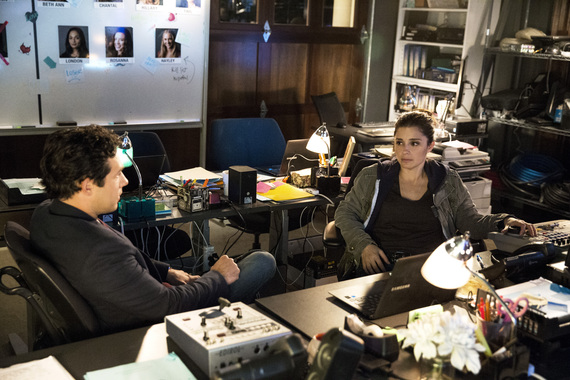 Rachel left the show a year earlier after suffering a massive breakdown triggered in large part by what she is required to do. She returned without really resolving those issues, because she needed the job and because her ex-boyfriend Jeremy (Josh Kelly) still works there.
Quinn, meanwhile, is having a ragged affair with the man who created Everlasting, Chet Wilton (Craig Bierko). Chet is self-centered, self-destructive and generally rotten but skilled. He's also married.
One flaw Rachel and Quinn do not have, however, says Noxon, is self-delusion.
"One of the things that's funny about the show is that the characters are true to themselves," she says. "Quinn says exactly what she means. Rachel, too. They're both 'speak your mind, consequences be damned.' They're openly cynical and for people who do that kind of TV, that's funny, too."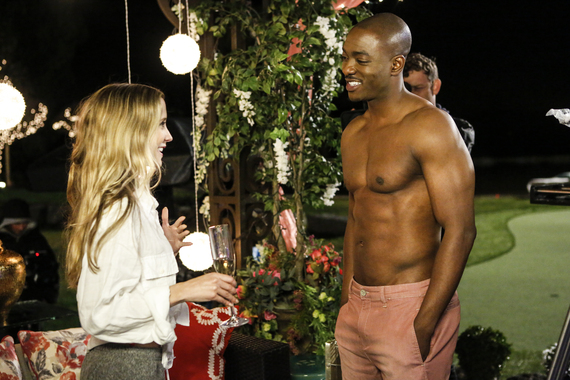 The other source of humor, naturally, is the contestants. The prize in the first season was Adam Cromwell (Freddie Stroma), a narcissistic British playboy. In the second season it's Darius Beck (B.J. Britt) (above), a pro football player who hopes being on the show will help clean up his tarnished image.
Plus a bevy of neurotic women vying for their favor.
"Most viewers have very little sympathy for people on reality TV shows," says Noxon. "The thinking is, 'They know!'
"But they really have very little idea what goes on between what they say and what goes on TV - if the producer decides, for instance, that they should come off as the villain. They don't really know what they signed up for, because they have no control over what goes on the air.
"The producers' hope for every scene is knowing where you want the characters to end up. You should always have a plan."
That's a lesson she's gleaned from her own career as well.
"I've learned from every show I've worked on," says Noxon, who in the past has had particular praise for Matthew Weiner of Mad Men. "With UnREAL, I understand the DNA of the show. The most important thing is to know what you want to say."
Which, contrary to the promise of actual TV dating shows, is not necessarily "I do."
Calling all HuffPost superfans!
Sign up for membership to become a founding member and help shape HuffPost's next chapter