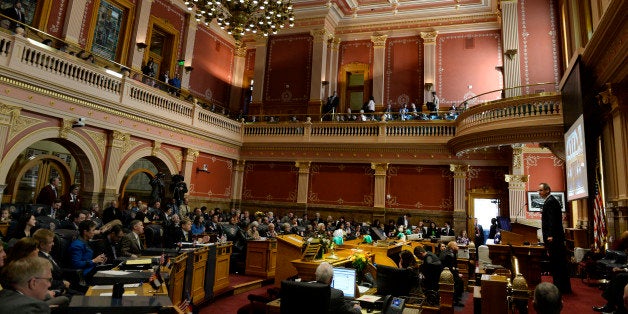 Refusing to cover health care for millions by expanding Medicaid. Dismantling Roe v. Wade. Forcing us to undergo invasive, medically-unnecessary transvaginal ultrasounds.

These are just some of the ways Republican-controlled state legislatures have tried to cut off access to care for women -- and from the parental notification bill introduced in the Nevada legislature, to the Colorado state Senate's approval of yet another personhood bill, to the Minnesota state House bringing a bill to defund Planned Parenthood up for a vote, they show no signs of stopping any time soon.

This is thanks in large part to gerrymandered redistricting, which Republicans across the country have used to turn the map artificially red, rig legislative and congressional elections in favor of the most extreme elements of their party, and push their extreme agenda at every level of government. Republicans have been able to advance their dangerous agenda in state legislatures across the country and in Congress by quietly undermining the basic principles of our democracy.

If they thought we would let them get away with it, they were wrong. Women and families can't afford to let this continue. We've had enough -- and we're doing something about it. We will not let our voices be drowned out any longer.

This month EMILY's List launched one of our most exciting and ambitious efforts yet: Our new Focus 2020 program.

Named for the year the U.S. Census will be taken, the results of which will determine how legislative bodies and governors redistrict the map starting in 2021, Focus 2020 is targeted to flip critical legislative chambers and gubernatorial seats in 14 key states where legislators and governors wield power over redistricting, and to accomplish this goal over three election cycles.

The program will work to flip and make gains in state legislatures and win key gubernatorial seats in these 14 states: Colorado, Florida, Georgia, Maine, Michigan, Minnesota, Nevada, New Hampshire, New Mexico, Ohio, North Carolina, Pennsylvania, Virginia, and Wisconsin.

In 2016 alone, we will fight to flip eight state legislative chambers in seven states -- potentially preventing major legislative losses like those states across the country have seen in recent years.

With Democrats in charge we get both fairer maps and fairer policy for women.
To give you a sense of the stakes, just think, for example, about the Colorado state Senate. If just two of our three candidates for the Colorado state Senate -- Jenise May, Angela Williams, and Rachel Zenzinger -- were in office together in 2015, they would have prevented Republicans from shooting down a bill that provided long-acting contraception to young women. In its privately-funded trial stage, the measure lowered the teen birth rate in Colorado by 40 percent, reduced the number of abortions, and saved taxpayers millions.

If all five of our candidates for Michigan state House -- Theresa Abed, Dana Camphous-Peterson, Stephanie Chang, Erika Geiss, and Collene Lamonte -- were in office in 2015, they could have prevented critical legislation targeted at teaching students affirmative consent and ending sexual assault on college campuses from languishing in committee for almost a year.

Ultimately the strategic investments we make through Focus 2020, paired with our continuing efforts to recruit strong, pro-choice Democratic women candidates to run up and down the ballot, won't just unrig the map -- they'll ensure progress for generations to come.

That's because the end result is a Congress where women and families have a voice, where that voice is heard, and where our right to vote is no longer under attack.
Calling all HuffPost superfans!
Sign up for membership to become a founding member and help shape HuffPost's next chapter