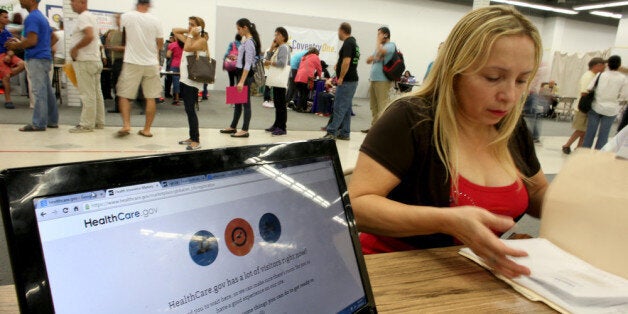 As open enrollment for the Affordable Care Act ended this week, 7 million Americans could breathe easier for having gained access to affordable health care. As President Obama said earlier this week, "The law is not perfect; the implementation -- especially with the website -- has had its share of problems. But this law is doing what it's supposed to do. It's working." Indeed, we have just witnessed the largest expansion in health care coverage in half a century.
There are many to thank for the enrollment surge. From young tech geniuses redesigning healthcare.gov in Maryland hotel rooms to actor Zack Galifianakis featuring it on his web show and NBA star LeBron James touting it in TV ads, a diverse roster of people encouraged Americans to enroll. But beyond the technicians, government employees and celebrities, there's another group of people who have been working behind the scenes from the start to help people access life-saving coverage: civil legal aid lawyers.
From coast to coast, legal aid organizations have been helping low- and moderate-income Americans wrestle with the glitches, complicated enrollment forms and other would-be obstacles to signing up. These groups often serve as an essential portal for the uninsured when they need information and assistance. Enabling people to navigate the system, clear hurdles and successfully enroll is potentially life-changing for these individuals and their families.
In many ways, civil legal aid lawyers are ideally suited to help expand access to health care; they are experts in the complexities of health care law and have worked for decades in communities that most need coverage. What's more, according to a recent survey, even the basics of health insurance stump many consumers, leaving them ill-equipped to shop for plans on their own. As a result, federal and state officials relied heavily on civil legal aid groups, often placing certified health care navigators and other first responders within legal aid organizations.
For example, in New York -- which is second only to California in the number of new enrollees -- the New York State Health Foundation, a private foundation dedicated to improving health outcomes, turned to civil legal aid group Empire Justice Center to develop and implement an "Ambassadors for Coverage" program. The Center's staff used their intimate knowledge of underserved populations to help train hundreds of volunteers in difficult-to-reach communities across the state. Over a three-month period, Ambassadors reached more than 240,000 individuals, supplying critical information, resources and in-person support to New Yorkers.
Given the need for both outreach and hands-on assistance with enrollment, civil legal aid lawyers' Affordable Care Act work has extended beyond the boundaries of what traditionally might be considered legal aid. They are in many ways acting not only as guides through the legal system, but also as community educators.
In Oklahoma, for example, Legal Aid Services held more than 175 outreach events since October -- some at churches drawing upwards of 1,500 people. Staff at Community Legal Services in Philadelphia launched a monthly, bilingual mailing program for clients eligible for enrollment and subsidies, and has been connecting individuals with community navigators. In Los Angeles, Advancing Justice-LA coordinated efforts among 21 organizations, enlisting more than 200 staff to become certified health educators or enrollment counselors. The group has reached tens of thousands of eligible Asian-Americans, Native Hawaiians and Pacific Islanders.
These efforts did not happen in isolation; they reflect an ongoing trend of the health care and civil legal aid communities becoming more closely integrated. Doctors, lawyers and elected officials increasingly realize that medical problems are often rooted in legal issues -- and legal troubles can frequently be caused by poor health. A young child with asthma, for instance, may benefit more from a lawyer who can solve a mold dispute with a landlord than from a prescription inhaler.
That's why, in addition to the $54 million the Department of Health and Human Services allocated to health navigators, the ACA provides $11 billion for the expansion of community-based health centers throughout the U.S. Evidence shows that these centers provide high-quality care and improve patient outcomes, while reducing health disparities and serving at-risk populations.
As this year's enrollment period comes to a close, attention will now turn to the law's impact on health care delivery. But it's worth pausing to take stock of the forces that helped turn enrollment numbers around and expand access to affordable care. Civil legal aid lawyers help promote Americans' health and wellbeing every day, and they played a major role in achieving this week's milestone. They deserve some recognition.
Related
Popular in the Community