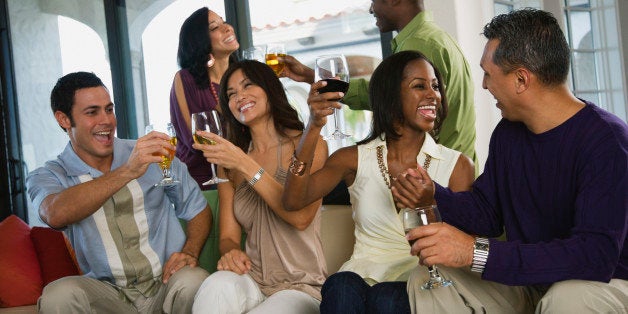 Martin Luther King Jr. once said, "the most segregated hour in Christian America is 11 a.m. on Sunday mornings." Well, the same can be said about most relationships in America at 3:30 p.m. the first Sunday of February every year.
In many households across the country, women retreat from the TV room while their men become fixtures in front of the television (see #10 for at least one exception). So, how do we lessen that divide? This was a question posed to me recently, so I set out on a mission to come up with the most creative ways to stay connected with your man during the big game.
I scoured the web to find the best ideas and here were the top ten:
1. Make commercial time a fun time. Not really into the game? No problem. Feel free to get caught up on work or rest while the sweaty men are battling it out on TV. Then run into the television room during each commercial break to rate them with your favorite teammate (that hunk of a man sitting on the couch). These printable commercial rating cards by Studio DIY are free, fun, and easy to get done before game time.
2. Enjoy a game of Super Bowl Bingo. Chips? Check. Dip? Check. Tasty game day treats? Check. Television and comfy couch or chairs? Check. You've got all of the essentials, now just add a fun game to the mix. The premise is simple, download these free 2014 Super Bowl Bingo cards, place a bet, play with candy, look for the symbols and football player numbers in both the game and the commercials and enjoy the friendly competition.
3. Enjoy a one-day-only carb fest. Give yourself permission to hop off whatever diet you might be on (don't worry, you can get back on the wagon tomorrow) and disappear into the kitchen. What better way to kill three hours than trying out a few new game day recipes? Here are 25 perfect game day recipes from Closet Cooking. If you're like me and don't spend a whole lot of time in the kitchen, Super Bowl Sunday seems like the most perfect time to pick up your favorite carb-heavy meal and serve it up at home.
4. Start a flirty competition and keep His & Her game scorecards. Love this idea from The Dating Divas. This was an online favorite for last year's Super Bowl, and it's still an awesome idea for 2014. You'll need to create updated printables, but they're super simple to make.
5. Don't be afraid to play on his turf. Do you have to sit there and pretend you love the game if you don't? Of course not. But there are certainly things you can do to enjoy the afternoon much more. If you could care less about being there while the game is on, here are three tips for playing on his turf during Super Bowl Sunday.
6. Super Bowl for two. Although the biggest night in football is usually watched with a group, if you haven't already made plans for this year, consider planning a Super Bowl party for two.
7. Post-game celebration. Win or lose, you can still celebrate. Drop hints throughout the game to spark his interest in what you have planned for your sideline celebration. Make sure not to interrupt his watching of the game, but look for creative ways to show once the game is over... it's Game On!
8. Grab a great book and find a quiet spot. Finding a quiet spot in the house or outside on Super Bowl Sunday might be tough, so if all else fails, pop in a couple ear plugs and find a comfy chair. Grab a great book and get lost in it for a few hours. Of course, my suggestion would be my newly-released book, Happy Wives Club, in which I traveled to 12 countries and six continents in search of the universal secret to a happy marriage. Whether married or single, you can join me on this journey of a lifetime, taste the food, see the sites, meet the amazing people and be encouraged that great relationships can last a lifetime and yours can be one of them.
9. The lover's guide to football. It can be the start of lonely times for many women when the Super Bowl begins. This year might be just the time to throw in the towel and take the opportunity to share in something your partner loves. Here are five great ideas you can use throughout football season every year and especially during this year's Super Bowl.
10. What to do when you're a huge sports fan and he could care less. When it comes to sports in our household, I'm a much bigger fan than my husband. I'm a loud, cheering, get lost in the game kind of fan. The NBA Finals, Super Bowl and World Series could come and go without my fabulous hubby ever noticing. Every morning, he begins reading the newspaper with the cover stories or business section. I begin, every time, with the sports section. If you're anything like me, and your husband is anything like mine, go back up to #7 on this list. Except this time, give him a reason to watch the game with you knowing the moment it ends...it'll be time for a post celebration.
Make it a great Super Bowl Sunday!
Popular in the Community