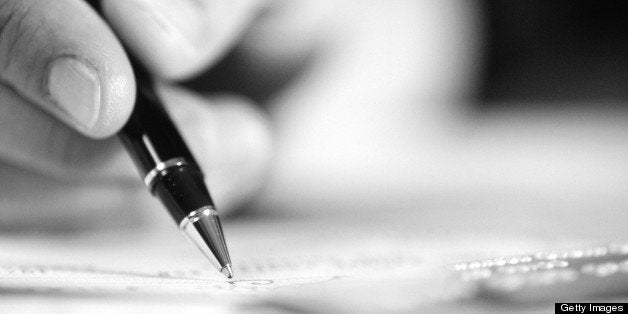 "People write for different reasons and, from the very beginning, I've told y'all that I write for you, that it's more than just a paycheck. Well, I'm about to prove that what I've said is true." - Michelle "M." Leighton, in a blog post titled "The Final Tale of Until I Break"
For weeks, the countdown widget on M. Leighton's blog counted down the days, hours, minutes, and seconds to the release of Until I Break, the first in a new romance series. One of Leighton's previous self-published ebooks, Down to Me, was a USA Today and New York Times bestseller before being picked up by Penguin. Her new book, also self-published, would likely hit the lists as well.
On May 18, Leighton announced on her blog that she would be pulling the book off the shelves due to "the majority of people [...] misunderstanding [the protagonists] Sam and Alec."
Distressed fans expressed their support on Leighton's blog and urged readers on social media to buy the book while it was still available. Within 24 hours of threatening to pull the book, Until I Break shot up the bestseller charts. On the Kindle chart, the book peaked at #5.
True to her word, Leighton removed the book Sunday afternoon, leaving tens of thousands of dollars a day in e-book sales on the table.
With traditional publishing, books might be pulled due to plagiarism or libel -- but rarely for content, and especially not without a widespread outcry. While I've never asked my publisher to pull one of my books off the shelves, I have deleted tweets or blog posts that have drawn criticism. It's not always caving to pressure: Sometimes criticism hits close to home; sometimes criticism changes our minds about something we've put out into the world.
"If you look at this from my perspective [...], maybe, just maybe you see that pulling the book and facing the backlash takes courage," Leighton wrote on her blog in response to the fans' support. According to her account, she was not caving to criticism -- she was taking a stand.
A stand against what, though? Leighton isn't talking. "I won't be addressing comments, questions or references to it," she wrote on her blog. As of Saturday, there were only two negative reviews on Amazon, one of which called the hero "creepy" and another berated the book for being "boring." I have not read the book, but those who have told me there was a crucial plot point involving erotic asphyxiation gone wrong. Controversial? Undoubtedly. But who complained about the content to such a degree that the author felt she had no choice but to try to erase her own book from existence?
It's ultimately a moot question, because nothing can truly disappear in the digital age. Hours after Leighton pulled the e-book from Amazon's Kindle store and other booksellers on Sunday, fans began trading the book online using torrenting software.