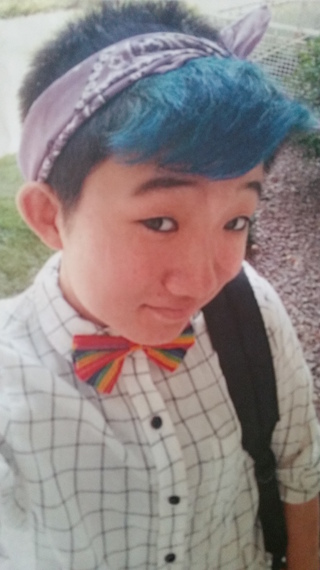 There are days as an activist for LGBTQ individuals and their families when my heart hurts so much, that I want to crawl into bed, curl up in a fetal position and wish away all the sad things that happen to our LGBTQ children. These are days I hear about LGBTQ youth who have given up hope to live a full and happy life and so they choose to die. Or children who are kicked out of their home because of their sexual orientation or gender identity, losing everything they love in order to live an authentic life.
Then there are days my heart soars with hope and joy for our LGBTQ families and their future because I see a voice so brave and strong and fierce that I believe their visibility will allow other voices to be courageously lifted up. Recently I met someone who made me feel both sadness and hope in the same moment. Her name is Joanne Lee and her son Skylar took his own life on September 28, 2015.
When I first saw Skylar's picture, I could see an aura of light that seemed to surround him and radiate through a gentle, compassionate smile. In his photo, you felt his fragility, his compassion but also there was something else, deep conviction perhaps. Gay-Straight Alliance Network Co-Executive Director, Geoffrey Winder says:
Skylar was a charismatic and passionate leader, who impacted more lives and affected more change in his short time, than most people do in their lifetime. Skylar was on the National Youth Council for the GSA Network. He was an articulate spokesperson on issues at the intersections of class and race, particularly those impacting Queer Asian Pacific Islander youth and he was proud of his Korean American identity.
Joanne saw her son as a happy, contented, giving child who was loved by everybody. She remembers how he loved to dance... ballet and ballroom. When he was young, he and his mother were so close. But their relationship began to change after he came out as transgender. "He felt like a stranger to me," Joanne recalls. "We talked as usual about school and superficial things, but never really talked about him being transgender."
As an Asian parent, I understand that silence. We believe if we don't talk about things, they will go away or at least no one will know. When my transgender son first came out as lesbian and later transitioned to be my son, I still remember the shame I felt and the dishonor I believed I was bringing to my family. And so I took my shame and feelings of dishonor and retreated into a dark place of secrecy, hoping that my child would find a different choice, a different lifestyle and a different way to find his way into the world. But my silence only, sent a message of disapproval and lack of support to my son. And it built a wall that took away our connection to each other.
"In the Asian community, we are very closed and keep things inside of ourselves," Joanne shares. "And so this is the way, I handled Skylar telling us that he is transgender." With emotion she speaks haltingly, "I had an endless amount of love for my son, but I did not speak up or stand up for him. I did not see his heart, when he came out as transgender. I only focused in on his gender identity. And so I have lost the chance to love and hug my son." Her words made my heart weep.
Joanne says that she now sees what she was unable to see before.
I learned from Skylar that I was in a box... a box that could only see the outside appearance of a person and not the person who lived in the inside. I didn't see Skylar's courage, wisdom and love. I didn't see how much more important it was to see the inner person and not just the gender identity of someone. If we, as parents, don't change, we lose our children who are suffering inside. I wish I could have been more open, but I wasn't, I wish I could have stood up for him, but I didn't and I wish I could have seen past the outside of him, like he saw in others, but I couldn't. And so today, Skylar is not longer with me and I can not change that.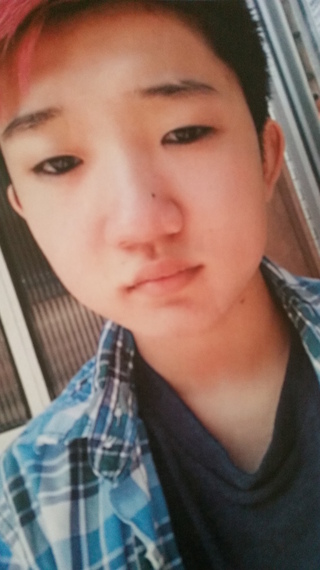 I can not imagine what Joanne is going through. But I admire her strength and her willingness to talk about her son and how families can help their children.
I want to help other parents understand that the most important thing, is for us to see who our children are in the inside. My child's inside never changed, just because he identified as a transgender male. He was no longer my daughter, but he was still was my child. He still possessed the kind heart that fought for racial justice of others, understanding that fighting for the rights of others was also fighting for the rights of his life as Korean American transgender young man.
In the end, the words that struck me most deeply, were her pleas to society, "Please give our children the opportunity to show the world who they are. Please don't judge them by who you think they are."
I see Joanne Lee extending Skylar's legacy through her advocacy. She is standing up and speaking out for Skylar, in a way that she couldn't before. Joanne says that she will continue with Skyler's work in his memory and she said, "I am ready to start now." She grieves as she does this work and she cries when we talk together, but she is a mother determined to make her son's life mean something. And she says "I will do this work until I see Skyler again."
She is brave beyond words and she is turning this unthinkable tragedy into a call to action... Love your children, talk to your children and stand by your children. And then your children can teach you through who they are in life and rather than who they were in death.
Popular in the Community