So, hysterical xenophobia courses through the U.S. media about Muslim people seeking refuge -- stoked by "unhinged" demagoguery -- and lunatic ideas get discussed including an outright ban against incomers on the basis of their religion.
Meanwhile, right now in the real world, winter is overtaking the region at the heart of the crisis, even if many Westerners don't associate it with the bitter sub-zero temperatures it actually suffers.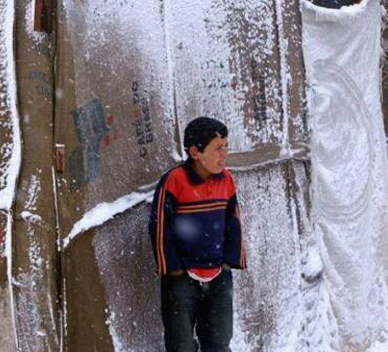 The wider Mid-East region remains convulsed by its unprecedented numbers of "huddled masses", worsened daily by the brutal warfare in Syria, but response in one Mid-East country is going largely unreported in the West.
While there has been much hubbub over how little the super-rich Gulf States have done to shelter the fleeing millions (apart from sending some of their largess to other nations) little attention is paid to humanitarian efforts in one host country -- Iran.
The United Nations refugee agency, UNHCR, says that with a theoretically temporary increase of its population by more a million people, "Iran remains host to one of the world's largest and most protracted refugee populations." The flood has come from Afghanistan, Iraq and now more recently from Syria. (Pictured: A Syrian boy faces his first winter in Iran -- Photo courtesy ABNA agency, Qom)
But we in the West get little news of that fact. "Transit points and refugee camps in Turkey and Jordan have received the bulk of humanitarian assistance and media coverage" says Marvin Parvez, regional director of Community World Service Asia, which is supporting Iranian work with refugees, "but humanitarian response in Iran has gone largely unnoticed".
Parvez is a Pakistani national -- not a Muslim, as it happens, but a Christian -- and his agency, previously known as Church World Service -- Pakistan/Afghanistan, began its active life back in the 1950s. It describes its mission as ecumenical, and dedicated to "marginalized communities in order for them to overcome inequality and lead dignified, peaceful, and resilient lives".
Parvez points out that "Iran's decades of international isolation, and western economic sanctions against the country, have impacted Iranian humanitarian efforts with both poor Iranians and incoming refugees alike. Charitable NGOs and religious organizations have found their capacities seriously reduced".
But it's not as if Iran has been totally unable to play a helpful role. The holy city of Qom, south of Tehran, has proved to be a magnet for thousands of refugee families, drawn there by its importance as a religious center and its accompanying traditions of charity.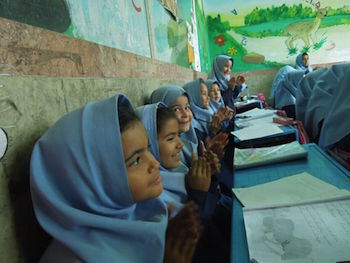 It is here that the joint aid from CSW-Asia and UMCOR is concentrated, through partnership with a local Iranian NGO called HAMI, the Persian-language acronym for 'Association for the Protection of Refugee Women and Children'. HAMI works to provide shelter, food and other needs, including children's schooling. (Picture by CWS-Asia)
UMCOR and CSW-Asia are sending essential items -- including rugs, gloves, hats and warm jackets -- to fend off winter's effects among the most vulnerable members of the refugee population. "We are targeting women, children and the elderly, as well as persons with disabilities, who of course suffer disproportionately in the severe winter conditions", says Parvez.
We see that suffering populations like the Syrians who seek refuge in Iran are no less in need than those fleeing to closer countries like Lebanon, Jordan and Turkey - even though attention, certainly from the West and its mainstream media, has predominantly gone to those latter nations.

Parvez is confident that his agency's work along with HAMI, "though small when compared with the vast need, will help many refugee households to stay warm and avoid illness through this winter."
Read more of David Tereshchuk's media industry insights at his weekly column, "The Media Beat", with accompanying video and audio. Listen also to "The Media Beat" podcasts on demand from Connecticut's NPR station WHDD - and at iTunes.
REAL LIFE. REAL NEWS. REAL VOICES.
Help us tell more of the stories that matter from voices that too often remain unheard.