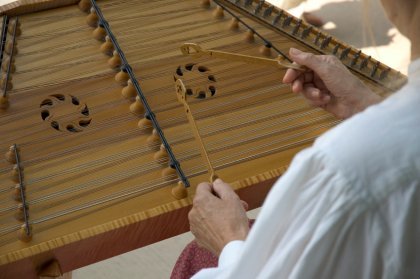 The beautifully written Roger Nichols and Paul Williams song, We've Only Just Begun, was made famous in the early 1970s by brother-sister act, The Carpenters. And even though the song had originally been written as a jingle for a bank (Paul Williams sang it for the jingle), it was Richard Carpenter's inspired arrangement and Karen Carpenter's velvet voice that turned that song into a timeless classic. Today it is still one of the most revered wedding songs, usually played sometime during the ceremony, or as the wedding couple shares their first dance.
But many brides and grooms steer clear of songs that have been played endlessly at other weddings. Even though they may admit to loving a particular song, they opt instead for something that is a bit more unique to them. But with wedding music it is entirely possible to have your musical cake and eat it, too. Instead of choosing a different song, simply change the instrumentation.
We've Only Just Begun played on the piano or organ, as is typical at weddings, sounds noticeably different than when that same melody is soulfully teased from the depths of an alto saxophone, nurtured from the bell of a French horn, plucked from the strings of a harp, or breathed to life through the reeds of a harmonica. Everyone will still recognize the song, but the inventive delivery of unexpected instrumentation gives the song fresh musical flavor. There's no reason to ban a song you love simply because it's been played at all those other weddings. The song just needs a bit of new seasoning to insure that you and your wedding guests feel as if you are hearing it for the first time.
For underscoring ceremonial events like the lighting of a unity candle, filling a vessel with sand, or the presentation of flowers to the bride's and groom's mothers, consider the sweet and gentle lilt of a music box. Any box can be amplified with the use of a discreet microphone and sound system, allowing the music to fill the room. Choose one with an On/Off switch so that it's easy for the Maid of Honor or the Best Man, or other designated attendant, to start and stop the box, making sure to choose one that will play long enough for your purpose. Not all music boxes are created equal. Some play for a much longer time. The sound of a music box is ethereal, and even if it is playing something as oft-heard as Wind Beneath My Wings, the unusual sound will change the perception of the song for all who hear it.
For prelude music that can't help but create a talked-about remembrance, bring in a sawyer. A sawyer is someone who plays the saw, sometimes called a singing saw, or a musical saw. If you've never heard an accomplished sawyer play, visit the International Musical Saw Association's web site and give the music a listen. Saw music is unusually haunting and captivating, especially when paired with an acoustic guitar, piano or other complimentary instrument. It takes many years of practice to become a true sawyer, and there can be a striking difference between the sound of the music performed by an amateur versus the music performed by a master sawyer, (just check out this striking David Weiss' performance of Scarborough Fair), but there's no question that an accomplished sawyer can bring something to the musical experience that no one else can.
As guests arrive or depart the ceremony or reception, why not let wind chimes provide that pleasant background tinkle that soothes and comforts the soul? Spas are already wise to the peaceful benefits of chimes. Chimes are an easy choice for an outdoor wedding, but with just a bit of planning, they can be just as effective indoors. There are battery-powered chimes that can do the trick, or you can create the necessary movement with the aid of a small fan tucked discreetly behind a floral decoration or potted plant.
Ushers can start and stop the chimes with the flick of a switch, whether that switch is on the chimes themselves or on an accompanying fan. Wind chimes are crafted from a variety of materials, each of which provides its own unique set of tones. Whether you prefer the earthiness of bamboo, the delicate tinkle of crystal, or the rich, full resonance of chimes that mimic church bells, the options are plenty. And as a bonus, you get to take the chimes home after the wedding. Place them on your patio, and a melodic memory of your wedding day will play whenever a breeze stirs.
There are many wonderful and unusual musical instruments in the world, born from many cultures. There's nothing wrong with the piano or the organ, and both are satisfying instruments. But if you want your wedding to have its own musical legacy, you might want to explore the musical choices you never dared to think of. From a bell choir to the ring of crystal glasses to the uniquely crafted dulcimer, creative musical choices can make a difference. For inspiration, visit The Odd Music Gallery to see a list of some of the world's most unusual instruments.

With just a little outside-the-wedding-music-box thinking, We've Only Just Begun, and every other classic song that has ever been performed at a wedding, can be beautifully reborn and rebranded, just for you.