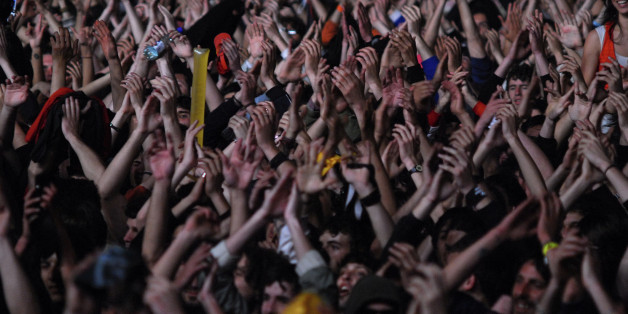 It's considered unusual to find an activist and an investment banker working together. Normally you'd find the two of us on entirely different sides, but these are not normal times. With growing inequality, billions living in poverty and entire ecosystems collapsing, we're living through the most important period in human history, and we need an entirely new approach to partnership. That's why Goal 17 is so important.
You may ask yourself, with such an expansive to-do list including 17 "Global Goals" for Sustainable Development, how can world leaders, who are to adopt the goals at a Summit in New York starting tomorrow, realistically achieve them? The truth is, they cannot. Not alone, anyway. Ending poverty, fighting inequality and protecting the planet will require unprecedented collaboration and we have to act urgently -- Goal 17 is about how we make this happen, by "creating a global partnership for sustainable development and strengthening the means of implementation."
However, amidst all the dialogues taking place in New York this week about the Global Goals, we cannot forget the struggles and inter-linked challenges facing ordinary people -- that is what the new sustainable-development agenda is all about.
Three billion people, almost half of humanity, survive on less than $2.50 per day. Inequality has reached frightening levels. According to Oxfam, by next year the combined wealth of the richest 1 percent will overtake that of the remaining 99 percent of the world's people -- with the top 80 individuals sharing more wealth than the poorest half of humanity. Over a billion people still live without access to electricity, and one in seven will go to bed hungry tonight.
Yet, we can solve this. Providing the additional calories needed by the 13 percent of the world's population facing hunger would use just one percent of the current global-food supply. Ending income poverty for the 21 percent of the global population who live on less than $1.25 a day would require just 0.2 percent of global income. Better tax systems, fairer wages and massive investments in education and technology, which support equal opportunities and greater access to essential services like healthcare, could level the playing field and reverse inequalities dramatically.
As we do so, we cannot forget the serious impacts we are having on our planet. We can't alleviate human suffering unless we address these, too.
We have entered a new era -- the Anthropocene -- where our human activities are overwhelming nature's great forces. We're seeing massive biodiversity loss, with the highest rates of extinction since the dinosaurs. Sixty percent of our ecosystems are in decline. Desertification is destroying crop yields and our oceans are growing more acidic by the day -- with many of the coral reefs already disappearing.
Yet, we are seeing companies like Natura in Brazil design circular-business models, which will work to restore nature, preserve ecosystems, support indigenous communities and make a "net-positive" contribution to the planet. We've already managed to reverse course as a species. For example, when faced with a growing hole in the ozone layer, we mobilized global-collective action, working together amongst governments, businesses, civil society and consumers, to phase out harmful CFCs. We've also seen this happen as part of the tropical-rainforest alliance, to help combat deforestation.
While our climate is changing rapidly, with rains no longer falling in the places where water is most needed, supply chains being disrupted by extreme-weather monsoon seasons, which are lasting longer, and sea-levels rising in low-lying areas -- all at significant cost to society -- we already have many of the technology solutions we need to accelerate the transition to a net-zero emissions economy. We can succeed on here, too. But we need to act now, and Goal 17 provides a clear imperative.
Everyone has a role to play, all countries, all companies and all citizens. That's why Goal 17 is so important; it's all about implementation, investment and collaboration -- just like all of the goals, we can't reach any of them unless we deliver on this one.
It will require fundamentally changing the role of business in the world, and we need to work together to make it happen.
This is why The B Team is calling for a Business Plan to achieve the Global Goals, because we need global-collective action, including:
1. For Business leaders and entrepreneurs to work together and collaborate with governments and civil society to forge action-oriented partnerships to strengthen accountability, build the business case and ensure implementation of specific Goals.
2. For Companies to set and report on corporate objectives that support sustainable development and build new and innovative business models or technology solutions that will accelerate achievement of all the Global Goals.
3. For Governments to enact national-implementation plans, a robust financing and investment architecture and ambitious policies that will support businesses to advance the Global Goals, including:
§ Increasing investment -- including official development assistance and innovative sources of financing, to foster sustainable development, particularly for people living in the most vulnerable situations.
§ Strengthening national-tax systems -- to combat inequality and resource services that support sustainable and inclusive growth, including education, healthcare and other forms of social protection.
§ Strengthening policies and incentive structures -- including institutions that promote good governance and tackle corruption, including illicit financial flows, which deprive poor countries from the investment needed to achieve sustainable development.
It's also time for us to change our individual behaviors, to consume and produce responsibly, to be mindful of our obligations to current and future generations, to have the willingness to step across the traditional boundaries that separate us, in order to live within the social and planetary boundaries that sustain all of us.
Achieving the Global Goals by 2030 is not only necessary, but meeting them is the biggest opportunity of our generation. The Global Goals have the power to create millions of new jobs, unleash massive innovation and drive large-scale investment. But only if we act together.
It's time to end the lottery of birth; we all need to reset, to change our attitudes and our behaviors, to put aside our differences. It's time to unleash a new era of inclusive prosperity, and build a thriving, just and sustainable economy, where no one is left behind. In fact, business has to think this way in order to thrive.
That's why, as an investment banker and an activist, we're working together, to help grow The B Team, to foster the collaboration we urgently need, to mobilize the leadership the world needs, and build a better future for generations to come.
What is the role of business in meeting the Global Goals?
On September 24th, The B Team is hosting a discussion, featuring some of the world's most innovative and ambitious leaders, to explore the answers to this question. Tune in to watch the discussion live here.
This post is part of a series produced by The Huffington Post, "What's Working: Sustainable Development Goals," in conjunction with the United Nations' Sustainable Development Goals (SDGs). The proposed set of milestones will be the subject of discussion at the UN General Assembly meeting on Sept. 25-27, 2015 in New York. The goals, which will replace the UN's Millennium Development Goals (2000-2015), cover 17 key areas of development -- including poverty, hunger, health, education, and gender equality, among many others. As part of The Huffington Post's commitment to solutions-oriented journalism, this What's Working SDG blog series will focus on one goal every weekday in September. This post addresses Goal 17.
To find out what you can do, visit here and here.
Calling all HuffPost superfans!
Sign up for membership to become a founding member and help shape HuffPost's next chapter