On the first ever World Toilet Day, we've been raising awareness for the 2.5 billion people who lack access to proper sanitation.
As we investigate some of the most alarming statistics –- 53 percent of India's population defecates in the open and more than 800,000 kids die every year due to poor sanitation –- we're also looking into some unusual solutions.
One company, for example, recently released the Peepoo, a biodegradable toilet bag that can eventually be turned into fertilizer.
But we've also been checking out some other, er, innovative toilets that may not have intended to teach us about improving the sanitation crisis but have inadvertently done so.
Here are some tips we've picked up:
Build very public urinals.
Amsterdam's Red Light District could've just hired more policemen to keep the overwhelming number of male tourists from relieving themselves in the streets. But instead, the city decided to just erect urinals smack in the middle of its busy neighborhoods. It may seem off-putting at first, but the method has kept the highly-trafficked area pretty clean.
Consider a striking design.
More than half a century after gaining their independence, many Indians still unhesitatingly litter and defecate in the streets, yet they keep their homes immaculately clean. But perhaps if citizens were presented with a toilet so stunning (i.e. one that bears the Rolling Stones' logo), they would be motivated to solely take care of business in their homes.
Find multiple uses for human waste. Like the Peepoo, the Toilet Bike Neo doesn't let human waste go to, um, waste. This Japanese-designed motorcycle has a modified toilet bowl attached to it and converts the rider's waste into a biogas fuel.
Make sure it's multi-purpose.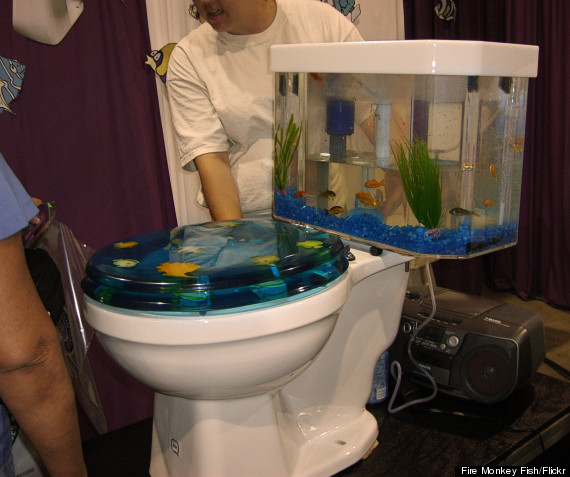 Conserving water is key, so if it's possible to give a toilet two roles -- dumping waste and say, housing fish -- that could be instrumental in getting the process off the ground.
Calling all HuffPost superfans!
Sign up for membership to become a founding member and help shape HuffPost's next chapter
BEFORE YOU GO
PHOTO GALLERY
World Sanitation Facts