 For the audience usually glued to Univision at 10 p.m. EDT, the question of the hour is will Daniel and Camila -- a pair of star-crossed lovers played by the Chilean-American heartthrob Cristian de la Fuente and the lithe Mexican actress Silvia Navarro -- ever unite and live a conjoined life of "Amor Bravío"?
But on Wednesday and Thursday, viewers hooked on "Amor Bravío" either had to put their telenovela-induced angst on hold or adjust to a new set of questions involving tax rates and national security, immigration policy and education funding.
Univision, the nation's top-rated Spanish language network, hosted the first-ever, back-to-back, Spanish-language forums with the U.S. presidential candidates. President Barack Obama and his GOP challenger, former Massachusetts Gov. Mitt Romney, faced a barrage of direct questions and sharp follow-ups, through a translator. The candidates took the free air time to make many of the same points presented all year to English-language audiences. But they also rebuffed or partially-answered a small set of questions that often haven't been posed by English-language reporters, and may well have reshaped what it means to run for president in the future.
"What we witnessed is the two major party presidential candidates saying, 'This audience, this segment of voters, this slice of Americana is important enough that I need to take time out to come here and answer questions in a language I don't speak,'" said Federico Subervi, director of the Center for the Study of Latino Media and Markets at Texas State University, who has studied campaigns and Spanish-language media for more than 20 years. "There's no turning back from that."
Wednesday night's candidate forum with Romney drew 1.6 million viewers, according to Nielsen data -- nearly 2 million fewer people than have tuned into "Amor Bravio" most Wednesday nights, but far more than the 774,000 who typically watch the network's top-rated Sunday public-affairs program, "Al Punto de Univision."
Thursday night's forum with Obama drew a larger audience, 2.7 million people, also far outperforming "Al Punto" but falling about 1 million viewers short of the Thursday "Amor Bravio" audience.
Univision did not respond to a request for comment about the forums, their ratings or what they may portend for future public affairs programming on the network.
The candidate forums, in which Univision lead anchors Jorge Ramos and Maria Elena Salinas peppered each of the men with questions about immigration, national security, the Middle East protests and the Mexican drug war before taking a small set of questions from the audience and Facebook participants, marked the first time that presidential candidates have ever participated in an all Spanish-language, live-to-tape political forum with a studio audience.
Both Obama and Romney depended on an interpreter and a hearing device to participate in the events.
Univision and a host of other organizations including both the National Association of Black Journalists, the National Association of Hispanic Journalists, the NAACP and LULAC, condemned the commission's decision, saying that the lineup ignores the growing size and importance of the nation's Latino and black populations, and will likely leave critical issues of primary concern to voters of color unaddressed before the election.
Ramos and Salinas have also been vocal advocates of the need for deeper and more frequent public affairs programming on Univision, said Efren Perez, a Vanderbilt University political scientist who studies political rhetoric and the Latino vote. Univision is the home of much-watched telenovelas such as "Por Ella Soy Eva" (I Am Eva Because of Her/ For Her I am Eva), a telenovela about a man who cross dresses as a woman in order to clear his name and win back the love of the woman he adores, and, in the process, gains new respect for women. The network also hosts the newer "Amor Bravio" and the almost impossible to describe "Sábado Gigante" ("Giant Saturday") variety show.
"The network is basically novellas and low-brow programming," Perez said. "A tiny sliver of what they air is the evening news and Ramos' weekend public affairs program. They have this enormous audience that I think people like Jorge Ramos and Maria Elena Salinas feel like don't get enough civic information and education. This event, depending on the response, the ratings, the buzz it creates really will determine if there is business case to be made for more news."
The candidate forums likely drew some of Univision's traditional first- and second-generation Spanish-dominant audience and a broader cross-section of middle-class and upwardly mobile, fully bilingual viewers, said Subervi, the Spanish-language media expert.
This year, the election is expected to be particularly close. Both campaigns have aggressively courted the rapidly growing Latino electorate. And fate would have it that the nation's economic condition and the debate about whether the country would be best served by reduced spending or deep investments in education, jobs and other economic simulators, is one of intense interest to most Latino voters queried in national polls.
Should the grim economic situation or efforts to reduce spending continue, or should Obama fail miserably if elected to a second term, the competition for Latino voters will only intensify in 2016, said Subervi.
Going forward it will be more difficult for the Presidential Debate Commission to justify an-all white moderator line up, he said. In fact, he predicted, it is not unreasonable to assume that Univision and the nation's second highest-rated Spanish language network will look at the ratings and response to this week's forums and band together to stage their own Spanish-language presidential debate.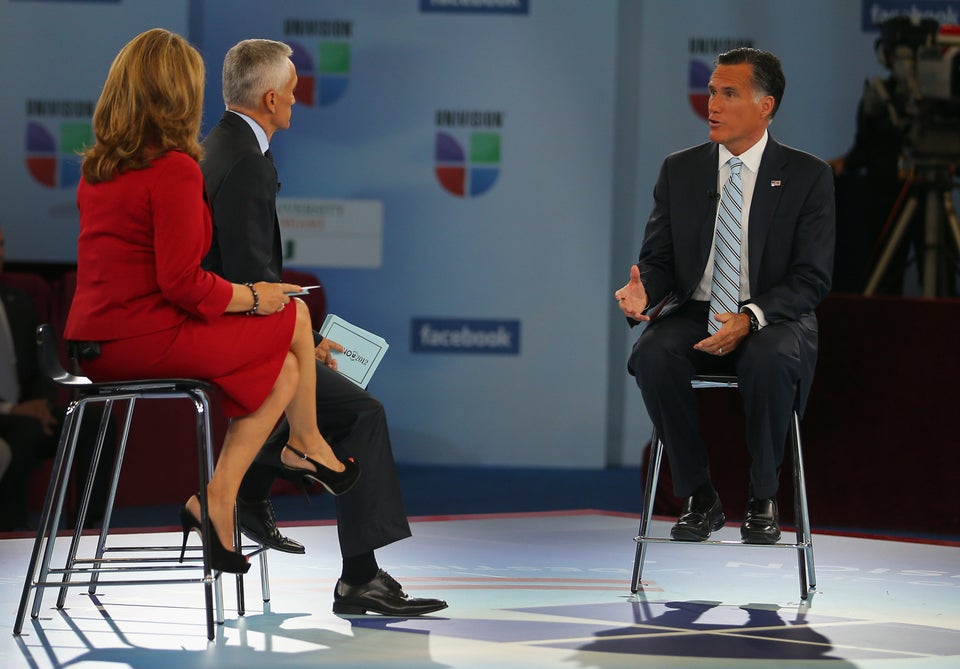 2012 Univision Presidential Candidates' Forum
Popular in the Community