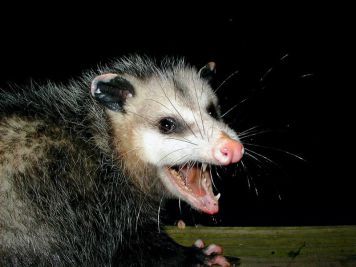 LANSING, MI- 7-year-old Devon Wilson's parents may have jumped the gun last week on unabashedly introducing themselves as the "World's Greatest Parents" at a recent parent-teacher conference. It seems their second grade son was found Monday night housing what appeared to be a helpless wild animal, providing it with shelter and warmth for the upcoming dip in temperatures.
As we were granted a closer look by older sister Abby, we found Devon had designed his makeshift house as a traditional colonial and strategically placed it next to the lawn flamingos, creating a familial bond for the animal. When we asked Devon for a statement describing the events that had transpired, I don't think Phil or I were ready for the answer we were about to receive:
"I dunno. [snorting] I just found this opossum in an Arby's parking lot. He's got four walls, a roof, and an onion chimney I swiped from a Benihana."
Alarmed, we immediately notified the parents to come out and discover the true animal that was being sheltered by their son's goodwill. There was talk of a spanking to be doled out later by the father, while the horror of her son's selflessness being used on a opossum was all too real for Devon's mother, asking if she could "collect" herself for a few moments.
According to Devon's parents, they had recently tried to instill in their son the importance of helping others; people as well as animals.
"I just thought it went without saying," Devon's father tried to explain of his err in judgment, "I assumed he knew of the exception of opossums. I just wish I knew then what I know now."
The opossum was immediately released into a sewage grate and its residence was promptly destroyed, much to the little boy's dismay. According to Devon's blueprints, he had plans of opening up an adjacent B&B in the fall.
Calling all HuffPost superfans!
Sign up for membership to become a founding member and help shape HuffPost's next chapter