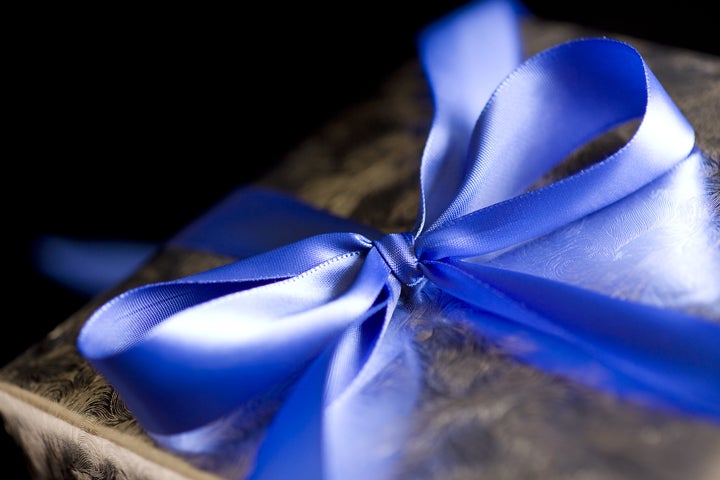 If you have a kid who likes getting presents, then you are going to be able to relate to this...
You know how when it's the holidays, or your kid's birthday, and there is a stack of gifts...and soon after the child is allowed to start opening, there is a flurry of wrapping paper strewn across the room without so much as a glance at what was actually inside the wrappings?
What's up with that? I think that I might start actually wrapping empty boxes because it truly does seem that the thrill is in the act of tearing open the paper rather than actually acknowledging the gift inside.

My family celebrates Hanukkah and last week, on the 2nd night, my kids were receiving their "big" gift. My ex-husband came over and we gave them our joint present of Selena Gomez tickets. My daughters are 12 and almost 10, and going to concerts have not only been a fun way for us all to bond as a family (yes, even though I'm divorced, we are still a family, and do joint family outings).
I decided a few years ago, that I was pretty much done buying "things" as presents. My girls have everything they need and I felt like it was much more valuable to provide experiences and memories. That year we did a family weekend trip to New York to see two Broadway shows; it was great to not have to deal with obligatory gift-giving in favor a fun, action-packed 3 days in NYC.
While I knew that my girls were going to be excited about the Selena Gomez tickets, this year I added some practical gifts such as new flannel sheets, new shower towels and a calendar. But to the unsuspecting eye, it merely looked like a rather large pile of presents (I wrapped each towel separately.)
We ate latkes, lit the candles, and after our kids gave us their gifts, I was excited to hand them each a wrapped folder (still practical; who can't use another trapper keeper??) containing the printed tickets. I had them open it at the same time and they were thrilled! They squealed and laughed and wondered how we got the tickets because they knew they went on sale the same morning we were standing watching the Changing of the Guard at Arlington Cemetery during a family trip (yes, my ex included) to Washington DC.
Then literally, not more than 30 seconds had passed, my youngest asks, "Mom, can I open just one more?" And my answer was a quick and short, "No. Appreciate what you just got."
Why would my daughter toss the Selena tickets aside, just to unwrap another present, only to find it was a new hand towel or a set of sheets? Is it that she was ungrateful and unappreciative of the tickets? No, that definitely is not the case, but I still felt annoyed. After thinking more about it, I realized there is just an inherent thrill in the unwrapping of something, even if it's not that exciting of a gift.
So isn't this interesting? It appears that the true joy is in the unknown almost more than the known. Nothing was going to be better in that pile than the Selena tickets. But that wasn't the point...
Which leads to the question: how do you make your child's gift wrapping experience more satisfying for you as the parent? Cause really, they don't care - they just want to unwrap, and I promise at the end of the day, they will still appreciate what they got no matter how quickly it was unwrapped. It is us as the parents that have the expectation for how they should do it, what kind of thanks they should give and how slowly they should go. But the more we expect our kids to act like mini adults, the more we are missing out on the joy of being a kid.
Maybe we should be learning more from our children. Maybe we can learn to have more joy in the simple act of being in the moment without the focus always being on the outcome. Maybe we can find the excitement in the unknown rather than always fear it to be worse off than the known. And just maybe, if only once in a while, it would behoove us parents to stop correcting every single thing our kid does and let go of the small stuff.
Does this mean that I am supporting mindless gift opening? Well, I suppose it kind of does sound like that, but what I am mostly supporting is joining with your child. Find the times to laugh and have fun together. The thrill of unwrapping presents is something that never really goes away; while it doesn't need to be a chaotic craze of flying paper and disregard, allow it to unfold with the pure joy and wonder of a child, holding true to the magical spirit of the holidays.
I know that some of my work as a mom is to let go of my agenda and be more present with where my girls are at. Just because I had an idea of how I thought it should go, does not mean it is the only way for it to go. And so what if they want to open flannel sheets after Selena Gomez? Does that really impact me? They're still going to get all their gifts, so why was I so concerned with how it was done; they still like opening at least one gift a night, so it wasn't like all the gifts would be opened on that 2nd night.
I wish I could go back to that night and when my daughter asked to open another present that I would have told her yes. If that's where she finds her joy, who was I to stop her? And it wasn't like she was being ungrateful or unappreciative, bottom line: it's just simply fun to open presents!
The best present you can actually give your kids: be present for them so as not to miss out on the opportunity to find the joy, silly, fun and thrill in whatever it is they are doing.
Oh, and if you want to give something to your child that they will enjoy when they unwrap it, and for years to come, I just published a children's book, Squirmy Learns to be Mindful. Squirmy, an anxious caterpillar that can't wait to become a butterfly, learns from her wise mother how to be more in the moment, cultivate gratitude, deal with anxiety and realize that the most constant thing is change. You can buy it from my website: www.joreerose.com
Happy holidays and I hope you create wonderful memories during this festive season.