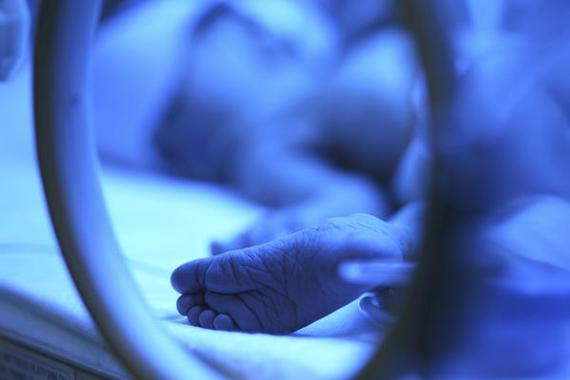 Darkness gave way to the blue lights glowing in the distance. The hum of the oxygen created a beautiful white noise that seemed almost hypnotizing. The room was surprisingly quiet. Typically the sounds are echoing off the walls but at this particularly moment I felt the peace within the space that sometimes gets lost with the everyday hustle and bustle that comes naturally within the NICU world.
She lay there perfect, still, and content. Her small little hands pressed against her face, her legs curled up and nested deep within the blankets of her cocoon. Her silky dark hair peeking through the knitted pink cap that engulfed her wee head and a preemie mask covering her eyes, protecting them from the bright blue lights shining above her tiny torso. I placed my hands within the portholes of the incubator to greet her gently as to not startle her with my abrupt presence. As I removed her mask her wide-open eyes greeted me back with such innocence and love. It was in this moment that I felt the sting of reality slap me straight across my face. As I gazed down at her, a wave of guilt rushed through my body surging deep within my core. It was in this moment that I knew.
I knew how easy it is to become dissatisfied with a job that sometimes seems unrewarding by the craziness of the routines and to do lists, or become frustrated with a schedule that is grueling, busy, and just plain hard. How slippery the slope is that leads to aggravation with the, what should be, what could be, and what is.
I had come very close to allowing my discontentment with what seemed to be, to steal the deep-seated satisfaction that comes from what truly is. I had come very close to allowing the things that I can't change to change the things that I have total control over.
The very things that define me.
It is very easy to slip into this space. Surrounded by schedules, budgets, time crunches, and numbers. These things blur the lines and often redefine what we do. These same things can suck the joy and life right out any situation and make it appear less than what it really is. Change its definition and remove all the peace that comes along with doing what we know we were born to do.
But what is it? What makes it special? What makes it worth it? What makes it matter, truly matter?
It's her. It's them. And yes, it's us.
It's her.
Lying peacefully in the isolette. Innocent and unwritten.
It's them.
Sitting by the bedside, hoping, praying, and believing bigger and better is yet to come.
And it's us.
Helping to write the stories that will become their memories. Our memories. Memories that will make up the pages of all of our books.
And isn't that what it is all about? The memories for all of us? Taking the time to do the small and somewhat insignificant things, day in and day out, not because you had to, or you were asked to, or because of what you got in return, but simply out of love. Love for the babies, love of the job, and getting back to the core of what matters. Refocusing on what we can do to make a difference and throwing out the dogma that clouds our space and makes us redefine who we are.
I am choosing to rewrite the last few pages of my story. Ripping out those that were tainted and torn by what my mind perceived as truth. But really the only truth is that in which I let it be.
And starting today, I am going to let it be.